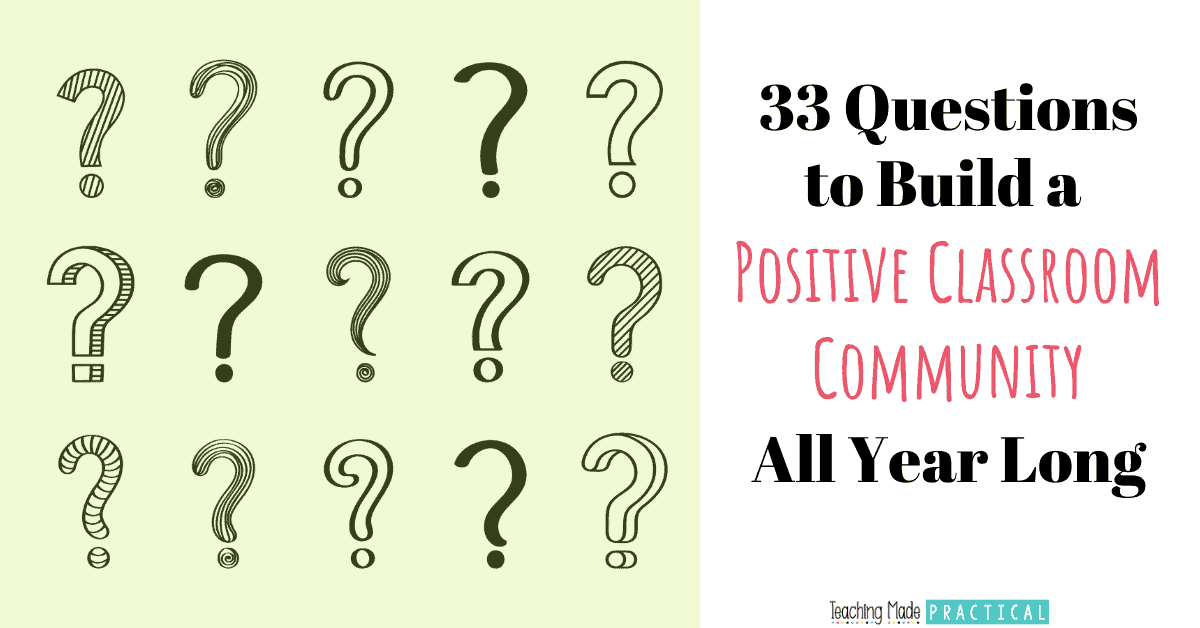 As teachers, you already know the value of team building and striving for a positive classroom environment - but that's easier said than done.
One of the easiest ways to promote a safe setting in your 3rd, 4th, or 5th grade classroom is to help students connect with each other.  When students realize how much they have in common with each other, they are better able to celebrate their differences.
Facilitating discussion so that students can easily build these essential connections is easy when you have engaging questions!
Below, find some suggestions for incorporating trust-building discussions into your classroom routine, as well as some ready to use questions! 
The classroom discussion strategies can be used with any questions you would like, but for already prepared questions for every day of the year, check out these Questions to Promote a Positive Classroom Environment All Year!
How to Create A Positive Classroom Environment Using Discussion and Team Building
Depending on the needs of your upper elementary students and the amount of time you have to spend on speaking and listening, there are a variety of different ways you can integrate positive classroom discussion into your lesson plans.
Morning Meetings - These are a great way to build a culture of kindness in the classroom.  If you have the flexibility in your schedule to start each day off with morning meeting, then you could ask a daily question every morning and give different students a chance to respond.

Write, then Share - Use these questions as writing prompts, and let students write their answers.  Then, choose students to share the answers with the class.  These Questions to Promote a Positive Classroom Environment All Year have also been designed to be easily used as writing prompts.

Small Group Team Building - Schedule in some time once or twice a month for team building and listening and speaking practice with a small group.  Provide each group with a stack of questions.  Have 1 person read a question, and then the remaining members of the group respond.  Then, groups switch roles so that a different person is reading a question each time.  You can check out more tips for facilitating small group discussion here. 

Mix the Class - Schedule in some time once or twice a month to get kids moving around and talking to each other.  Provide each student with a question card.  Have students walk around the classroom and find a partner.  Partners ask and answer each other's questions, switch cards, and then find a new partner.

Partners - Just like "Mix the Class," except students stick with the same partner for all of the questions.  1 person reads a question card, and then their partner answers.  Then, partners switch roles.  The other person reads a new question card, and their partner answers.  This is great if you want students to really build a connection with the person they sit next to.

New Student - Make a new 3rd, 4th, or 5th grade student more comfortable and build relationships with classmates by having him or her ask and answer questions to different members of the class in a safe setting.
Discussion Question Examples for a Positive Classroom Environment
What was your favorite thing about your teacher last year?  Why?

What are you hoping to learn this year?  Why?

The first Sunday in August is "Friendship Day."  What qualities make a good friend?
Labor Day celebrates men and women who work.  What job do you think is the most important?  Why?

The 3rd week of September is "National Dog Week."  Would you rather have a dog or a cat?  Why?

September 30th is "Chewing Gum Day."  Should you be allowed to chew gum in class?  Why or why not?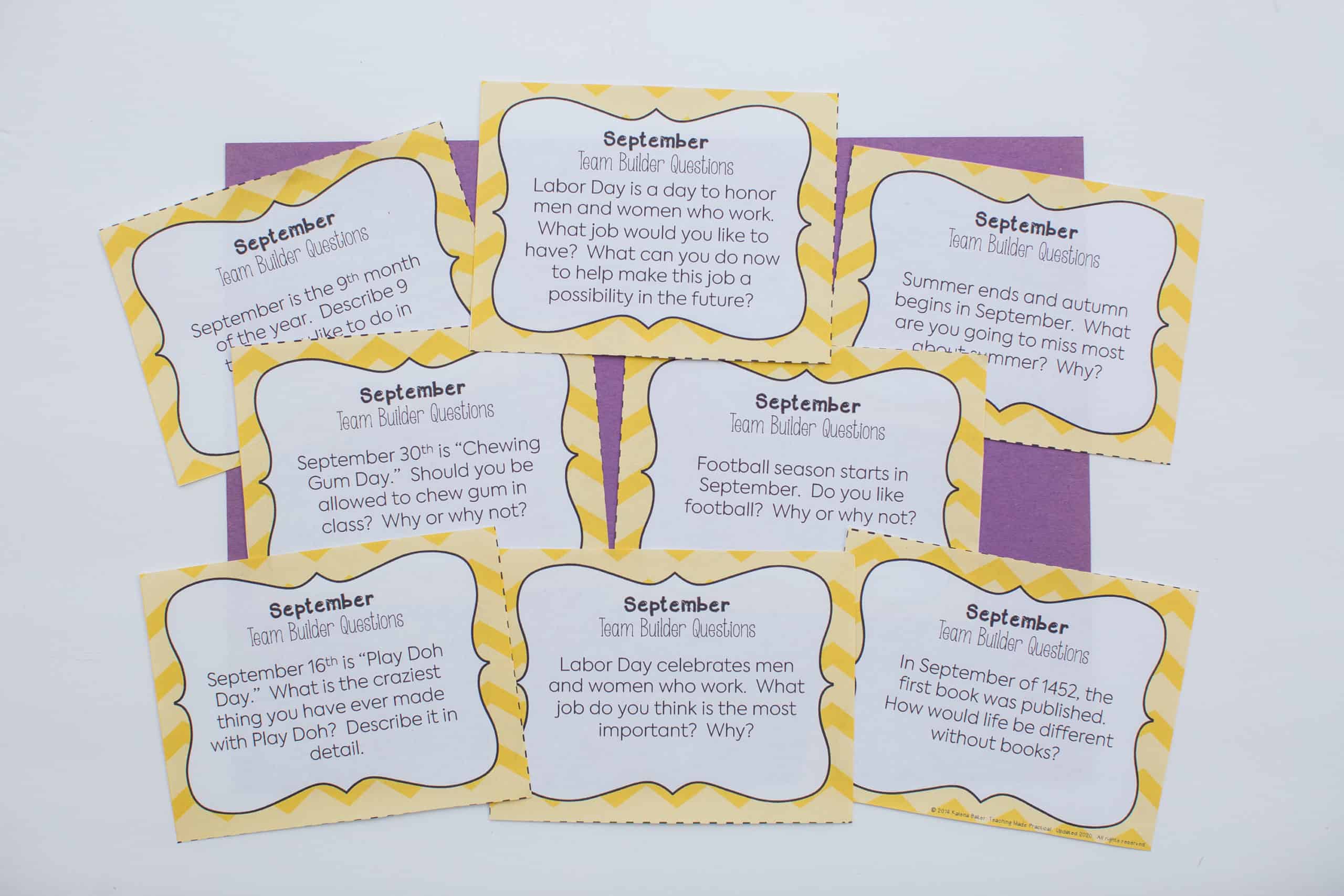 October 14th is "Chocolate Covered Insects Day."  Would you ever eat an insect?  Why or why not?

October 15th is "Grouch Day."  What could you do to cheer a grouch up?

"National School Lunch Week" is in October.  What would you like to change about school lunches?
Check out these free October discussion question cards here!
November 7th is "Hug a Bear Day."  Would you hug a bear?  Why or why not?

In November 1820, Antarctica was discovered.  Would you like to live in Antarctica?  Why or why not?

Benjamin Franklin wanted the national bird to be a turkey instead of a bald eagle.  What do you think?  Why?
"Jingle Bells" was originally written for Thanksgiving.  Do you think it goes better with Thanksgiving or Christmas?  Why?

If you could give any gift to a family member, what would you give them and why?

If you could choose any animal to pull Santa's sleigh other than a reindeer, what animal would you choose and why?
(You can find more December activities, tips, and writing prompts here.)
To celebrate the New Year, many people come up with new goals.  What is one goal you have and what do you need to do to accomplish it?

January 14th is "National Clean off your Desk Day."  Does your desk need to be cleaned?  Does your teacher's desk need to be cleaned?  Explain your answer.

What is your favorite part of winter?  What is your least favorite part of winter?  Why?
February is Black History Month.  Who do you think is the most important hero to celebrate this month?  Why?

February 11th is "Make a Friend Day."  What character traits would you look for in a new friend?  Why are these important to you?

The date February 29th only occurs once every four years.  Would you like to be born on February 29th?  Why or why not?
Many people will pinch you if you don't wear green on St. Patrick's Day.  Is this a good tradition?  Why or why not?

According to Irish myths, leprechauns store their gold at the end of a rainbow.  What would you do with a pot of gold?

In March 1845, the rubber band was invented.  Was this an important invention?  Why or why not?
April Fool's Day is the first day in April.  Do you like it when people play pranks on you?  Why or why not?

April 3rd is "National Workplace Napping Day."  What might happen if your teacher took a nap during the day?

April 22nd is Earth Day.  If the Earth could talk to you, what do you think it would say?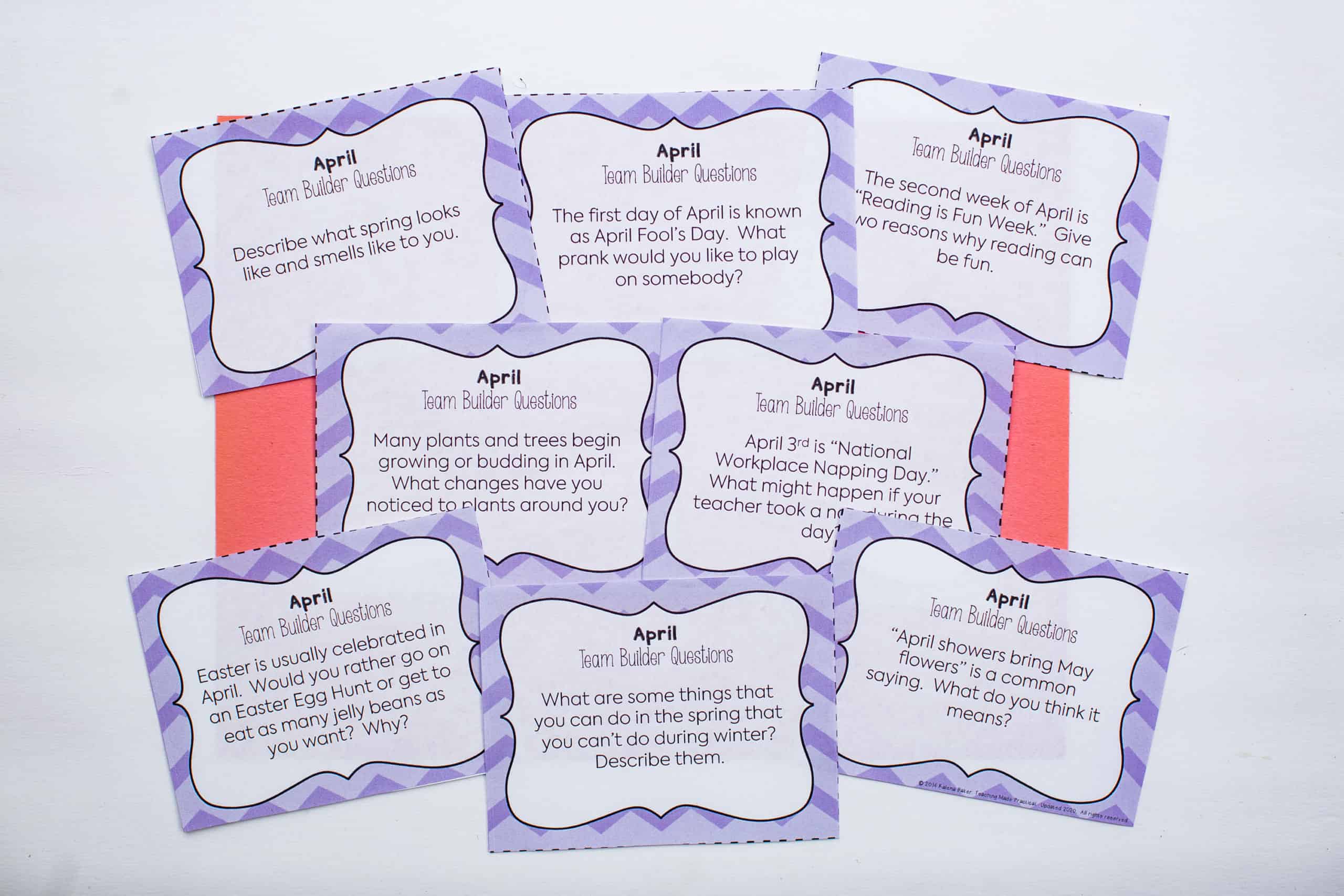 May 4th is "National Weather Observers Day."  What is the scariest weather that you have ever observed?  Describe it.

May 11th is "Eat What You Want Day."  If you could eat anything you wanted right now, what would you choose to eat and why?

The fourth week of May is "National Shoe Week."  Imagine that you went a day without shoes.  Describe your day.
What accomplishment from this school year are you most proud of?  Explain.

Think about the beginning of the school year.  What is different about you now?  How have you changed?

What is the nicest thing that someone at this school did for you this year?  How could you thank them?
---
Never Stress Over Sub Plans Again!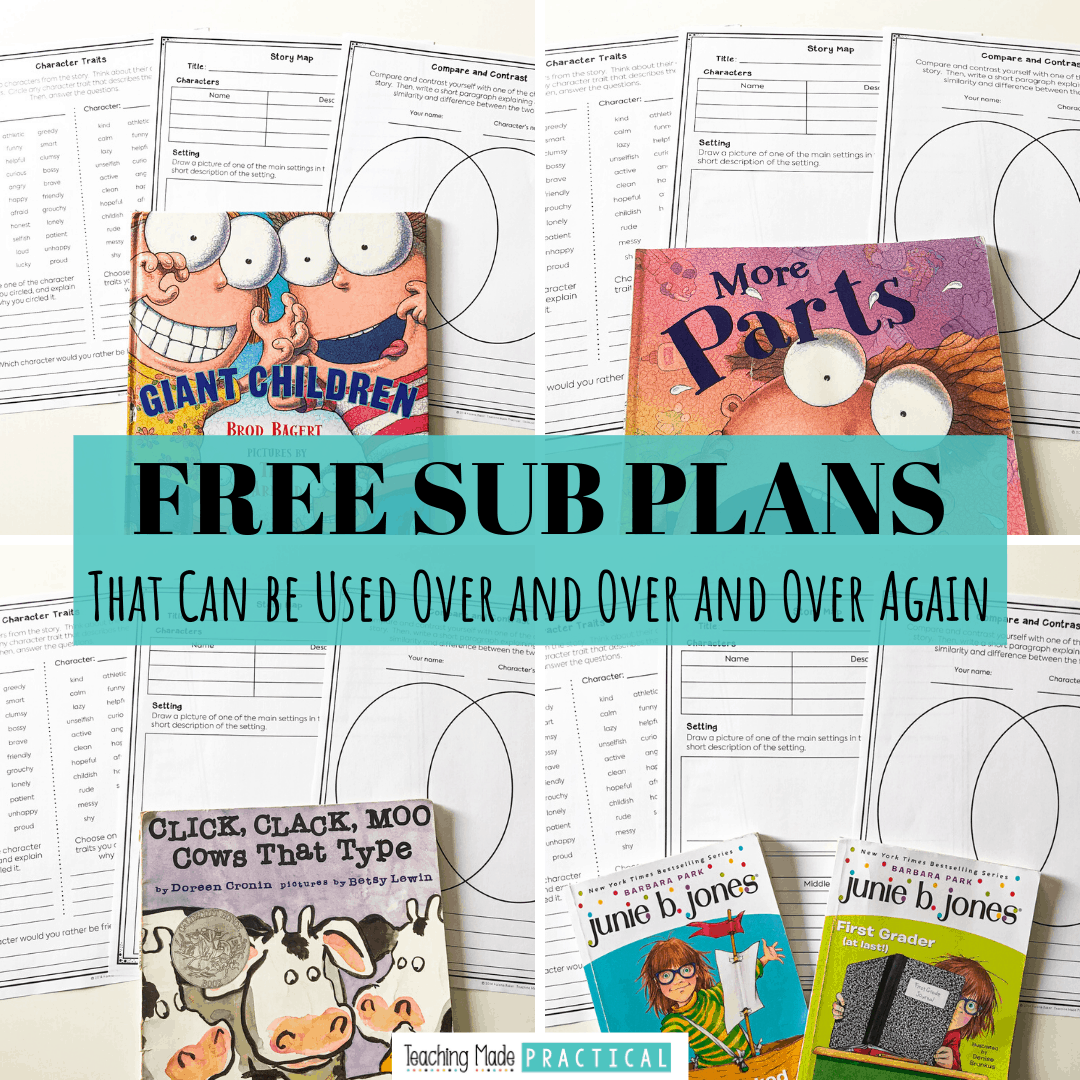 Make copies, find a fiction book, and you'll be ready for any emergency that comes your way!