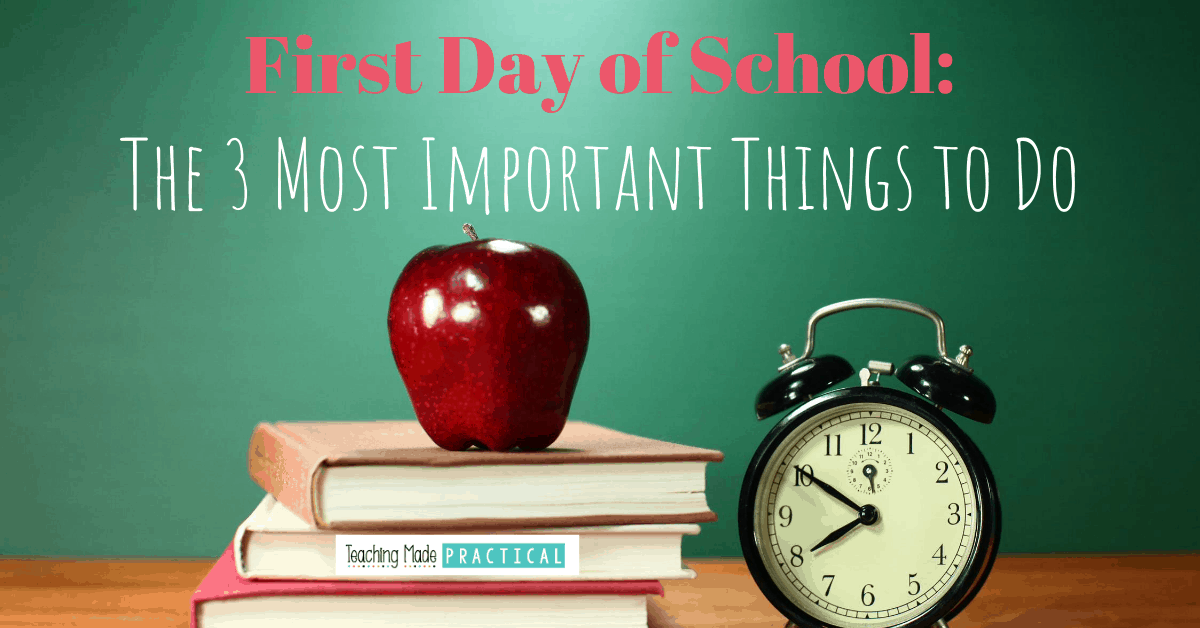 Wondering what to do on the first day of school?
I was always surprised at how quickly the day would fly by. One minute I'm greeting students, the next, I'm exhaustedly sitting at my desk wondering where the day has gone, why my feet are so tired, and how I could have gone the entire day without doing anything I had planned.
Over the years, I learned to prioritize what I wanted accomplished the first day of school so that I didn't forget to do the most important things. In my opinion, the non-negotiables for 3rd, 4th, and 5th grade students are:
collecting school supplies
building classroom community
establishing classroom routines and procedures
Figuring Out School Supplies On The First Day Of School
Of all the things to do the first day of school, this is definitely the least important.  But it is also one of the first things you will have to deal with, as students will come in to the classroom eager to try out their new supplies.
Some schools have systems in place for parents to bring school supplies in ahead of time, but that is not always the case.  But even if parents brought in supplies ahead of time, there is a good chance that students come with more on the first day of school.
If you don't have a plan for these school supplies, then students will come up with their own plan.  And that plan will usually involve half opened bottles of glue and broken crayons stuffed inside their desk, and that copy paper that you so desperately need disappearing.
There are a lot of ways to handle student school supplies - communal supplies, every student keeping their own supplies, a mix of both, sharing with tables, etc.  However you decide to handle supplies in your own classroom, you need a plan in place ahead of time.
When students entered my 3rd grade classroom wondering what to do on the first day of school, I would ask them to find their seat, hang their backpack on the back of their chair, and begin one of these no prep activities (usually the word search, since they could do that independently) with the pencil I had already sharpened for them.
I provided everything they needed so that students didn't need to mess with any of their supplies.  If they had any supplies, they were asked to keep the supplies in their backpack or on the floor next to them.
Once we had time later in the day, I would go over the expectations for school supplies - what supplies they could keep in their desk, what to do with other supplies, how to treat school supplies, what to do if they didn't have any, etc.
Make sure you have a plan in place for school supplies when they first enter the classroom.  A free for all is not a sustainable solution.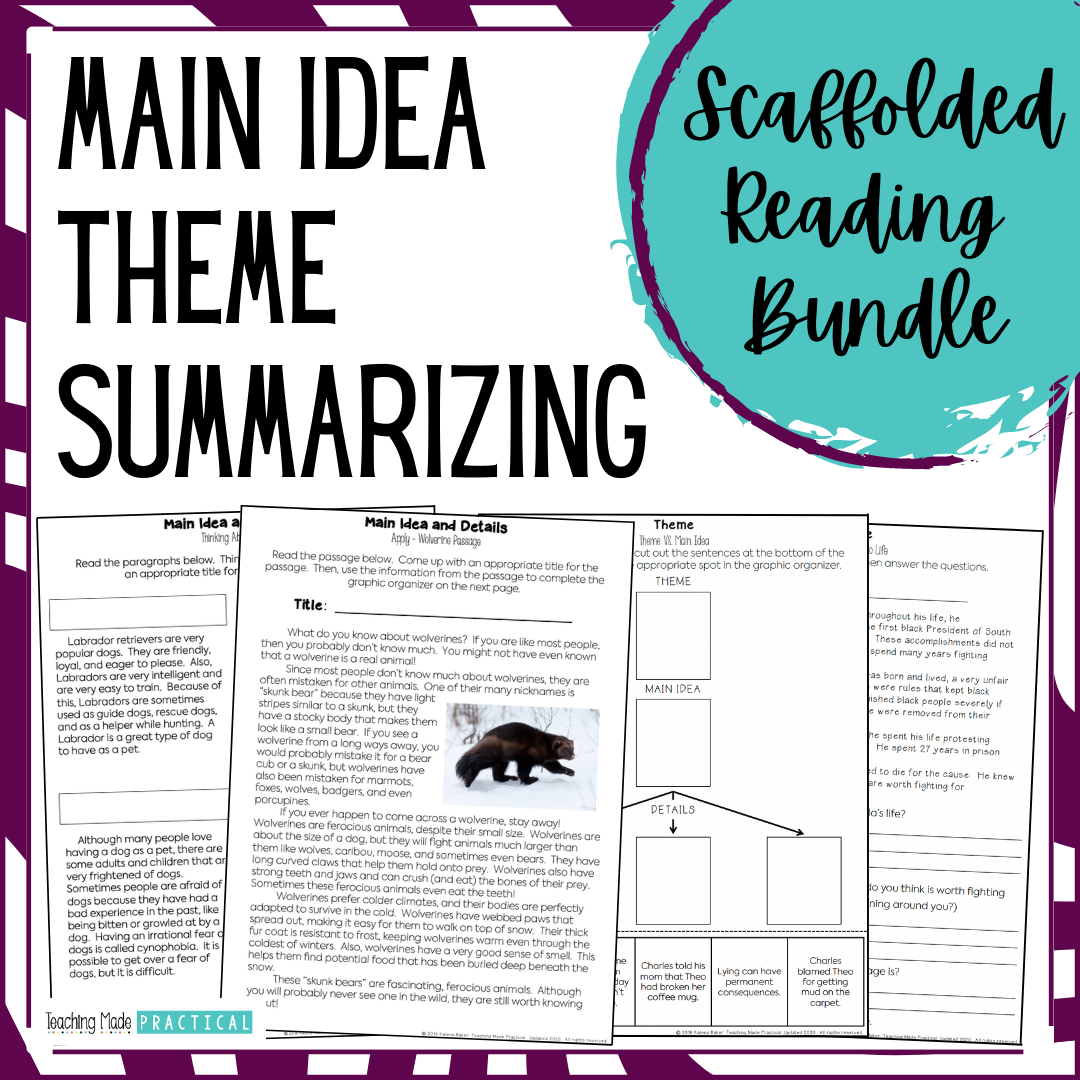 Main Idea, summarizing, and theme are hard skills to teach and hard skills for students to understand.  Curriculums often do not address these skills in a way that make sense to students.
This mostly no prep resource scaffolds these 3 skills to help even your struggling students be successful - and right now it is 35% off!
Building Community on the First Day of School
Once all of your upper elementary students are in the classroom, you can begin the most important part of your day - beginning to build a positive classroom community.  You want to get to know your students, you want your students to get to know you, you want them to get to know each other, and you want to begin to create a culture of kindness.
Any extra time you have on the first day of school should be devoted to building community!  There are endless ways to do this.
All About Me Activities are a fun way to get to know each other.  And if you complete the activity as well, it gives students a chance to get to know you.
One of my favorites was modeling this All About Me Bag activity, and then assigning it to students as their first "homework" assignment.
These other All About Me Activity Ideas are fun as well.
Partner or Small Group Discussion Questions
Giving students a chance to talk to each other in a low stakes setting is one of the best ways to build community.  Asking one of these fun discussion questions and giving students a chance to talk to the students that are around them will set them more at ease.
This also gives you a chance to explain and practice your different partnering up procedures - an often used procedure in my classroom.
Team Builders and Ice Breakers
Introducing and Practicing Important Routines and Procedures
Beginning to set expectations and practice routines from Day 1 is essential.  If you don't take the time to establish a routine, then 3rd, 4th, and 5th grade students will create their own.
There will probably not be enough time on the first day of school to practice ALL of the routines and procedures on this free checklist, but you can definitely begin by practicing the ones that will occur daily.  Things like:
Lining Up
Walking in the Hallway
Most of these procedures will come up naturally during the day, so introduce them and practice them as they come up.  Just make sure you plan for plenty of time to practice before you are expected to be anywhere!
For example, allot around 5-10 minutes to go over bathroom procedures before you plan on taking a bathroom break.
Be sure you have time to practice your lining up procedures and hallway procedures before you have to get your students to lunch or P.E.
And since dismissal is almost always the craziest time of day, make sure you have plenty of time to practice this procedure - you don't want to rush it, and you also don't want students leaving school late!
The first day of school isn't the only time you'll be practicing procedures.  You'll do that over and over again throughout the school year.  These fun ideas to review procedures and routines can keep you and the students from getting bored!
Fitting it All Together - A Practical Schedule
So what does a typical schedule look like for that first day of school?  Since all classrooms have different schedules for things like recess, lunch, school-wide assemblies, and specials, it's hard to say exactly.  But it could go something like this:
Greet Students (and tell them what to do with school supplies)
Introduce Yourself
Team Builder/Ice Breaker Activity to Build Community
Procedure Practice (probably lining up, hallway, and bathroom procedures so you can take a bathroom break)
Another Team Builder/Ice Breaker Activity to Build Community
More Procedure Practice (whatever you need to practice before going to lunch/recess)
Lunch/Recess
More Procedure Practice (possibly practicing the morning routine so they know what to do when they enter the classroom the next day)
Read aloud one of these Back to School Books
Another Team Builder/Ice Breaker Activity
More Procedure Practice
Dismissal
Between procedure practice and building community, there really isn't much time in the day for anything else!
You might also find these other back to school ideas and tips helpful.
Never Stress Over Sub Plans Again!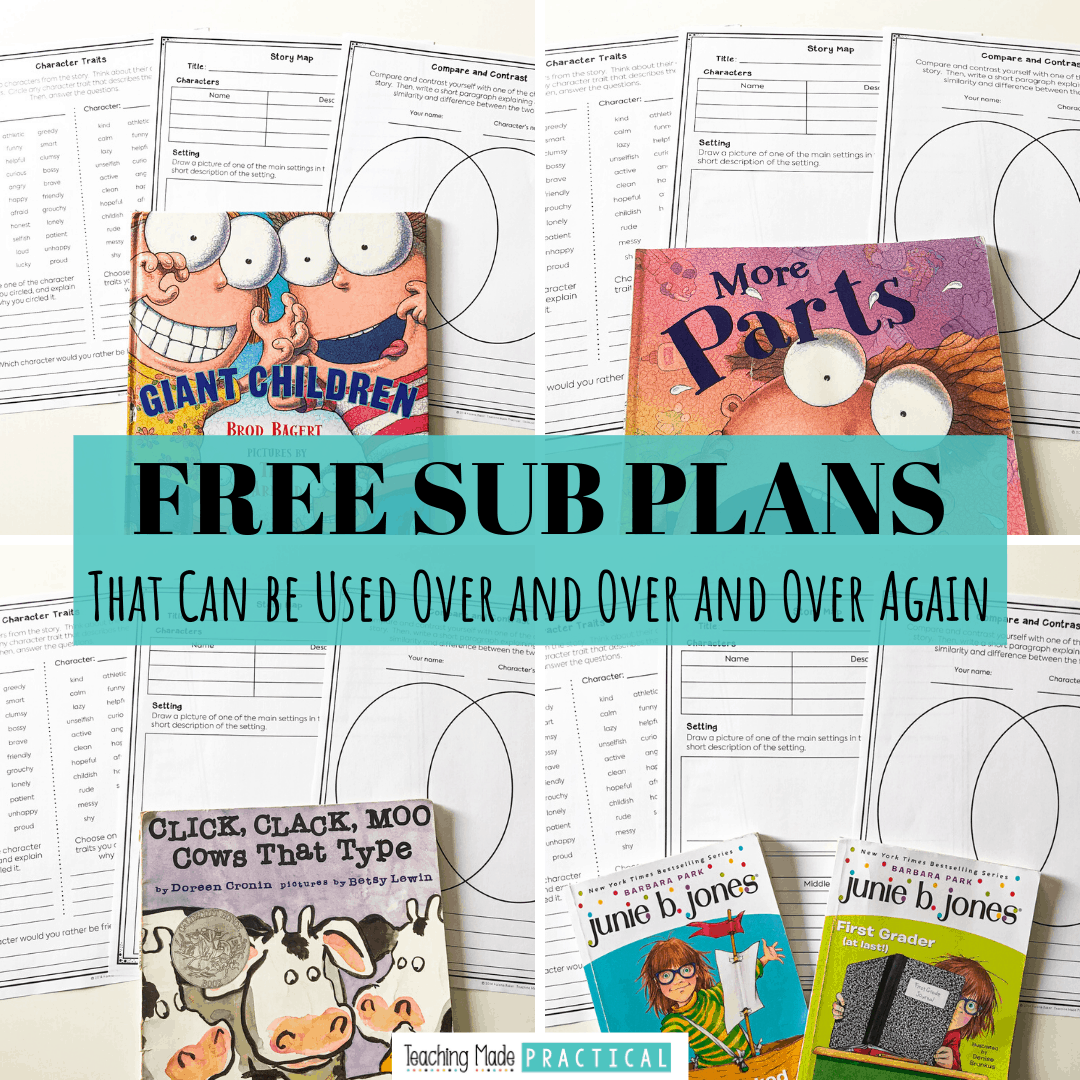 Make copies, find a fiction book, and you'll be ready for any emergency that comes your way!