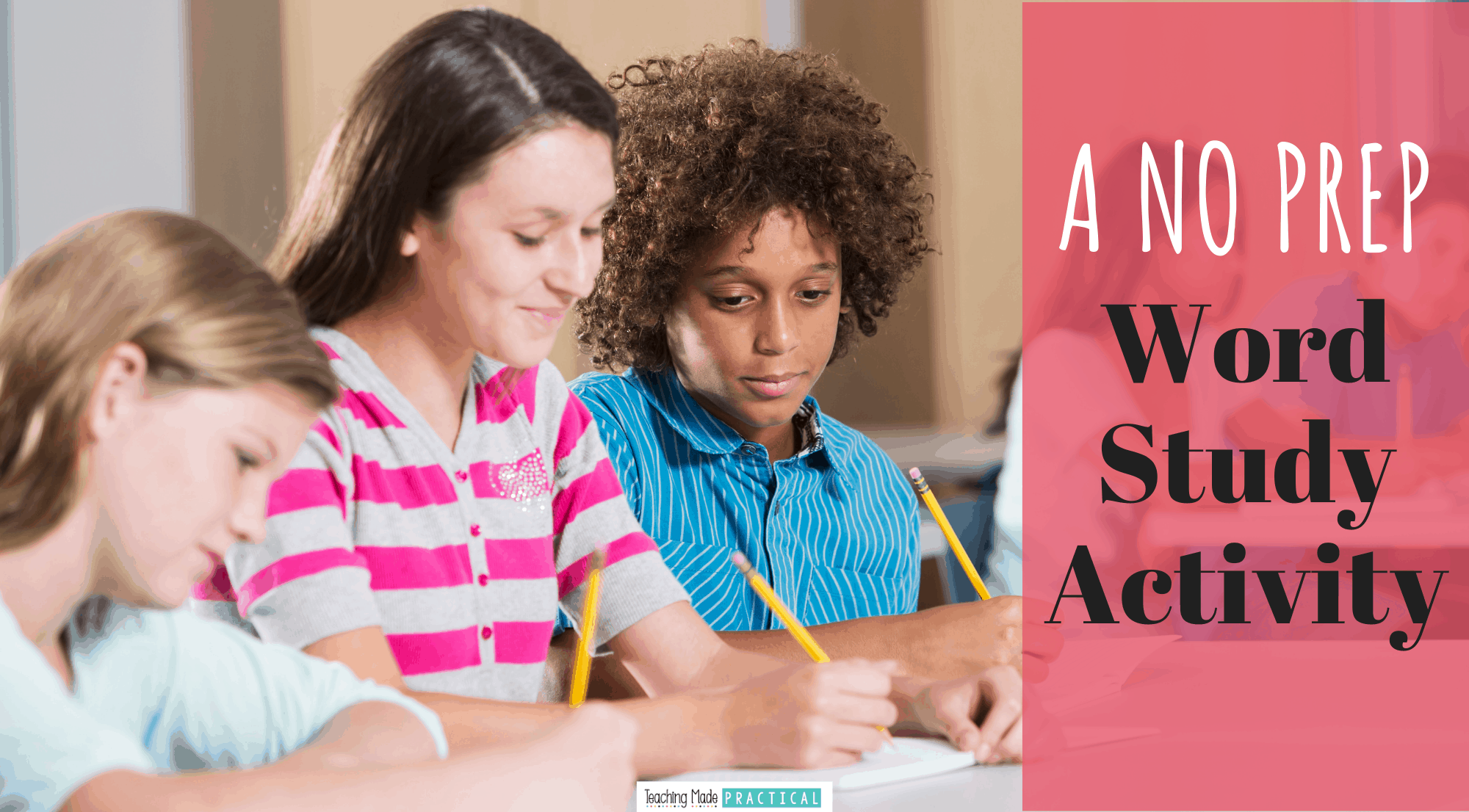 This no prep word study activity makes a great review and can be easily adapted for whatever skill you are currently working on.  Pull it out of your teaching bag of tricks on days that you don't have as much time to plan, or when something comes up that interrupts your regularly scheduled lesson.
3rd, 4th, and 5th grade students will love it, and since it's no prep, so will you.  All you need is some words on your wall (things like posters, signs, word walls, etc.), and something for students to write on and write with.
How This Word Study Activity Works
Have your upper elementary students pull out something to write with and write on (I prefer whiteboards and dry erase markers for this activity), and send them on a scavenger hunt, using words from around the room, on posters, anchor charts, word walls, etc.  Choose a skill you have been working on as a class, or a skill you know your students need to review.  For example, have students write down:
words that have a certain amount of syllables (2 syllable words, 3 syllable words, etc.)
words that are a certain part of speech (nouns, verbs, prepositions, etc.)
words with certain prefixes or suffixes
words with Greek or Latin roots
compound words
words with a certain spelling pattern
words that rhyme with each other
words that are a certain syllable type
While this is an ideal no prep word study activity, you could also have students practice other skills.  Have students choose a certain number of words from the wall, and then:
put them in alphabetical order
come up with synonyms and antonyms for each
use them each in a sentence
write a paragraph/short story that includes all of the words
divide each of the words into syllables
If this sounds like something you want to try out in your classroom, then check out these Reading Scavenger Hunts.  Each of the activities sends students on a scavenger hunt for a variety of different types of words.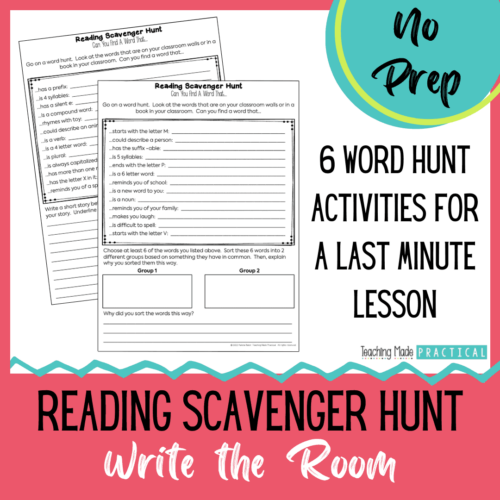 Behavior Management Tips
While you could have students complete this while sitting at their desk, this no prep word study activity provides an ideal opportunity for letting students walk around and stretch their legs while still working.  (You can find other brain break ideas here.)
Giving students clear instructions upfront will limit behavior problems.  Before letting 3rd, 4th, and 5th grade students walk around and look for words, make sure they know the answers to these questions:
What exactly are they looking for?
How will they know they are finished?  Are they looking for a set number of words, or will they continue to write down words until you tell them to stop?
What sorts of movements are appropriate/how quickly can students walk around the room?
Are students aloud to talk during this activity?  How loudly can they talk?
Can students only use words they find on the walls, or can they search through different books around the classroom as well?
Reasons This No Prep Word Study Activity Rocks
No Prep
This literally requires no prep work.  All you need is words on your wall, clear expectations, and a skill you want students to practice.  It's one of my favorite no prep ELA activities.
Because it requires no prep, it is a great activity for those days when you don't have as much time to plan, those times when something interrupts and changes your regularly scheduled lesson, and might also make a great activity to impress administration during a surprise observation.
Gives Students A Chance To Walk Around
Any activity that allows students to walk around while still also "working" is a good one in my book!
Reminds Students To Reference Your Word Walls
Teachers spend a lot of time putting up bulletins, word walls, anchor charts, and posters in hopes that students will use them and learn from them.  This activity is a great reminder to students that the classroom walls are a great resource!
These word wall ideas for 3rd, 4th, and 5th grade students can help you use your wall space wisely.  
Easily Adaptable
This is a great review for a huge variety of ELA skills, which makes it easy to integrate into almost any lesson.  (These reading scavenger hunts send students to find a variety of different types of words.) You can have students practice finding words with prefixes and suffixes one week, and then use this same activity the next week to have students review parts of speech.
Because your 3rd, 4th, or 5th grade students get to get up and walk around, they won't mind doing this no prep activity over and over.
You might like some of these other no prep, reusable activity ideas.  
Never Stress Over Sub Plans Again!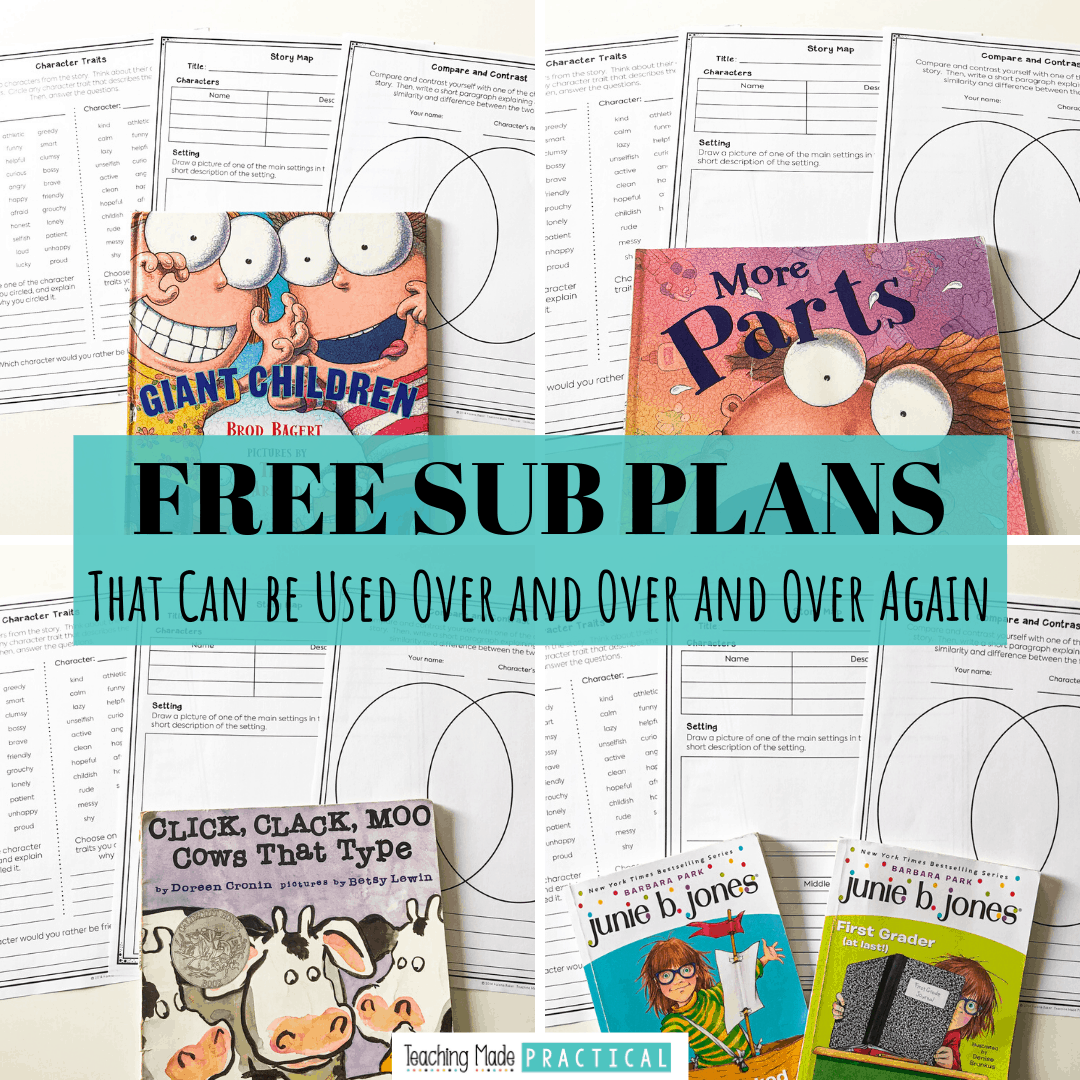 Make copies, find a fiction book, and you'll be ready for any emergency that comes your way!