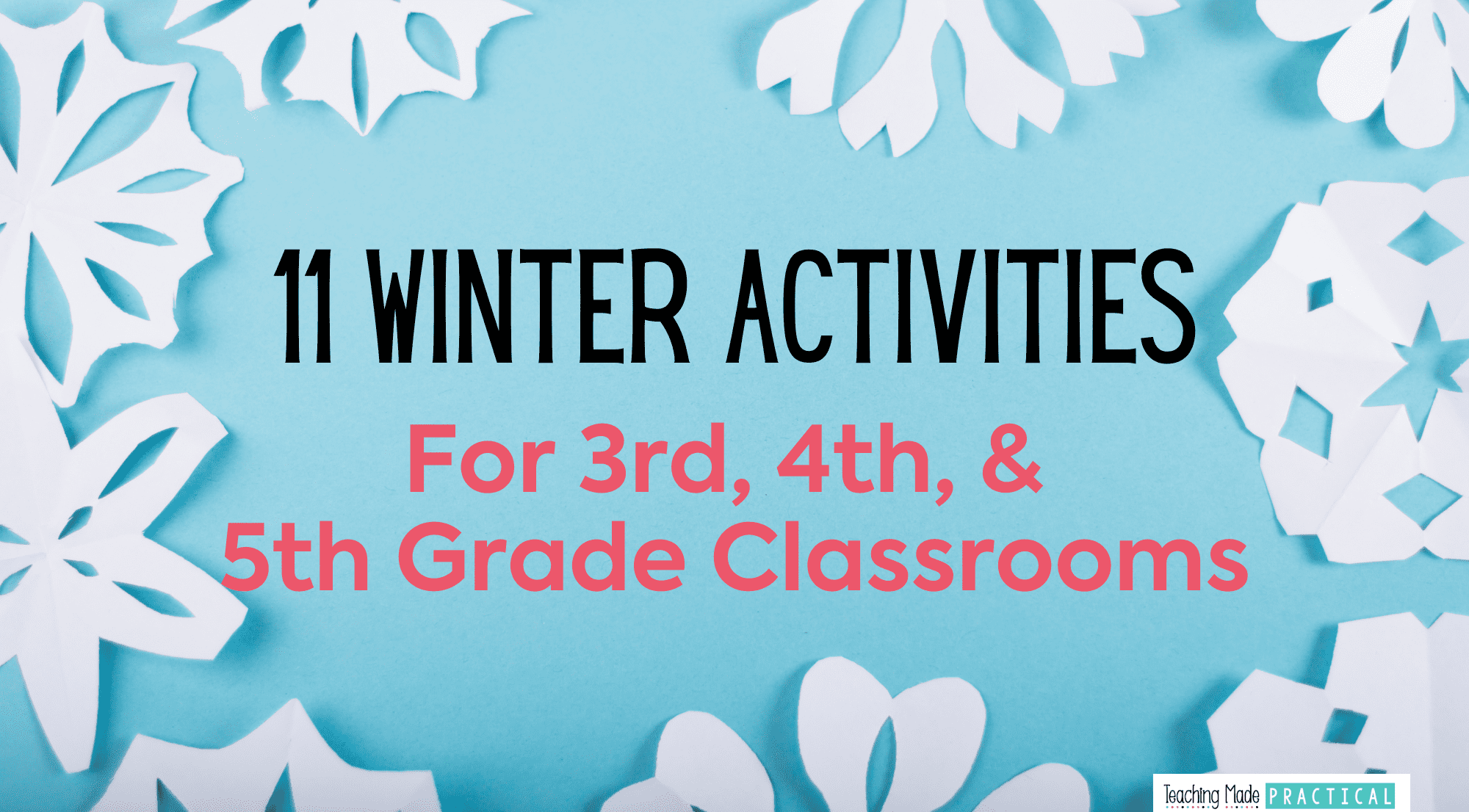 Winter provides a unique opportunity in 3rd, 4th, and 5th grade classrooms - a chance to celebrate all things cold.  The winter activity ideas below cover a range of topics and can be used to help you easily spice up your winter lesson plans.  Snowmen, polar bears, penguins, sled dogs, read alouds, snowball fights, and more.
There are winter reading, writing, math, and science ideas for upper elementary.
Fun Ideas for Your Winter Lesson Plans
1. Observe Penguins on a Webcam
Have students practice their observation skills by carefully observing penguin behavior on a penguin webcam.
Before watching the webcam, introduce students to some common penguin behaviors - things like preening, bowing, head-shaking, and tobogganing.  Then, have students record observations of the penguin behavior as they watch a webcam.
Try out one of these penguin webcams:
2. Compare and Contrast Penguins and Polar Bears
Extend your penguin lesson plans by having 3rd, 4th, and 5th grade students compare and contrast penguins with another popular winter animal - the polar bear.
The habitat of these two animals is often confused.  Polar bears live in the northern hemisphere near the Arctic Circle, and penguins are almost exclusively found in the southern hemisphere.  Have your students research these two animals and their habitats, and think about similarities and differences between the two animals.
This polar bear and penguin resource contains reading passages, questions, and a fun snowball fight activity to help students compare and contrast these two animals.
You could also watch this video of polar bears in Manitoba, Canada to add to your lesson.
3. Write a Winter Haiku
Have students reflect on the uniqueness of winter by writing a short haiku. This is a perfect way to introduce students to poetry writing, as the 3 line, non-rhyming poem is a lot less intimidating than other, longer forms of poetry.
Not sure where to start?  This No Prep Haiku Resource includes plenty of poems and activities to introduce students to the haiku, as well as scaffolded templates to help students successfully write their own haiku.
Or, check out these haiku children's books or these haiku examples in your lesson planning.
4. Try This No Prep Snowman Descriptive Writing Activity
This is an engaging winter writing activity for students and teachers alike.  Students stealthily draw a picture of a snowman and then write a short paper describing their snowman.
Hang the snowmen up, and then have students read their descriptions.  If they have included plenty of descriptive details, then their peers will be able to easily figure out which snowmen is theirs!
For a scaffolded version of this activity that will help students use interesting words and descriptive details, check out this No Prep Snowman Descriptive Writing Activity.
5. Practice Fractions With This Snowman Freebie
6. Write a Winter Squiggle Story
If you've never done a squiggle drawing writing activity in your upper elementary classroom, now is the time to try!
It's simple.  Provide students with a page that has a random squiggle on it.  Students use that squiggle to create a winter drawing, and then write about their drawing!
This Squiggle Stories Resource includes  30 image starters as well as 9 different writing prompts so you can utilize Squiggle Drawings in your classroom all year long!
8. Learn About the Tundra
The tundra is a unique and often overlooked biome.  Use this winter to introduce your students to this unique environment.
This no prep resource about the tundra includes a reading comprehension passage, questions, and an activity to help students learn about the plants and animals that have adapted to living in the tundra, as well as threats to this biome.
9. Have a Paper Snowball Fight
10. Meet Denali National Park's Sled Dogs
Denali National Park has some useful educational resources...including this video called "The Science of Sled Dogs."
Use the video to take your students on a virtual field trip to Alaska's Denali National Park and  learn about the sled dogs that help rangers take care of it.
The video does a great job of being interactive, asking questions in a kid-friendly way throughout the video.  Some of your older upper elementary students might roll their eyes a few times, but they will be engaged and learning!
11. Winter Read Aloud - Snowmen At Night
Never Stress Over Sub Plans Again!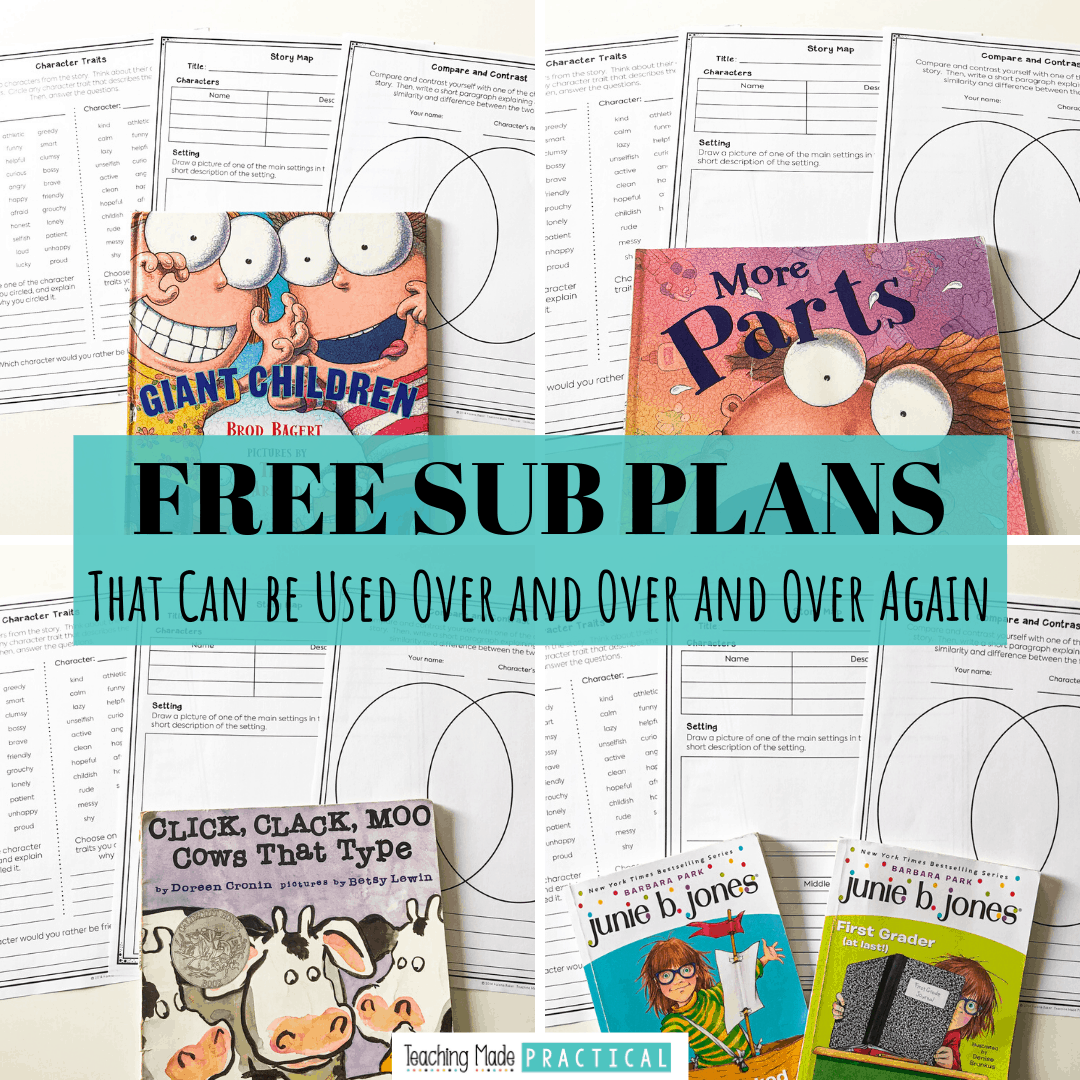 Make copies, find a fiction book, and you'll be ready for any emergency that comes your way!