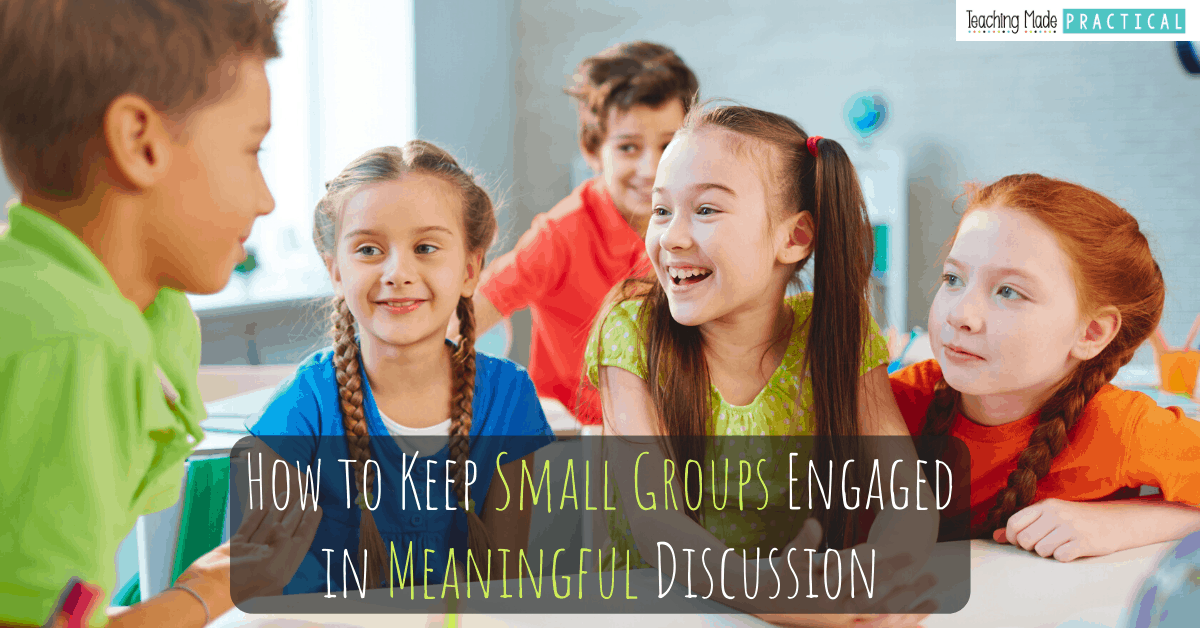 Facilitating Small Group Discussion Written by Guest Blogger McCormick in Middle
Do you want a classroom of engaged students during small group discussions? Would you love to be able to circulate your classroom and listen in on thoughtful and meaningful conversations about books without having to intervene to resolve conflicts? Is one of your goals for your readers for them to share the responsibility during group dialogues about what they're reading?
I can't imagine any upper elementary teacher answering no to one, or any, of these questions.
Despite how badly we may want this to happen in our classrooms, group discussions can quickly and easily turn into a second lunch and recess hour where conversations delve into weekend plans and FortNite dance comparisons.
As one teacher in a classroom of 25+ learners with diverse needs and interests, it can seem almost impossible to assign students to participate effectively in small group discussions. If you can relate to this problem, you need to try out Tower of Talk in your 3rd, 4th, or 5th grade  classroom!
This contains affiliate links.  For more information, see my disclosure policy here.
Tower of Tricks - Learning from Another Teacher
I first learned about Tower of Talk when I was in college studying elementary education. I visited a 3rd grade classroom where it was clear that the students understood how to stay on-task and engage in a book talk with a group of their classmates.
At this point in my time studying education, I had observed in a variety of upper elementary classrooms, as well as spent time substitute teaching, and I was in awe of the focus these eight year-olds had when it came to sharing about the book they were reading.
When my class finally got a chance to speak with the classroom teacher at the end of the morning, he assured us that he was not in fact a magician, but he did have a hat of tricks to share with us in the form of Unifix Cubes.  The colorful manipulatives that are frequently used as an aide in math class were his savior when it came to small group discussions with the creation of Tower of Talk.
Tower of Talk - A Small Group Discussion Technique
In preparation for Tower of Talk, you'll want to purchase at least one set of Unifix cubes. I only have 15 students (I know how lucky I am!), so if you have a larger class size, you may want to purchase more than one set. You can find them fairly cheap on Amazon.
For this small group discussion activity, each 3rd, 4th, or 5th grade student needs a stack of five Unifix cubes of the same color. In addition, each student in the group needs to have a different colored Unifix cube stack.
I strongly encourage modeling this activity for the students before having them try it out. I have a co-teacher for my ELA class (again, I know how lucky I am!), so employing a teacher friend or aide would be the best way to model the activity. If that's not possible, you can definitely ask for help from some of your students with some preparation.
During Tower of Talk, students are provided with a stack of index cards with questions or prompts on them. One student flips over one of the notecards and reads it aloud. Once the question or prompt is read aloud, the students are welcome to share their responses.
This is where our magical Unifix cubes play their big part! To make it clear to their group that a student wants to share, they carefully take a Unifix cube off of their own personal stack and place it in the middle of the group. After sharing, another student can remove a Unifix cube from their personal stack to add to the one in the middle.
As students share throughout the discussion, the tower grows with the various Unifix cube colors. I emphasize to students that this should not be a consistent pattern, but it should be used as an aide to keep themselves and one another accountable.
If a color hasn't been seen in awhile, encourage your classmate to share their thinking next! If you notice your color showing up too frequently, maybe think about taking a break to listen in on what your classmates have to say.
One of the most important things that I emphasize with my students is that they should be sharing based on what was just said. So many times before using Tower of Talk, I found that students spent time thinking about their own response to the question or prompt instead of listening to what their peers were saying. Students would share in a predictable round and weren't getting much out of the discussion because they weren't actively listening. Tower of Talk definitely combats this problem with an easily accessible solution!
Tower of Tools - Examples for the Classroom
Implementing something like this in the upper elementary classroom obviously takes some time. As I mentioned previously, finding a way to model the task for the students is imperative. They also benefit from clear expectations for how to hold the Unifix cubes so that they aren't distracted playing with them during the small group discussion.
I also encourage starting this activity in a low-stakes manner. I introduce students to Tower of Talk during the first few weeks of school using get-to-know-you questions.  (These 33 Discussion Questions for Building Classroom Community might help.) A couple questions include:
What is the best park to go to in our city and why?

What time do you think is the best time to go to bed each night in order to have a successful day the next day?

If you could travel anywhere in the United States, where would you go and why?

What advice would you give to a younger sibling, cousin, or friend about how to be successful in school?
As you can see, all of these are questions that can engage students in a conversation because they can agree, disagree, or elaborate on something someone said with an explanation.
(Check out these other back to school activity ideas.)
As students become more comfortable with this practice, we try it out with books. One of my favorites that I've read with my 5th grade class is Out of My Mind
by Sharon Draper. Here are a few Tower of Talk questions I've given the students to work with:
Do you think it's important to have friends who are exactly the same as you? Explain why or why not.

Do you think you can tell how smart someone is just by looking at them? Explain.

If you were in a wheelchair, how would your life be different?

Talk about a time when you felt different from others around you.
I don't introduce my readers to literature circles until halfway through the school year, but I have found that using Tower of Talk during the first half of the year has helped prepare them to have more engaged discussions when they transition to literature circles.
This activity can be differentiated to benefit any grade level, but I find that it has worked best for 3rd, 4th, and 5th grade students and has helped create an overall positive classroom environment during small group discussion.
A Few More Tower of Talk Tidbits...
Be strategic with the set up for your classroom group discussions. I find it helpful to move desks around or sit on the floor so that student are sitting in a circle. This way, they can easily see everyone in their group, and they have a place to put their tower and the index cards.

Have Accountable Talk sentences starters readily available to students who may need them or provide them for all students at the beginning of the year and gradually remove them as they get more comfortable using them independently.

After we complete Tower of Talk the first few times, I ask students to share commendations and recommendations for their group, and we create a class list. We refer back to this list before the next time we participate in Tower of Talk to remind one another about what to focus on. 

I give each group a bit of freedom for how they make it clear that they're ready to share. A few groups liked to take one of their pieces off their tower to show they were ready while others chose to wait until the person in their group was completely done talking before removing a piece. Feel free to gauge this in your classroom to determine what works best for you and your students!

A great way to challenge your high-flyers is to have them come up with questions for their group or for another group to use!

Consider video taping a standout small group discussion to show the class. This can be used as another way to model the activity for your class.
If you like this idea, please consider checking out my other ideas and following me  on TeachersPayTeachers at McCormick in the Middle (McCormickintheMiddle)!
Or, for other group discussion techniques, check out why you should be using Socratic seminars in the classroom!
Never Stress Over Sub Plans Again!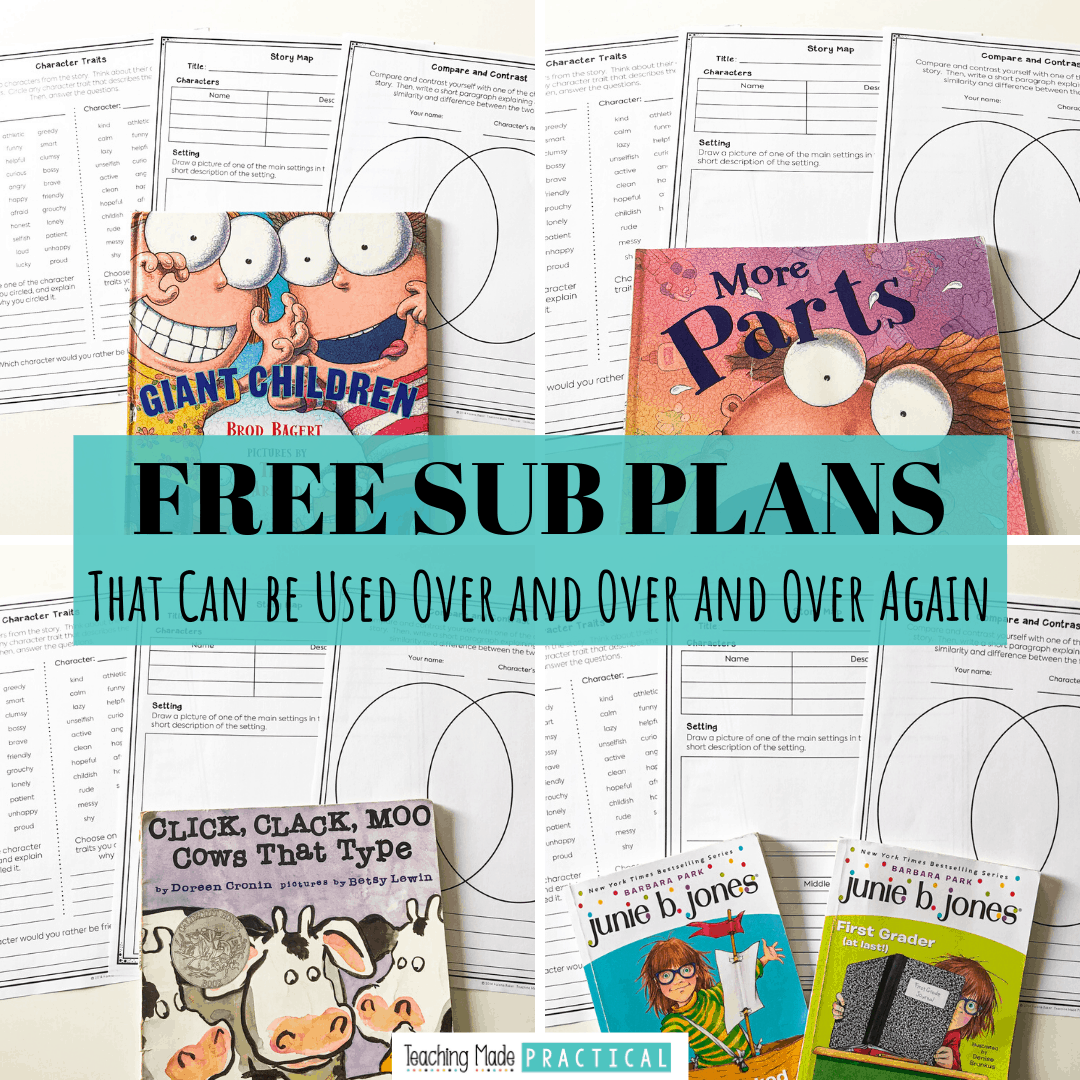 Make copies, find a fiction book, and you'll be ready for any emergency that comes your way!