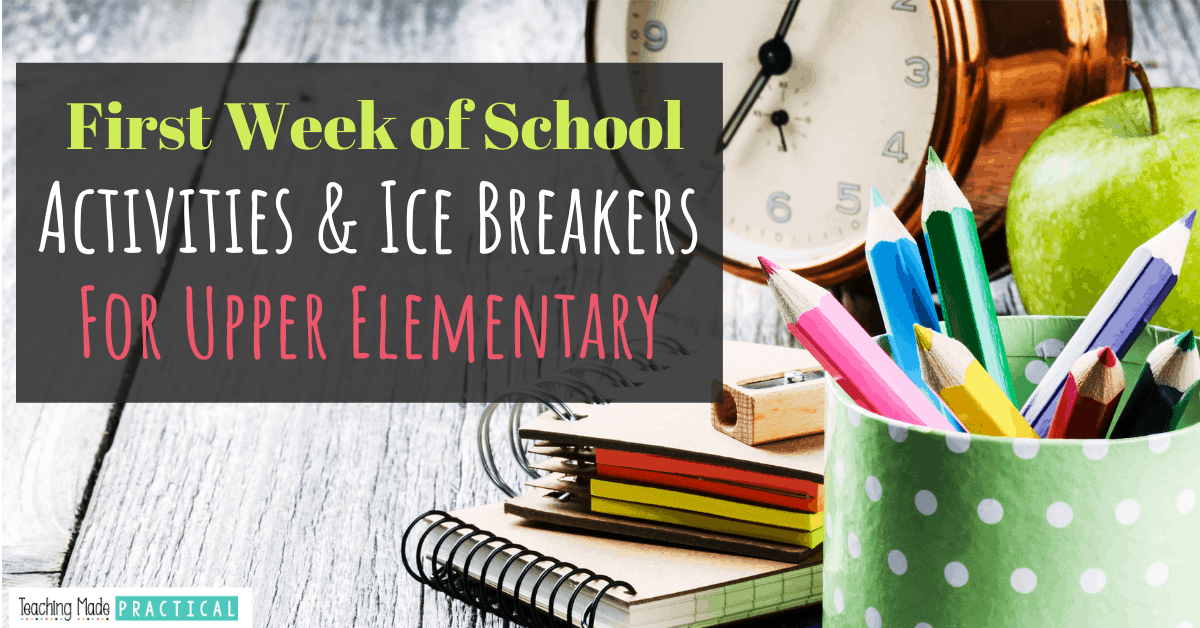 If you Google "What are the best first week of school activities," you'll get a plethora of answers.  But who better to get activity ideas and tips from them actual 3rd, 4th, and 5th grade teachers?
I asked almost 400 teachers what their favorite first week of school activities and ice breakers were. The answers were amazing!  Teachers gave first week of school book suggestions, ideas for building a positive classroom community, ice breakers, get to know you ideas, and more for 3rd, 4th, and 5th grade students!
There were so many great ideas that I can't share them all. So, I organized all of the answers, looking for the most popular, the most unique, and the most practical back to school activities.
Some of the teachers were willing to share ideas but asked to remain anonymous, so I respected that request. The most popular activities - as well as some of my personal favorites - are below!
Most Popular First Week of School Activities
Several first week of school activities kept coming up again and again. The activities below were some of the most popular, used by many teachers all around the world.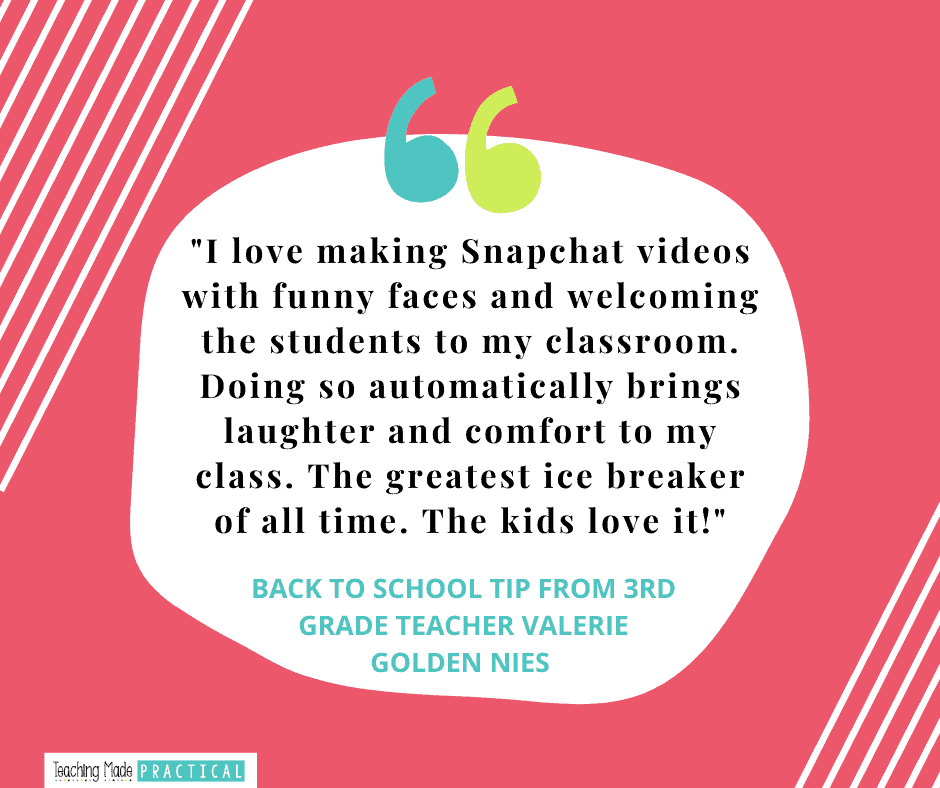 First Week of School Ice Breakers
The teachers surveyed had so many great ice breaker ideas that I had to make a section devoted to just ice breakers and team builders.
Rock, Paper, Scissors Tournament - Amy, who teaches Grade 5, says that "when students lose they cheer for the person they lost to throughout the tournament."  Find out more here.  

Would You Rather Questions - An anonymous teacher explained, "...students choose a side of the room according to their answer. Example: Would you rather live in town or in the country?"

The Line Game - similar to "Would You Rather Questions," 5th grade teacher Amanda Gornitsky said she puts "a blue line on the floor and if something applies to the student they step on the line. Ex. Step on the line if your favorite animal is a zebra."

Toilet Paper Tell - Another anonymous teacher explained this ice breaker.  "Pass around a roll of toilet paper and instruct students to tear as long or as short a piece as they like. Next, have them count how many squares they pulled off. Explain that they will tell one thing about themselves for each of their squares. This is so much fun and totally hilarious because some kids always get overzealous and rip off a very long ribbon of toilet paper and then they have to think of something to share for all those squares! I allow other students to encourage them or help them out by asking questions if the student is shy or uncomfortable."

Small Groups or Partners Ask Each Other Ice Breaker Questions - If you have pre-made questions for students to read and ask each other, this makes a great ice breaker.  Plus, students get to practice their reading, listening, and speaking skills.  These 33 Free Discussion Questions can help you build a positive classroom community - and keep it all year!

Interview A Friend - Just like it sounds.  Have pairs of students ask each other questions.  Check out these tips and ideas for using this interview a friend activity in your classroom.
First Week of School Activities That Can Help You Create a Bulletin Board
Talk about practical! The teachers below had great first week of school activity ideas that served a dual purpose - after completing the activity, the teachers would use it to create a bulletin board.
"During the first week, I have students write a biography poem about themselves and share them as a get to know you activity. Later in the week I print them out on half sheets and the students draw a self portrait which appears to be holding up the half sheet. It's great to hang up early on to give kids some ownership of the room." - Alexandria Carpenter

"My favorite activity is a 'Crayon Name Design.' Since I teach 3rd, I write their name either in cursive or print it. Then they slowly trace around it using different colors until the paper has no white space left. The colors should bump each other. When they are done, I hang them up in the classroom for the whole year. They LOVE it!"  - Lisa Kerrins, 3rd Grade

"Every student gets a paper sized puzzle piece. Once completed with names and favorites, we put them all together on the wall in the hallway to show we all 'fit together.'" -  Cindy ELA 5–8

"The students trace and cut out their hands and then decorate it in their 'style.' We use all of the hands to make a big flower that stays up all year." -Anonymous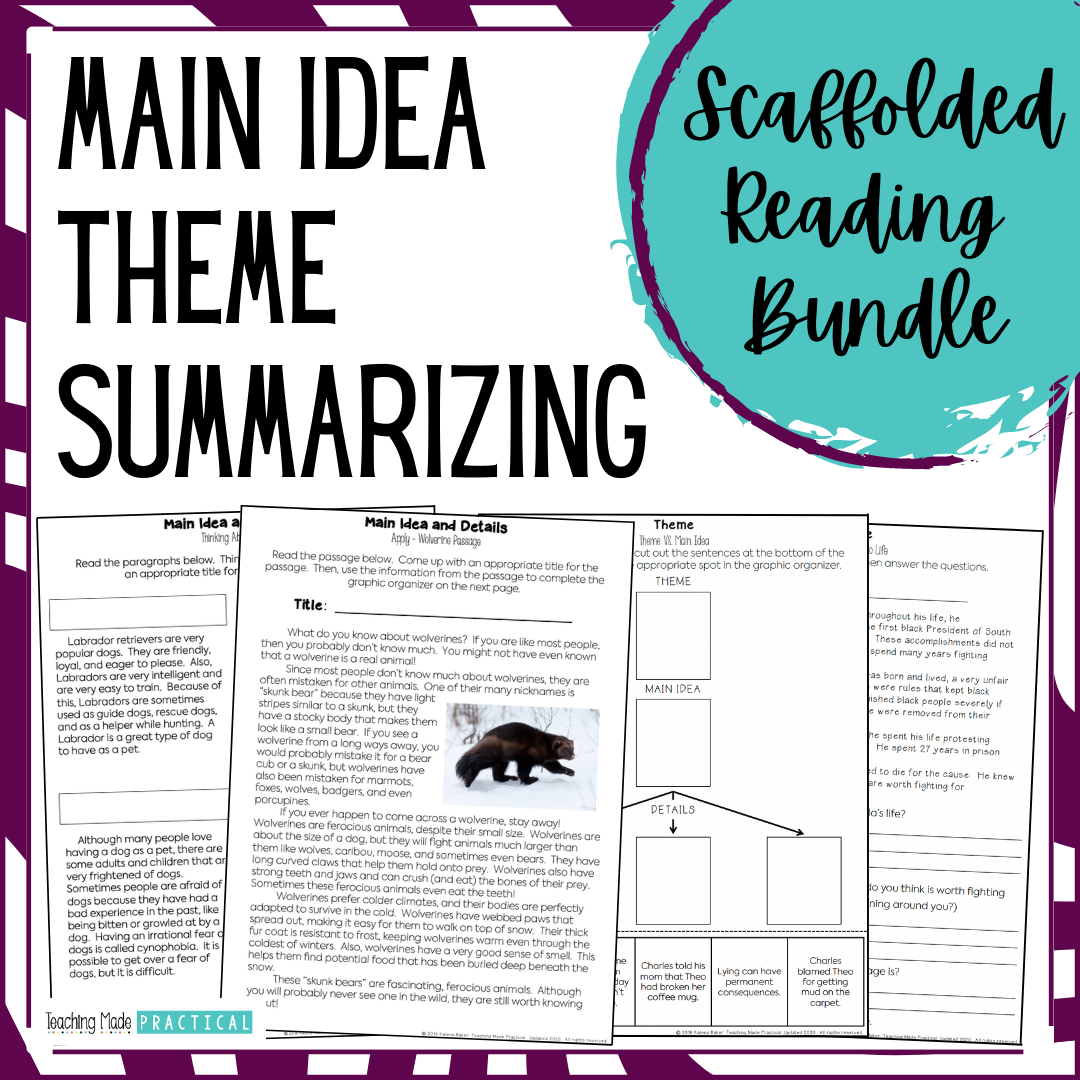 Main Idea, summarizing, and theme are hard skills to teach and hard skills for students to understand.  Curriculums often do not address these skills in a way that make sense to students.
This mostly no prep resource scaffolds these 3 skills to help even your struggling students be successful - and right now it is 35% off!
Other Great First Week of School Ideas
The ideas below were fairly unique and some of my favorites for 3rd, 4th, and 5th grade classrooms!
"I love making Snapchat videos with funny faces and welcoming [the students] to my classroom. Doing so automatically brings laughter and comfort to my class. The greatest ice breaker of all time. The kids love it!" - Valerie Golden Nies (Mrs. Golden) 3rd Grade

"I ... like using the iPad in my classroom. We're lucky enough to have one per student. They go to the app Pages and create a poster using shapes, stamps, photos that have taken etc., that represent themselves and their interests. Then through Apple TV, the children are able to use their iPad to show their poster on the screen. They really love this, and have fun asking each other questions." -Anonymous

"I have the kids use Spark Video to make a video presentation about themselves. I then post it on Seesaw and send home QR codes to parents encouraging them to log onto Seesaw to see their child's first day project. I use Seesaw A LOT and this gets many parents to log on that first day. It's also a great way to get kids excited on the first day with an iPad project." - Terri Brown 4th grade

"Students sit in a circle and write their fears on a piece of paper. We crumble them up and stomp on them. The kids love it!" - Anonymous

"Students create a timeline using only 5 events and tell us about why they chose events." -LeAnne Boyer

"A wrinkled heart activity to teach compassion and self control of words and actions. The kids unknowingly decorate a huge whole class red heart with things they love and their name (taking group turns for two days). When they've all finished adding their part, the class sits in a circle and I begin by saying words can hurt as much as actions and can leave our hearts worn. Each bad thing I say, the heart gets passed and each kid must wrinkle a part with the hurtful words I say (I don't let them say the bad phrases). Once it made its way around, we discuss how we feel. We talk about how apologies are helpful, and so are actions of kindness. We do it all again, but this time I say positive phrases (surface level and deep such as your hair is cute or you're a great mathematician) Once it's gone around once again, we look at our wrinkled heart. We discuss how we need to think before we speak, because words can wrinkle hearts." - Anonymous (If you like this idea, then you should check out these other ideas to create a culture of kindness in your classroom.)

"I have them throw a marshmallow into a garbage can. We talk about how everyone is different and for some it's easy (they are close to the can) and some it's hard, but we all have the same goal. Some students might get different help so they can also meet the goal." - Anonymous

"We always make a 'time capsule' at the beginning of the year. Students fill out a sheet that details their favorite books, songs, movies, how they are feeling about starting 4th grade, wonders, worries etc... Then we put them all together, roll them up, put them into a tube and seal it until the last day of school. It is so fun to take out our sheets and see how much we have changed over the school year!"   Peg Pearson, 4th Grade

"I write and leave my new students a letter on their desk. It introduces myself, tells them all about me personally and I give them a little third grade background. At the end of the letter I give them a direction to use the paper provided and write a friendly back to me telling me all about themselves and what they are most excited about in the third grade. It allows me to see how well they can read, write a friend letter and follow directions. It also lets me learn more about them!" -  Anonymous
Never Stress Over Sub Plans Again!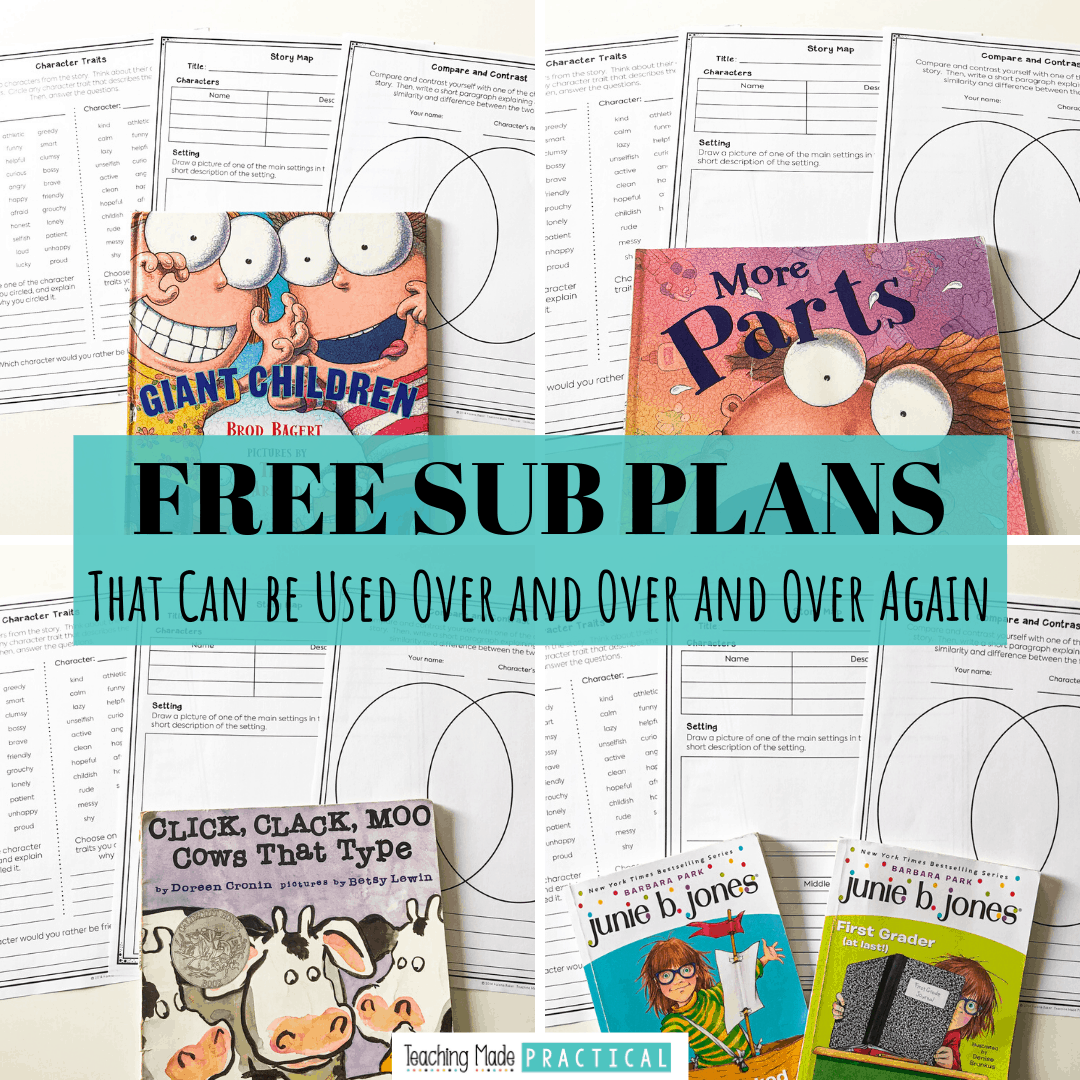 Make copies, find a fiction book, and you'll be ready for any emergency that comes your way!