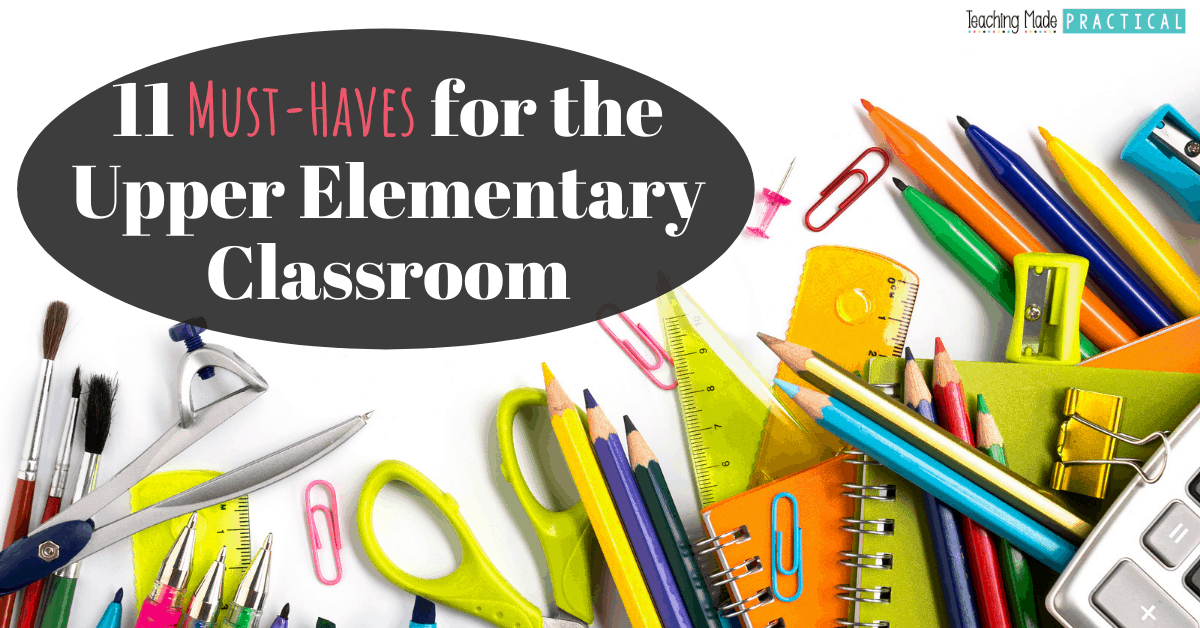 Whether you are a first year teacher or a veteran, there are some things that every upper elementary classroom needs. Below are what I considered the 11 teacher must-haves in my 3rd grade classroom. Without them, I would have had a difficult time surviving the school year!
This isn't really a list of must have classroom supplies.  Instead, it's a list of all sorts of things 3rd, 4th, and 5th grade teachers need in order to survive the year.
Sometimes I recommend products using affiliate links.  If you click through and buy, I may be compensated at no cost to you.
Must Haves for First Year Teachers & Veteran Teachers Alike
1. No Prep Morning Work
Mornings can be chaotic.  In order to complete all the morning tasks necessary (taking attendance, greeting students, answering questions, talking to parents, etc.), students need morning work they can complete independently and is also engaging.
It is impractical to spend a lot of your time planning and prepping morning work, however.  Finding a morning work system that works for you and that you never have to worry about will save you a lot of time and stress.
This will look different in every classroom, but one of these 14 morning work ideas is bound to work for you and your 3rd, 4th, or 5th grade classroom.  
Or, if you are a 3rd grade teacher, then this two weeks of free math morning work might be a good option to start the year off with.
2. Free Emergency Sub Plans
Nothing creates more stress for a teacher than having an emergency pop up - and then having to create sub plans so that you can deal with that emergency!
Eliminate some of the stress with these free sub plans - they can be used over and over again with any book.  Print multiple sets of copies of ahead of time, grab a few picture books, and you'll be prepared for almost anything.
3. Pencil Sharpening Procedures and a Quality Pencil Sharpener
Pencils are a necessary evil in any elementary classroom. It took several years before I finally figured out pencil sharpening procedures that worked for me. Before that, my lessons were interrupted several times a day because students were constantly running out of sharpened pencils.
Part of the problem was the cheap pencil sharpeners I used. In a quest to spend my limited funds on more important things (like books for my classroom library), I didn't buy a good pencil sharpener for quite a while. When my students used the crank pencil sharpener the school provided, their lead broke very easily. When I bought cheap pencil sharpeners, I was having to replace them all the time.
When I finally bought this pencil sharpener built for more heavy duty use
and revised my pencil sharpener procedures, the interruptions caused by broken pencils decreased substantially.
4. No Prep Resources
It's inevitable.  At some point, probably within the first couple weeks of school, you are going to be running short on planning time.  You will need some engaging, meaningful lessons that are no prep.
Having some no prep activities like these in your back pocket can be a life saver.
Reusable resources are useful to have on hand as well.  These activities can be used over and over again with different activities or books - and you can print them ahead of time so you always have them if you need them.
5. A Clipboard and a Pencil
I carried a clipboard and a pencil with me EVERYWHERE. In fact, my clipboard was such an essential part of my school day that one of my classroom jobs was clipboard holder. This student was responsible for knowing where my clipboard was at all times, bringing it to me when I needed it, and carrying it in the hallway when I needed my hands for something else.
This clipboard I carried was sort of a "catch-all" clipboard. I used it for a huge variety of purposes, including keeping track of behavior and academic data, writing to-do lists for myself, keeping track of important dates, etc.
Whenever a parent or an administrator stopped me in the hallway and asked me to take care of something, I could write myself a note so that I didn't forget. Whenever I was keeping track of a certain student behavior, I collected the data on my clipboard. Whenever I got information about field trips or upcoming PDs or schedule changes, I kept that information in my clipboard so that I was always able to answer questions about those things, no matter where I was.
Whenever I thought of something I needed to-do, I wrote it on an empty sheet of paper on my clipboard so I wouldn't forget to do it. Whenever we had a fire drill, I always had a class list with me because I kept one on my clipboard. As 3rd grade team lead, I kept my teammates schedules' on my clipboard so I could answer questions that substitutes, parents, or my administrators might have about my team.
It was kind of a mess having all this information in one place, but it was "organized chaos" for me. I felt lost without it.
I used an ugly brown clipboard for many years teaching, and that worked perfectly fine. But this storage clipboard helped a lot when I began having one of my students keep track of the clipboard for me as one of my classroom jobs.
On a related note, you will probably already need a lanyard for your ID badge.  Consider attaching a pen or pencil to the lanyard as well so you always have something on you to write with!
6. Whiteboards and Dry Erase Markers
I truly don't know how I could have survived a year in my 3rd grade classroom without a dry erase marker and whiteboard for each of my students. Not only did these supplies help keep students engaged, but it is hands down the best way to get a quick assessment of how well students understand a concept being taught. I don't remember teaching a whole class math lesson without having students use their whiteboard at least once.
Since this was a regular part of my day, it was important to me to have well thought out procedures in place for dry erase markers and whiteboards.
Although you possibly could accomplish the same thing with just pencil and paper, it was so much easier for me to take a quick glance around the room and see who was still struggling when students were writing with dry erase markers.
The schools I taught at provided personal whiteboards for every 3rd, 4th, and 5th grade student, but you could accomplish the same thing cheaply using a blank sheet of paper in a sheet protector. I bought Dry Erase Markers
any time I found them on sale so that I ALWAYS had extras.
7. A Well Stocked Classroom Library
8. Dice
Dice are cheap, easy to store, and make everything more fun for kids. They also are an easy way to differentiate different math skills for kids.
I used 6 sided dice,
place value dice,
and 10 Sided Double Dice
regularly in my classroom.
Dice are a fun way to have students practice math skills that they had already learned. Addition, subtraction, multiplication, comparing numbers, area and perimeter, rounding, fractions, and more can all be made more engaging by adding dice to the lesson plan. If you're needing ideas for games to play with dice, check out Pinterest.
9. An Easy to Manage Classroom Job System
I resisted using classroom jobs in my 3rd grade classroom for a while because it seemed to cause more problems and waste more time than it was worth.  Eventually, however, it become one of my teacher must-haves.
Once I revised how I did classroom jobs (using job applications and assigning a job for extended periods of time), I saved myself so much time and stress. You can read about how I set up this classroom job system here.
Or, here's a list of 32 classroom job ideas you can use in your upper elementary classroom.
10. A Personal Laminator
If you're one of the lucky few - that rare teacher that works at a school that provides a high quality laminator that never breaks and is always available - then you might not need your own personal laminator. But for everybody else, having a personal laminator can be a huge stress reliever.
It was hard for me to spend money on a personal laminator since there are a LOT of other things I would rather buy for my classroom (usually books!), but the time it saved me later on made it totally worth it.
Before I had a laminator, I wasted a LOT of time. There were many activities that I used several times a year in my classroom that I created over and over again instead of laminating (because our school laminator was ALWAYS broken). It was a huge waste of time, and I wish I had bought a laminator sooner rather than later.
Personal laminators are small (obviously) and can't usually laminate anything larger than a regular sized sheet of paper, but that's often perfect for what I needed. It's particularly perfect for center activities that can be used over and over, year after year.
This is the upgraded version of the laminator I own.
I've never needed to look for a new laminator, because I've had this one for a while now and it's never given me a moment of trouble.
11. Good Classroom Management and Well Thought out Procedures
This definitely isn't a new idea.  All 3rd, 4th, and 5th grade teachers know that classroom management and classroom procedures can make or break a school year.
Every classroom and teacher is different.  There is not one right classroom management system, or one right way to set up your your classroom procedures.  However, getting ideas from other teachers can be helpful in creating your own systems.  Here are some of my more successful classroom management strategies and routines.
Never Stress Over Sub Plans Again!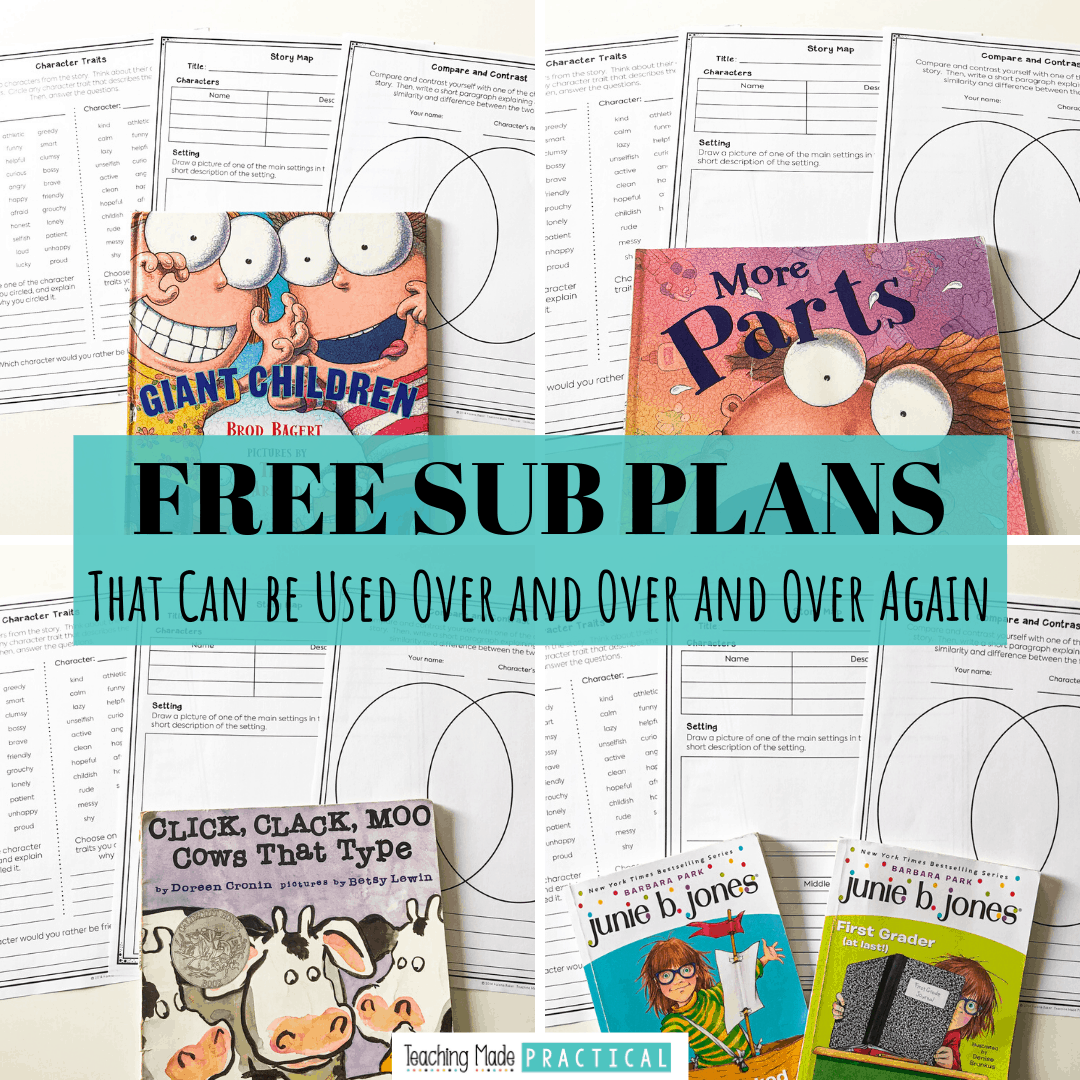 Make copies, find a fiction book, and you'll be ready for any emergency that comes your way!