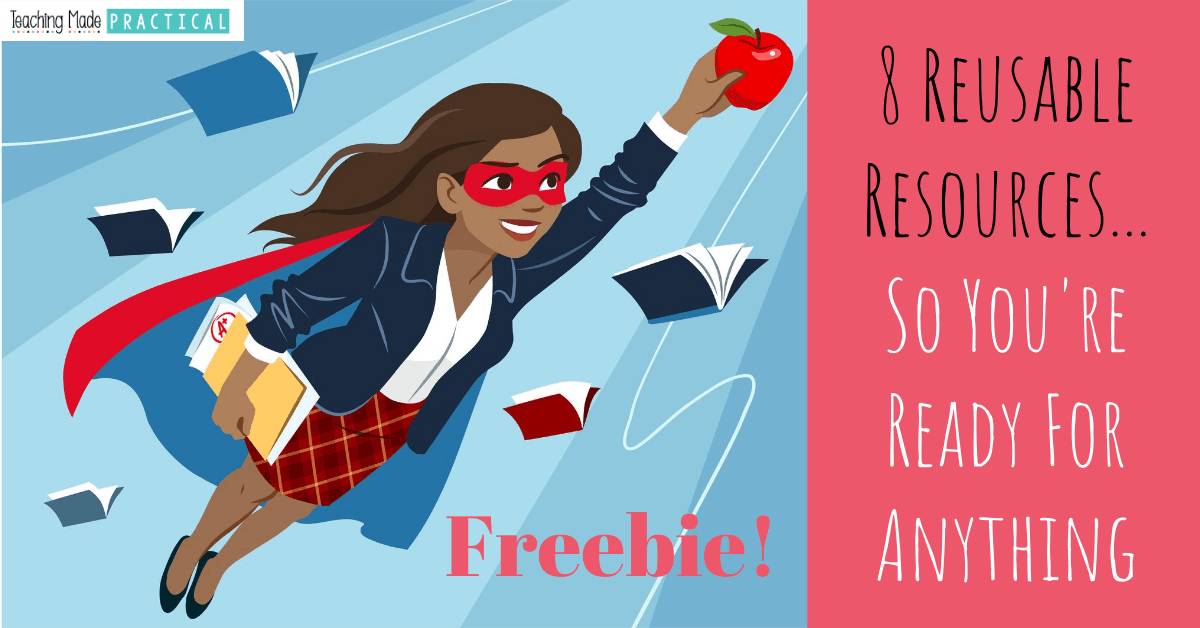 3rd, 4th, and 5th grade teachers love creating engaging, hands on lessons.  But often those Instagram- worthy lessons require a lot of prep work, and sometimes they cost a lot of out of pocket money.
The 8 reusable, no prep activities below are engaging for upper elementary students, but they are much more practical for daily use.  Use them to help minimize your workload and reduce stress.
And best of all, they are free!
Why You Should Have Extra Copies of Reusable Resources All The Time
Some of the reasons for keeping extra copies of reusable resources on hand are pretty obvious.  If you already know how and why you want some reusable resources for your upper elementary classroom, scroll down a little farther for the freebies!
Otherwise, check out these reasons reusable resources will make your life so much easier.
You'll always have ready to use activities for when your regular plans are interrupted and must be adapted.  Unannounced fire drills.  Behavior problems.  An unexpected classroom visitor.  All of these things can mess up your regularly scheduled lesson plans, but the no prep freebies below can be adapted and used anytime you need them.
You'll always have activities ready to go for another teacher in need.  Having easily adaptable activities ready to go can be a lifesaver for your teammates when emergencies arise.
You'll always have activities ready to use, even if the copier isn't working.  Enough said.
You'll always have activities ready to use that students can complete independently.  Sometimes things come up that require your attention, yet you still need your students to be working productively.  The reusable activities below make that easy.
You'll always have activities to use for those weeks that prep time is taken up by IEPs, staff meetings, PLCs behavior problems, paperwork, etc.  You obviously shouldn't inundate your students with the same reusable resources week after week.  But there are weeks where you simply don't have time to prepare your usual stellar lessons.  Having engaging activities ready to go can be a lifesaver.
You'll always have activities to give those parents that always want more work for their child.  
If you take the time to make plenty of copies of reusable activities at the beginning of the school year, you won't regret it.
Having activities like these already printed and ready to go means that you will ALWAYS have something meaningful for your students to work on, no matter what kinds of interruptions or emergencies come up.
Or, you can always save paper by putting the activities in a sheet protector and use it with dry erase markers.  
My Favorite Reusable Activities for 3rd, 4th, and 5th Grade Students
Below are some of my favorite reusable activities - and you can download them all for free!
Teaching is one of the few jobs where going into work sick is WAY easier than planning for a sub and taking a sick day.
I went into work many times when I knew I should stay home and rest, just because I didn't want to have to make sub plans. But that's absolutely ridiculous, not to mention it risks getting others sick!
In this post-COVID world, we are all much more aware of the need to stay home when we are sick.
These reusable sub plans make taking a sick day - or two, or three - SO much easier because they can be used over and over again with different books. Simply make several days worth of copies and have different books ready, and you have emergency sub plans ready for as many days as you want!
The activities in this resource don't have to be just for sub days, however.  They can be used all year long in your own lessons.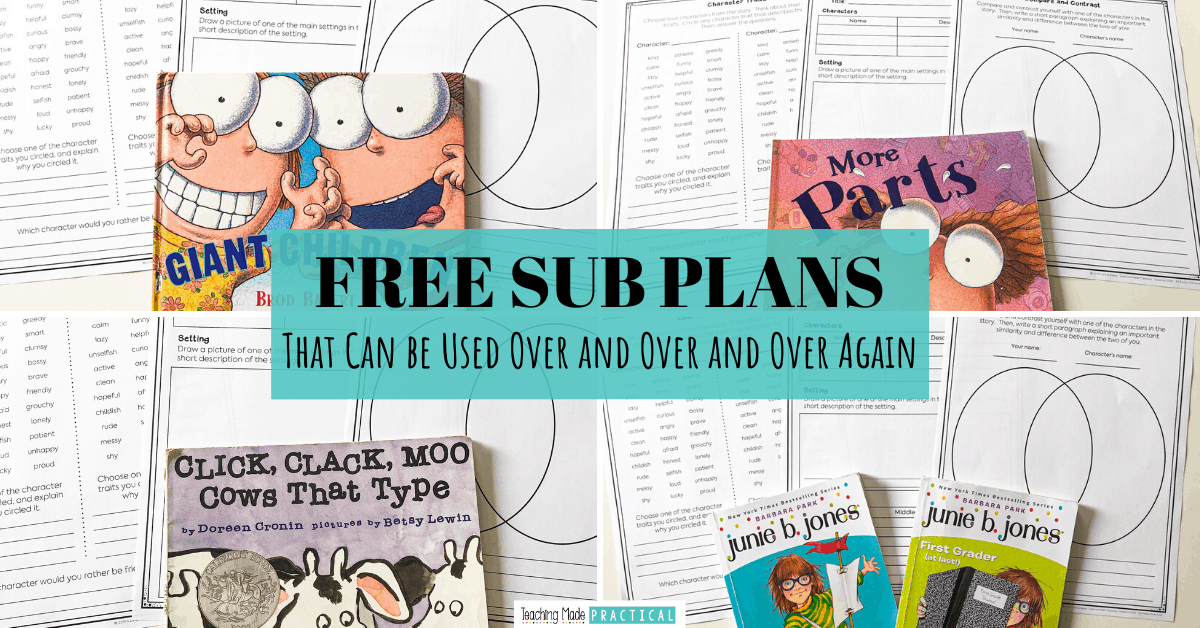 Graphic organizers are great reusable activities.  They can be used with a variety of different books and activities, they are usually no prep, and there are a ton of different graphic organizers available to help you work on different skills!
Having copies ready to go at the beginning of the school year for a variety of graphic organizers can make lesson planning much easier those weeks that planning time is nonexistent.
These free graphic organizers for teaching character traits and point of view might be useful for your upper elementary classroom!
Blank number grids are an under-utilized resource in 3rd, 4th, and 5th grade classrooms.  They can be used to help build place value skills, multiplication fluency, and a better understanding of fractions and decimals.
Check out these 10 Ways to Use a Blank Number Grid in Upper Elementary, and find a free blank number grid as well.
This is a simple, yet powerful activity to use after reading a nonfiction text or watching an informational video.
Simply have students write down 3 things they already knew and 3 new things they learned.
This is a particularly useful activity for students that like to tell you that they already knew everything - now they get to share that sentiment with you through writing.
I would often use this after watching a science or social studies video. Videos and movies sometimes get a bad rap in education, but having students do activities like this that require them to do a little thinking can make video clips much more meaningful.
6. A No Prep Word Study Activity
For this activity, all students need is something to write with, something to write on, and some words on the wall or in a book.
It can be adapted for almost any word study skill you want your students to practice - the 6 syllable types, compound words, r-controlled vowels, prefixes and suffixes, etc.  Find out how this activity works here.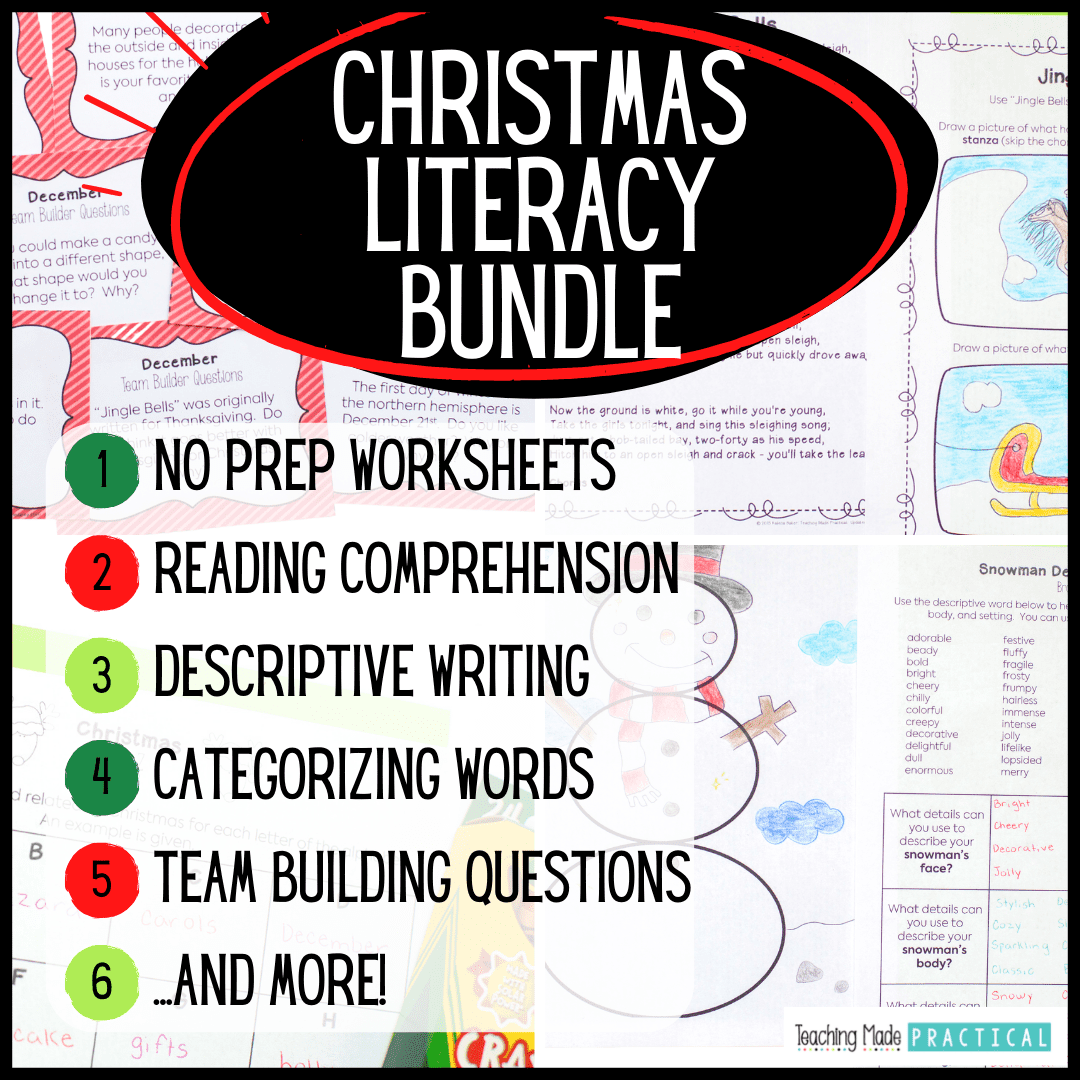 These Christmas Literacy Activities make this crazy time of year easier on you while still keeping your students engaged and learning! It includes:
no prep literacy activities
no prep reading comprehension practice using Christmas songs
a no prep snowman descriptive writing activity
a fun, no prep Christmas reading center
writing activities
...and more
In most schools, writing is one of the most neglected subjects. Yet it is so easy to integrate into lessons!
I always had plenty of copies of this Reusable Writing Paper available, and looked for ways to integrate writing as much as possible into my daily plans.
This writing paper also has places for students to include a text feature. Most students will naturally go with drawing a picture, but I encouraged students to include other text features like graphs, maps, diagrams, or bullet points. And if all else failed, I asked them to at least write a caption for their picture!
Find out more about integrating writing while teaching other skills, including:
This is a great activity that can be used over and over again, especially when teaching nonfiction.
Basically, students try to come up with a word that relates to a certain topic for each letter of the alphabet.
Download a free A to Z Printable Here.
This is great as a culminating activity after students have learned about a certain topic, or it can be used throughout a social studies or science unit.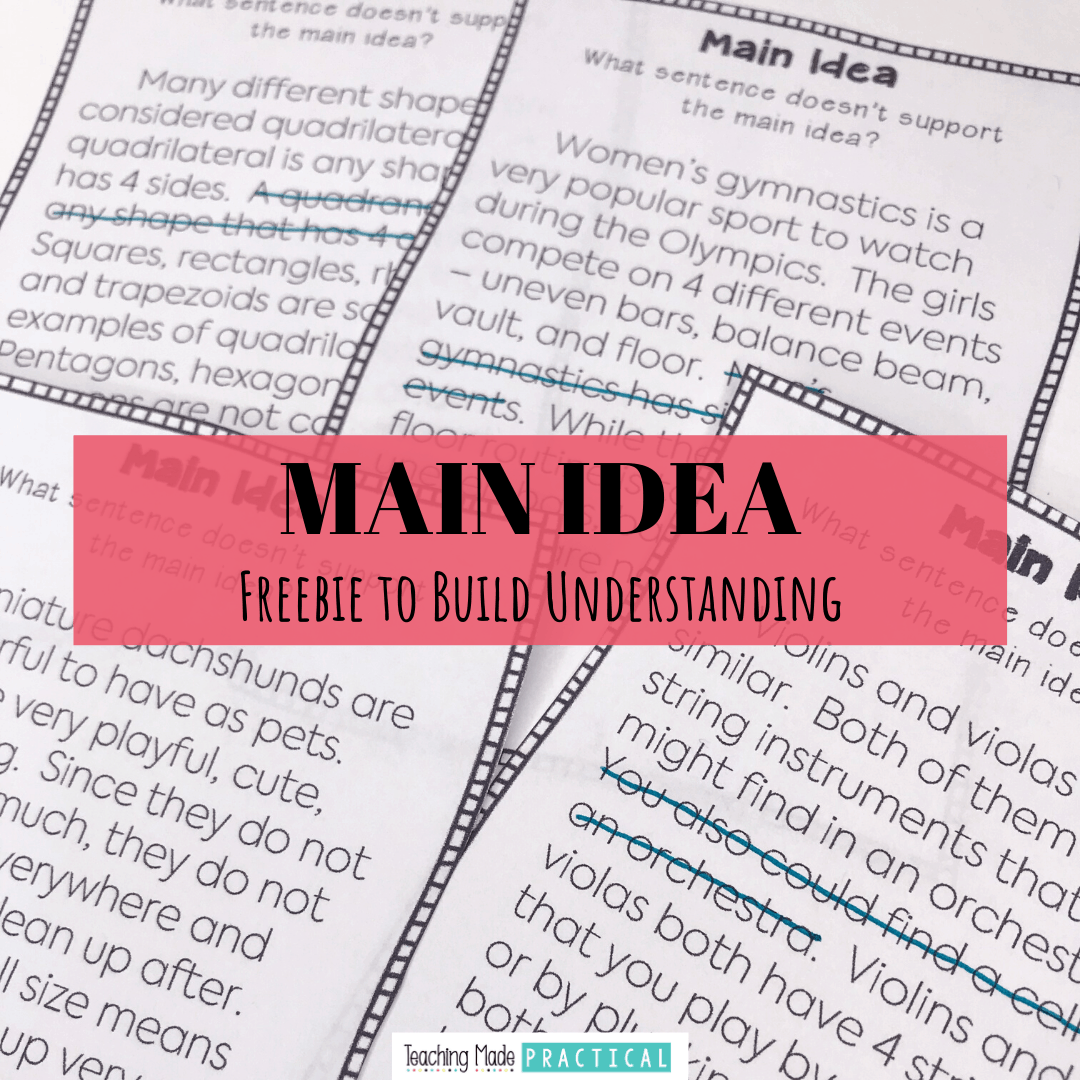 Help your students build a better understanding of main idea with this freebie.