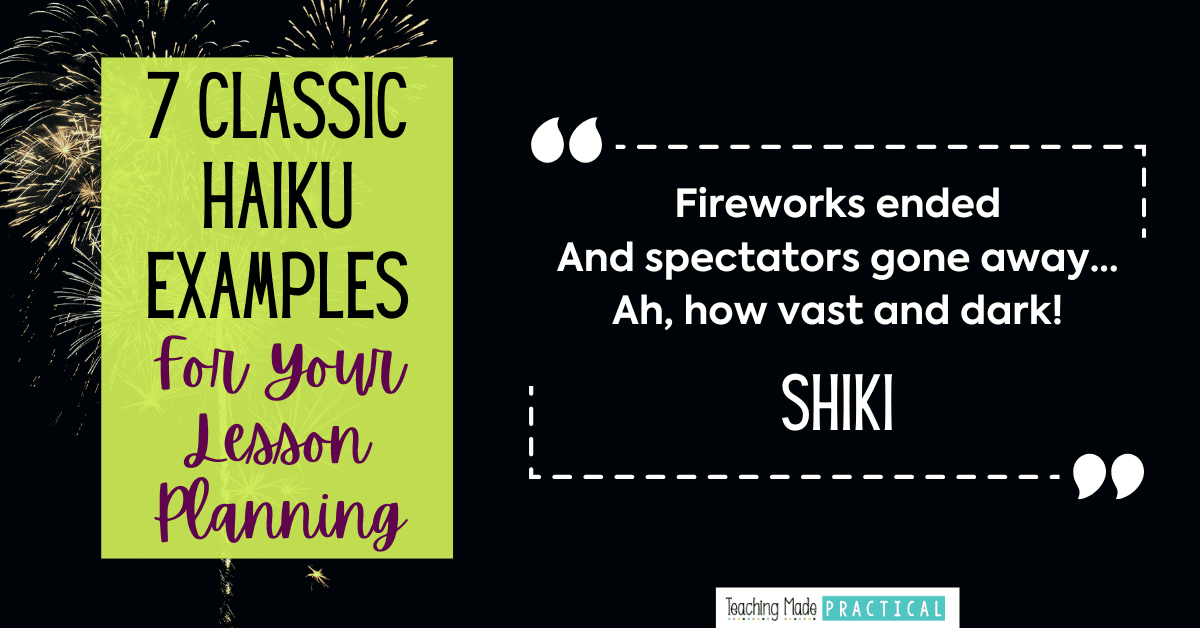 Haiku's unique form and structure make it an ideal form of poetry to teach to upper elementary students.  A haiku is one of the shorter forms of poetry, which will keep students (and teachers!) from getting overwhelmed.
The haiku examples below follow the generally agreed upon rules of haiku:
3 lines
a 5-7-5 syllable pattern
precise language to describe a moment in time
about nature
Use the classic examples of haiku below to introduce your students to haiku.  If you are wanting to do a more in depth haiku unit, then these no prep activities and worksheets - including a haiku project - might be ideal for you.  
6 Haiku Examples for Your 3rd, 4th, and 5th Grade Students
The haiku examples below were all written by famous poets.  Buson and Shiki are particularly well known for the contributions they made to this form of poetry.
The poems written by Japanese authors have been translated into English, but the translators made sure to still follow the 5-7-5 syllable pattern.
Use these examples to introduce haiku to your upper elementary students.
Fireworks ended And spectators gone away… Ah, how vast and dark!
Ah, the butterfly
Keeps getting in the way of
The bird-catcher's pole!
Listen to the rain
Falling broken on the ground:
Pity the sky once.
See the morning breeze Ruffling his so silky hair… Cool caterpillar
Dirty bath-water
Where can I pour you? Insects
Singing in the grass.
When the flower falls
The leaf is no more cherished.
Every day I fear.
Using a Famous Haiku for a Fun Haiku Lesson
English speaking countries have only recently embraced haiku, but this form of poetry has been around for a long time in Japan.
Matsuo Basho, who lived in the 1600s, is one of the most well known masters of haiku, which was called hokku during his time.  His haiku about a frog jumping into a pond is his most famous poem, and it has been translated into English in many different ways.
An ancient pond
Frog jumps in
The splash of water
Some of the beauty and simplicity of Japanese haiku gets lost in translation. And the 5-7-5  pattern using Japanese sound units called mora do not translate perfectly into our use of syllables.
Have students use this famous frog poem as inspiration, and rewrite it so it follows the 5-7-5 syllable pattern in English.
You can find other translations of this poem here if students need a little more inspiration - most of them do not follow the 5-7-5 pattern.
No Prep Haiku Activities and Examples for a More In Depth Study
For a more comprehensive study of haiku, check out these no prep lessons and activities that include many more haiku examples.  The worksheets are scaffolded and walk students through:
learning the "rules" of haiku

identifying haiku

answering questions about haiku form

answering comprehension questions about haiku

illustrating

haiku

writing their own haiku (with or without the templates provided)

learning about the history of the haiku
As part of the resource, 3rd, 4th, and 5th grade students will complete a haiku project where they write their own haiku - 1 haiku for each season.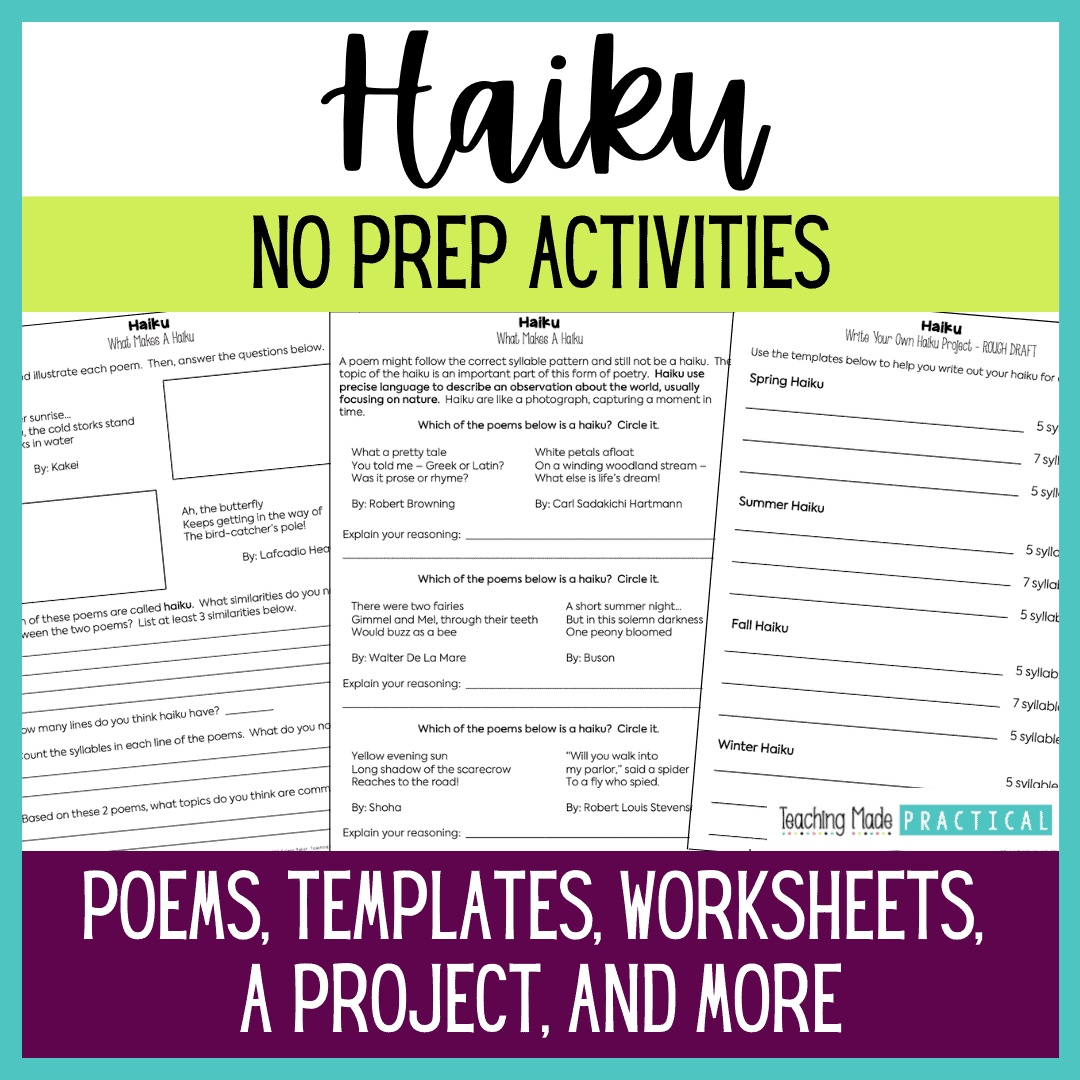 Never Stress Over Sub Plans Again!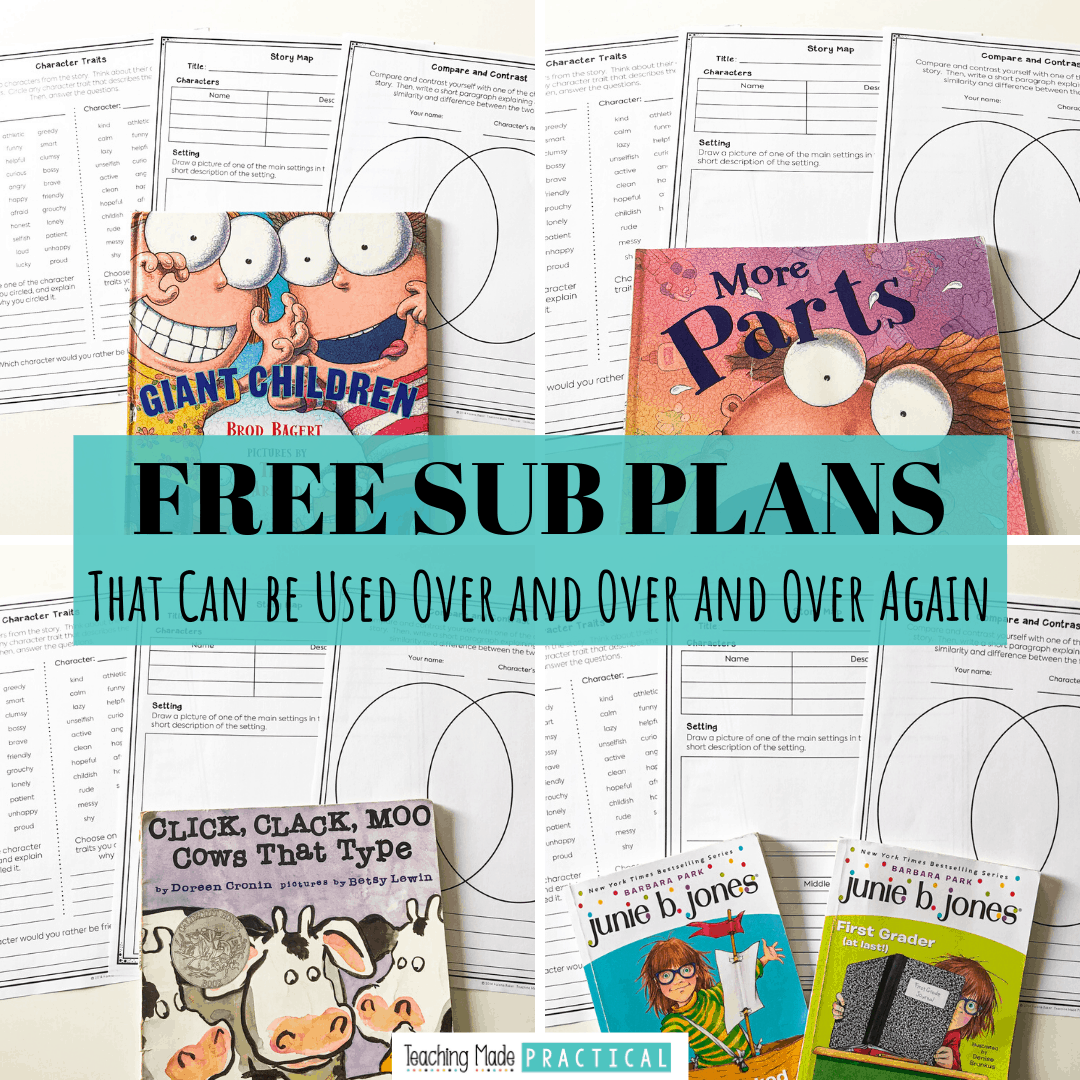 Make copies, find a fiction book, and you'll be ready for any emergency that comes your way!