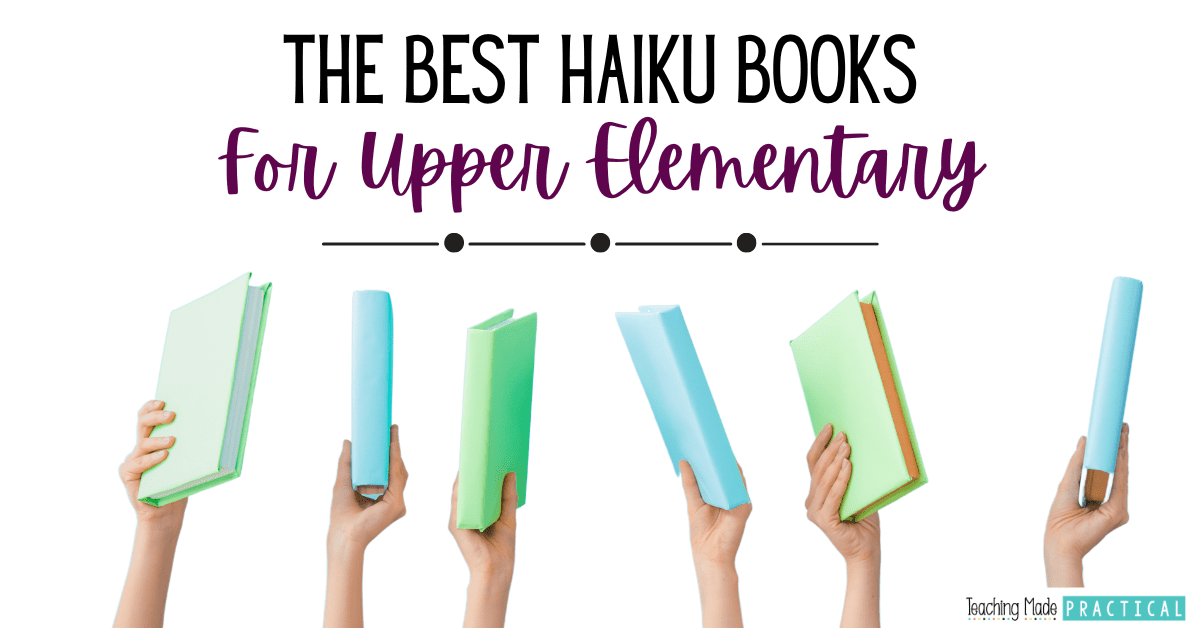 Haiku poems are short, making this form of a poetry great for introducing 3rd, 4th, and 5th grade students to poetry.  Sometimes poetry can be overwhelming, but the list of haiku books for kids below are perfect for a non-scary introduction.
This form of poetry is about using precise language to describe a brief moment in time or an insightful observation.  Traditional haiku generally follow a 3 line, 5-7-5 syllable pattern, although that is not a set in stone requirement.  It provides a helpful structure, however, that makes writing poetry a little less daunting.
All of the books listed below have haiku that follow this 5-7-5 syllable structure, unless otherwise noted.  The list below includes:
funny haiku books
haiku riddle books
haiku books covering nonfiction topics
classic haiku books
other must read haiku poems
This book would make a great addition to any upper elementary poetry unit.  It includes 20 haiku poems, as well as 15 lantern poems (another short form of Japanese poetry.).
The author includes a student-friendly explanation of haiku and lantern poems in addition to the poems themselves.
While the title, If It Rains Pancakes, makes it clear that many of these poems lean more humorous, there are also some of the more typical haiku about nature.
This fun book tells a story about a boy who is given a school assignment to write a haiku - and the whole story is told in haiku!  As the boy learns the rules of haiku - 3 lines, 5-7-5 syllable pattern, he looks for inspiration around the classroom to help him write his own haiku.
This would be a great book to read before having students write their own haiku.
Bonus: You could use this resource to help students write their own haiku - it has no prep templates that walk students through the writing process for a fun, easy lesson plan.
While many of the poems in this haiku alphabet book might not best be described as "funny," it is certainly a fun book.  The illustrations and poems in this book will appeal to 3rd, 4th, and 5th grade students, and there is plenty of humor sprinkled in for the student that is paying close attention.
The layout of the font sometimes makes the 3 lines difficult to see clearly, and there are a few poems that don't follow the 5-7-5 syllable pattern perfectly.  It might be fun for you to see if your students can find the poems that don't follow this rule!
Are you wanting to have students read, write, and understand haiku, but not sure where to start? 
This no prep haiku unit
walks students through the "rules" of haiku, gives them a chance to read and think about a variety of different poems, provides haiku test practice, walks students through writing their own haiku, and more.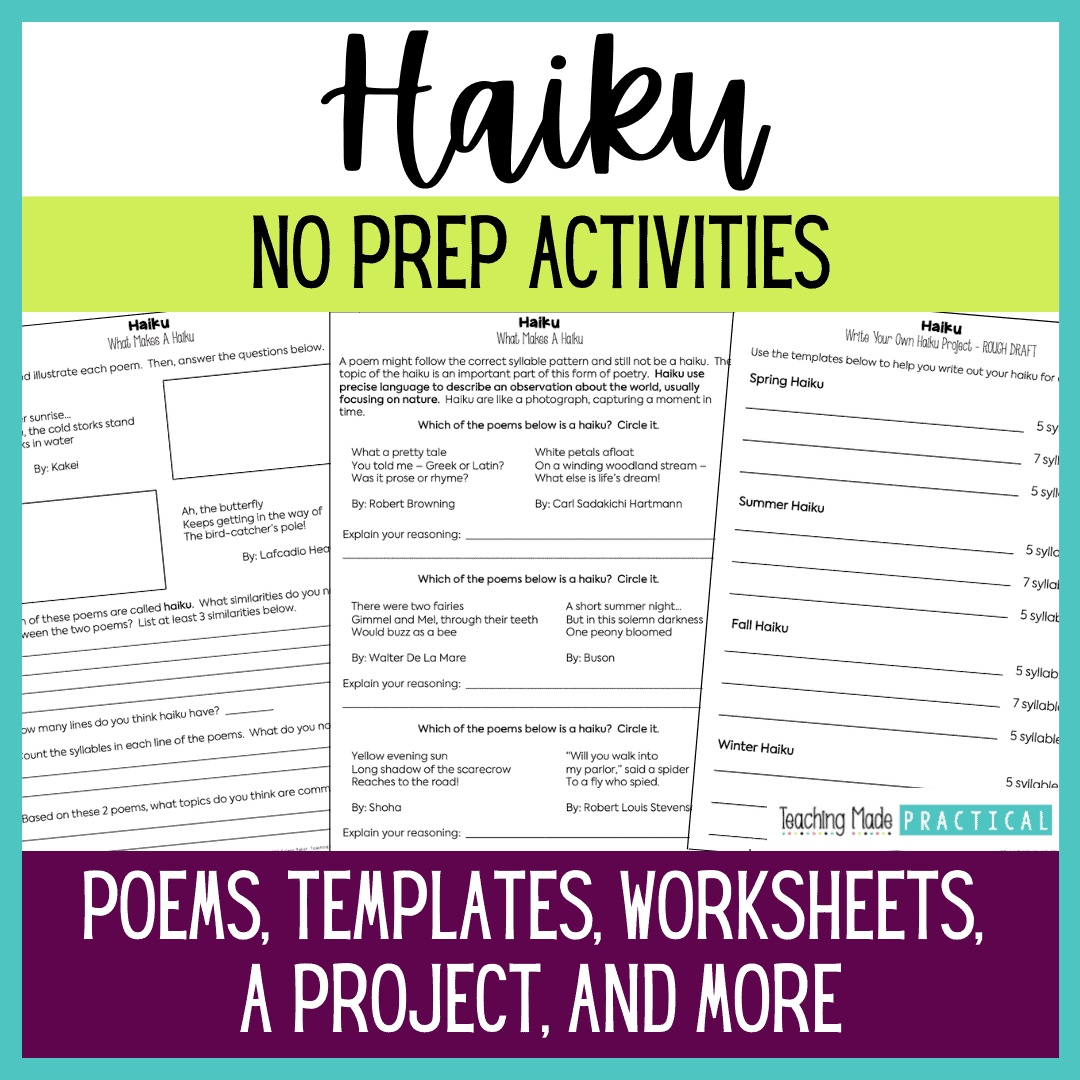 The 17 haiku in the book are all written by well known children's poet Jack Prelutsky.
All of the poems are about a different animal.  Consider reading these haiku to your students and having them guess what animal is being discussed before showing them the illustration.
For a fun, low prep haiku lesson, read this book to students before having them write their own animal haiku!
This book contains 24 haiku riddles - 6 for each season.  The author calls them riddle-kus, and encourages readers to write their own!
Upper elmentary students will love listening carefully to each haiku to guess the subject of each poem.  The illustration provides additional clues, so don't let students see the illustration until they have already figured out the riddle!
This book beautifully combines the form of haiku with nonfiction facts about space.  Of all the books in this list, it's my personal favorite.
There are 32 haiku covering a variety of different space topics, including:
the Hubble telescope
each of the planets (and Pluto)
comets
the constellation Orion's Belt
...and more
The poems will be much more meaningful to students that have already been introduced to the solar system and planets.  Without a little background knowledge, it will be harder for them to appreciate the author's description of Saturn's rings as "Cosmic hula-hoops" or the description of the Milky Way as a "galactic pinwheel."
The precise language and interesting vocabulary used makes this a great addition to any poetry unit, as well as any space unit!
This is a collection of 29 haiku about earth science.  There are poems about the earth, minerals, rocks, fossils, earthquakes, volcanoes, atmospheric and surface water, glaciers, and groundwater.  At the book of the book, the author includes a one page description of each of these topics, not in haiku.
These haiku are definitely best read in conjunction with a study of the earth science - some of the vocabulary would be a challenge to students with no background knowledge.
It might be a good idea to read the description at the back of the book to students first, before reading the related haiku.  This will give them a better frame of reference.
Side note: Some of these illustrations are not my favorite.
Haiku Books with Poems from Famous Japanese Masters
This book contains 20 classic haiku written by Japanese poets that are known to be haiku masters.
The poems have been translated into English, but are also written in Japanese script and Romaji.  Because they have been translated from Japanese, they don't fit the 5-7-5 syllable pattern.
Each of the poems is illustrated, and many of the illustrations include a thought provoking "twist" on the poem.  There is short commentary for each of the poems as well that asks students to ponder the poem and illustration a little more deeply.
This unique book combines three important parts of Japanese culture - haiku, origami, and art.
The book includes 13 haiku, each with a corresponding origami figure that students can make.  For example, the page with a well-known haiku about a frog jumping in the water includes instructions on how to make a paper frog.  Artwork inspired by Japanese artists is sprinkled throughout the book.
The haiku in this book were all written by Japanese poets and translated into English.  The English translation does not follow the 5-7-5 syllable pattern, so if that is your lesson plan focus, this would not be a great book for you.
However, it is a great book for enjoying haiku, celebrating Japanese culture, and creating origami figures.  It might be fun to have students make origami at the end of the year after testing is over. 
The author of these poems, Richard Wright, is most well known for writing novels and short stories about the experiences and prejudices that African Americans.  However, this collection of 12 kid-friendly poems focuses on nature.
There is a biography of Richard Wright in the back of the book to help students learn more about this important author.
The photo collages included with each of the poems are appealing and interesting.
This book would make a great addition to any poetry unit, black history month, or anytime you want to make sure you are including diversity in your read alouds. 
This book is an excellent example of some of the more modern haiku that don't follow the 5-7-5 syllable pattern.  Instead, the poet focuses on writing brief poems that capture a moment in time.
There are 28 poems, each describing a different moment of a vacation at a lake.
The brief poems in this book having a calming and relaxing spirit, and are relatable to kids and adult of all ages.
Never Stress Over Sub Plans Again!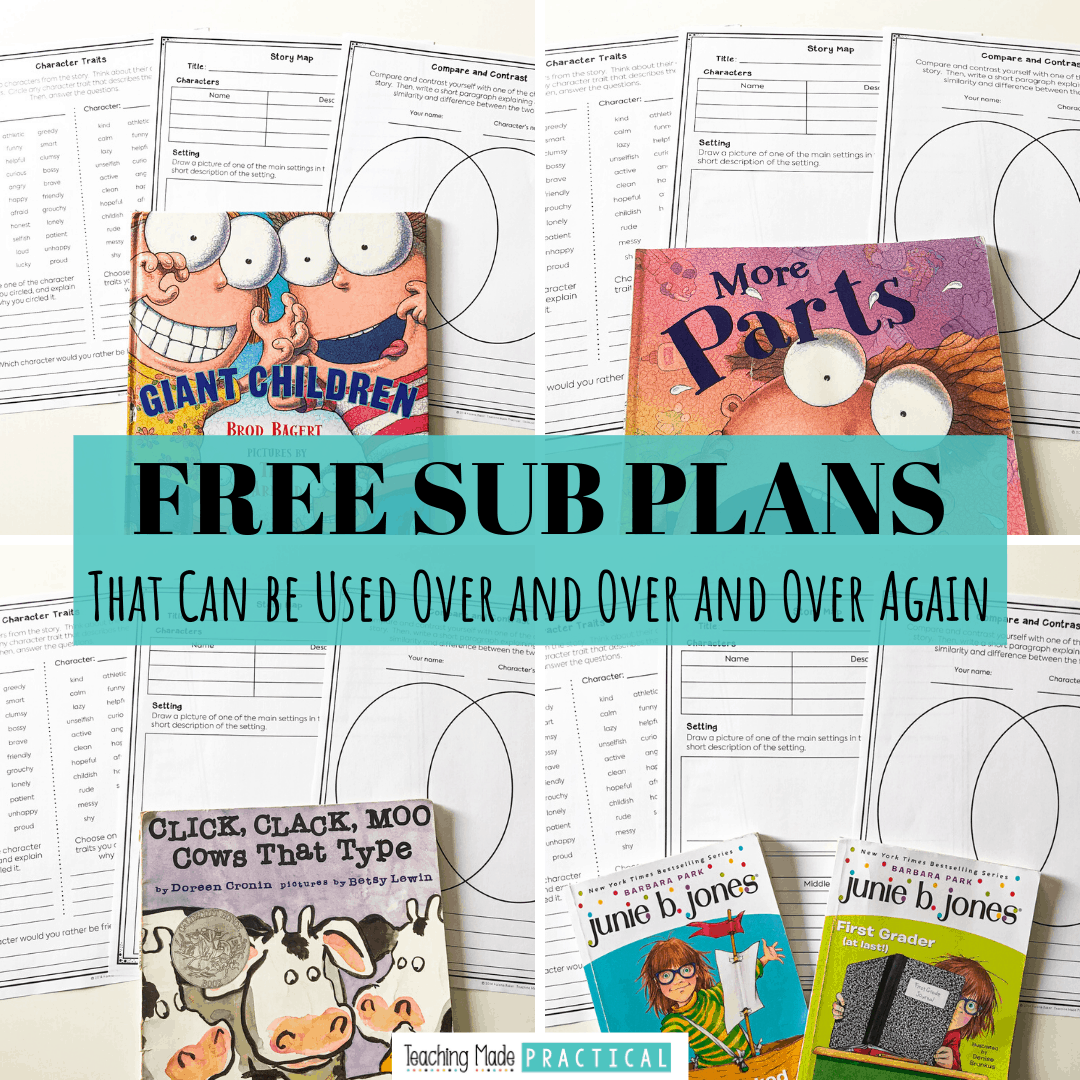 Make copies, find a fiction book, and you'll be ready for any emergency that comes your way!