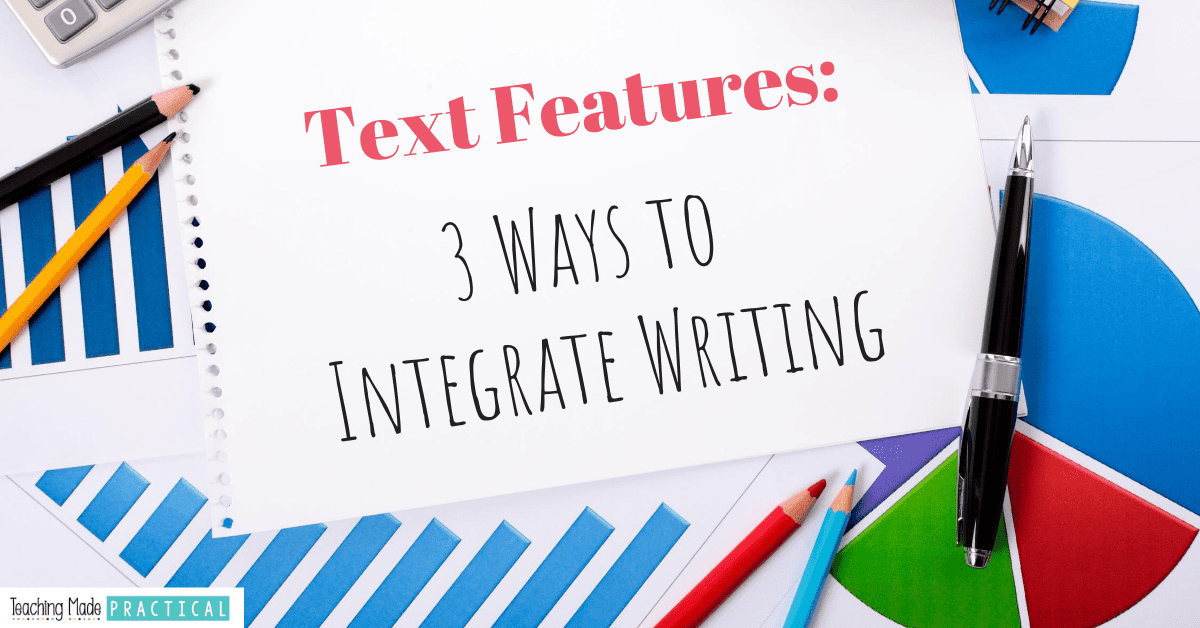 When reviewing nonfiction text features, we often overemphasize being able to name and identify different text features within text.
While this is a great place to start (consider using this free slideshow or these free text feature charts to introduce your students), we don't want to stop there!   Having 3rd, 4th, and 5th grade students create their own text features and write about real world text features will deepen their understanding and make this skill much more meaningful.
When students are asked to include charts, tables, bold letters, headings, bullet points, and other text features in their own writing, they are using skills that will prepare them for 21st century jobs.
Think about all of the emphasis that is placed on graphics and images in our world today - businesses constantly post infographics, images, and other text features on social media in order to try to draw in your business. Being able to present information in a visual, easy to understand way is a very valuable skill in our world today.
Adding Text Features to Nonfiction Text
It can be easy for upper elementary students to draw a picture, add it to their writing, and call it quits. We need to challenge students to think about including text features that are meaningful and make text easier to understand.
One way to review this is to give students a text with the text features missing, and have them add appropriate, relevant text features.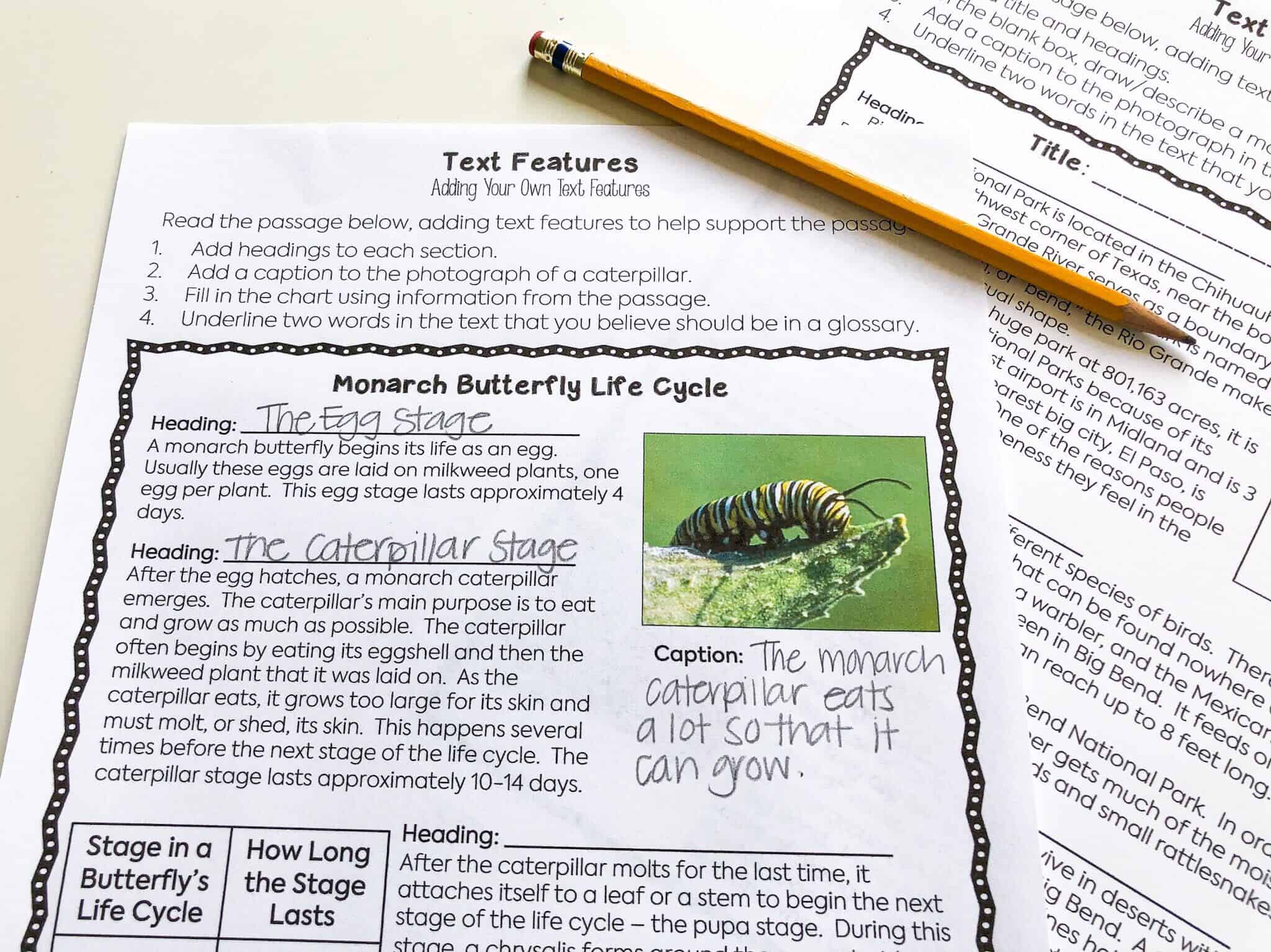 Have students add the headings, captions, diagrams, and other text features that are missing. And as an added bonus, when students are asked to add appropriate headings, they are practicing their main idea skills as well!
This is easy to do with nonfiction books or textbooks. Make a copy of a page in a nonfiction book that has a lot of text features, white out the text features, and ask students to add their own! It's easy, fun, and it requires students to read the text carefully in order to add text features that actually fit with the text!
For a no prep option, this Text Feature Practice Resource contains reading passages with missing text features - as well as several other text feature review activities!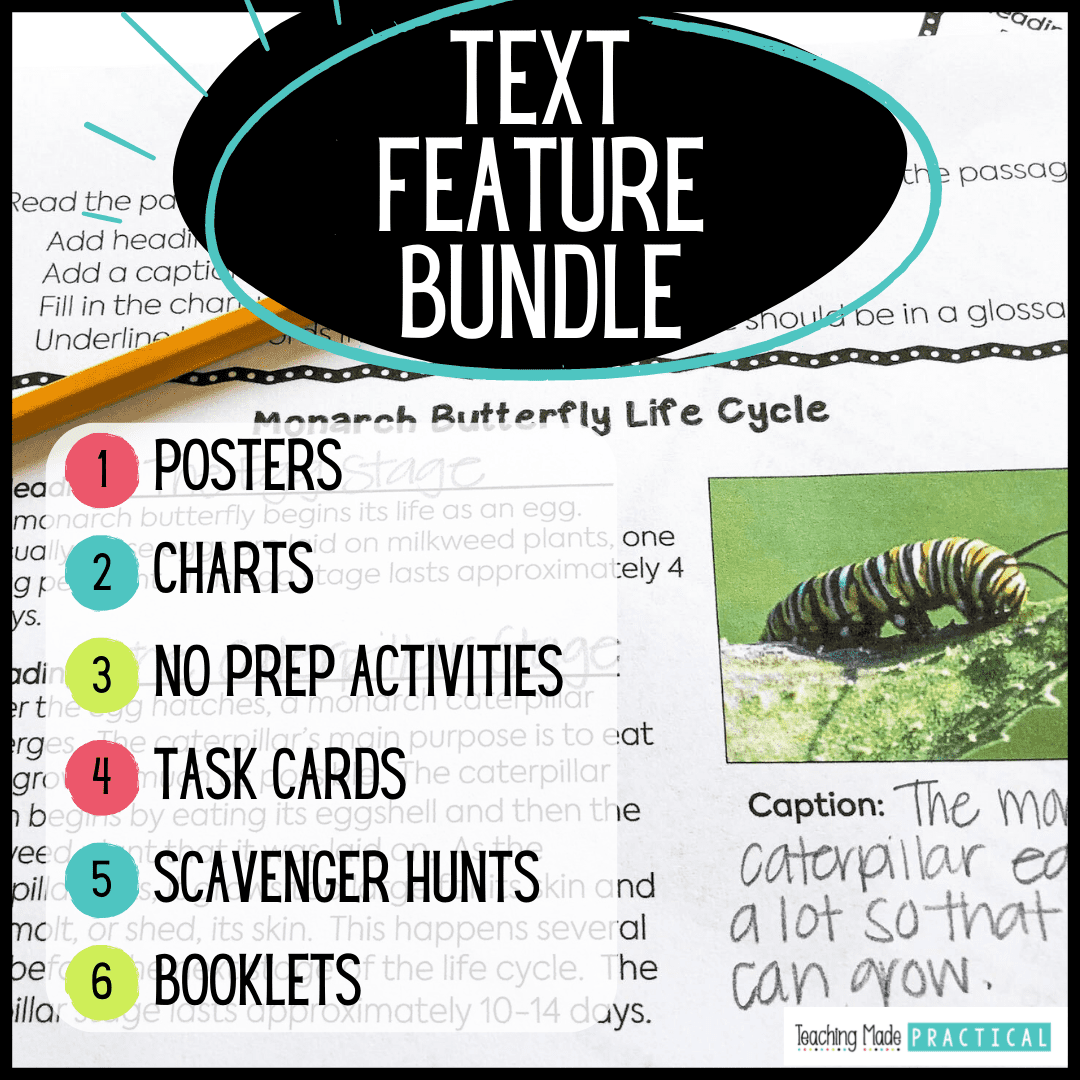 Want to make your lesson planning even easier?  Find everything you need to teach nonfiction text features in this Text Features Bundle.  
There are posters, task cards, no prep activities, reading passages, and more to help your students have a deep and thorough understanding of text features and their purposes.
Adding Nonfiction Text to Text Features
Another review idea is to give 3rd, 4th, or 5th grade students a text feature and then have them write relevant text about the text feature.
This can be as simple as giving students a photograph and having them write a caption, or giving students a heading, and having them write a relevant paragraph, or giving students a glossary, and having students write a paragraph using words from the glossary.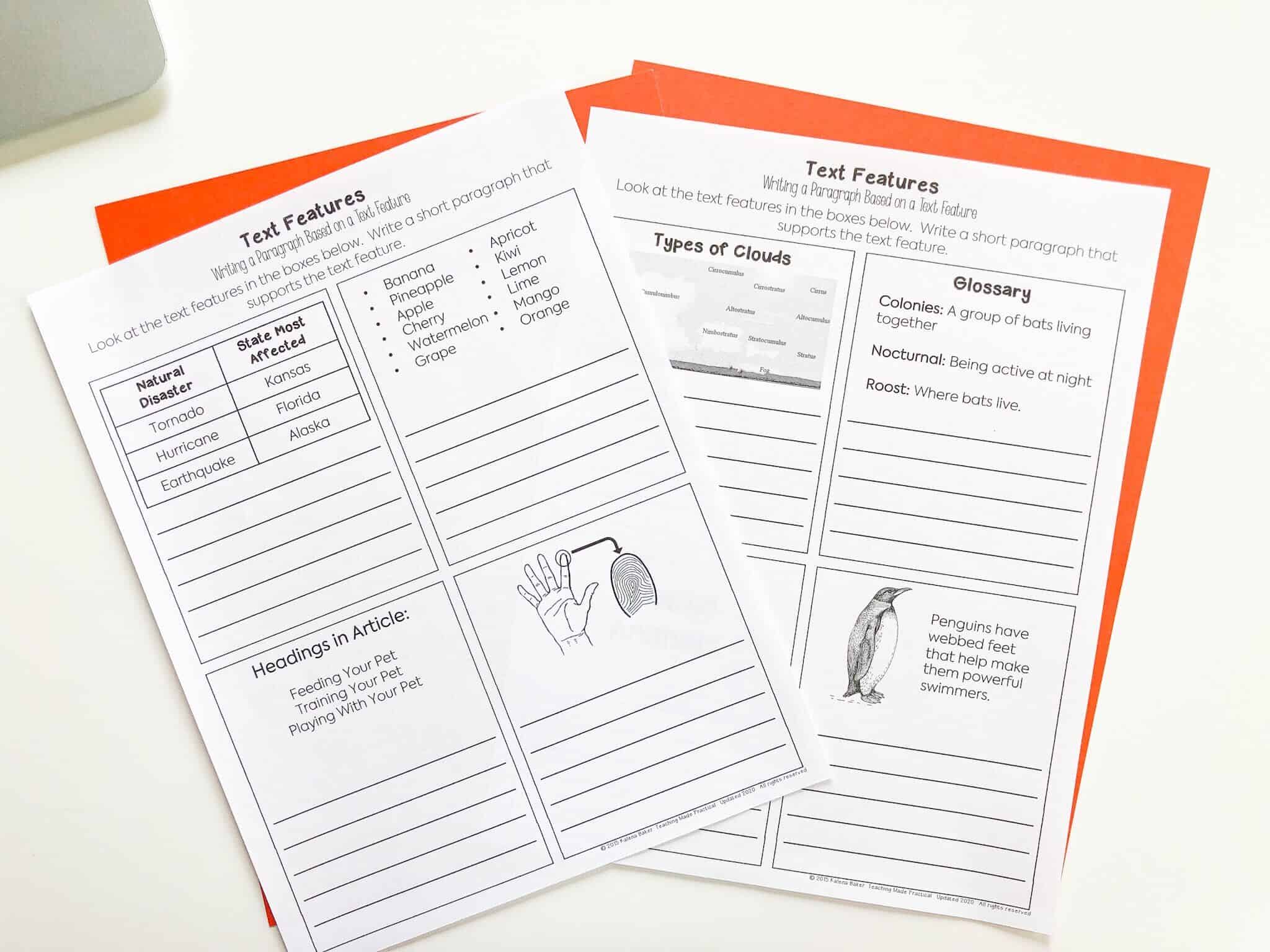 This activity can be easily differentiated as well. Give your more advanced learners interesting diagrams or charts that they will have to interpret before writing. Start your struggling students with a photograph or title to write about.
Clip out different nonfiction text features you find in magazines and newspapers, or use the no prep option in this Text Feature Practice Resource.
Have Students Include Text Features in Their Own Writing
Once students understand how text features can help make text easier to read and more meaningful, start asking students to add text features in their own nonfiction writing.  (Find more writing tips and ideas for 3rd, 4th, and 5th grade students here.)
Begin expecting students to add headings, images, captions, bold letters, labels, timelines, and other text features any time they write. Eventually this will become habit, and students will begin to add text features naturally to their writing.
This Text Feature Practice Resource includes an activity where students write a nonfiction article that includes a variety of text features.
Find more free text feature resources ideas and activities here!
A Text Feature Freebie? Yes, Please!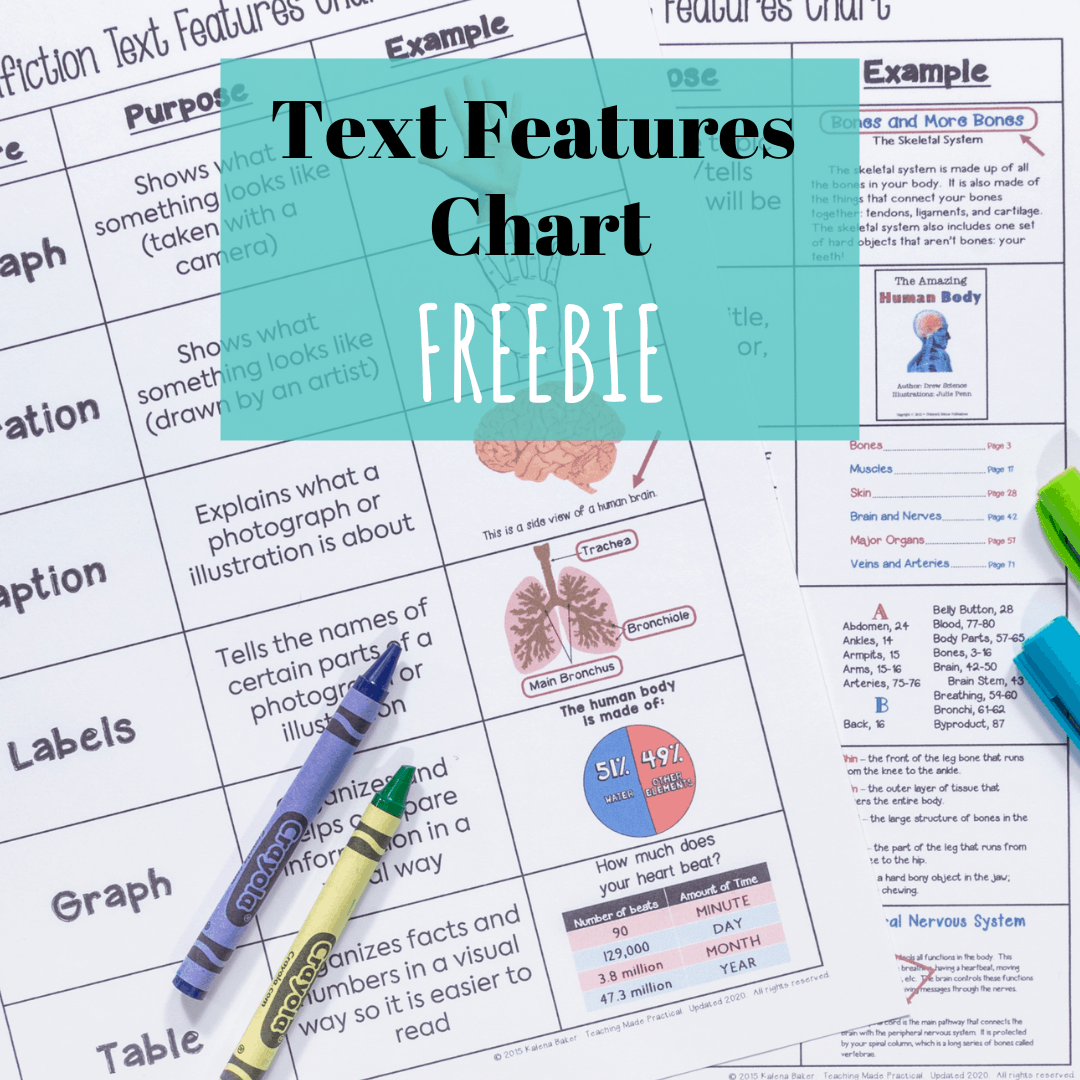 A no prep resource to help your students learn the purposes of the most common text features!