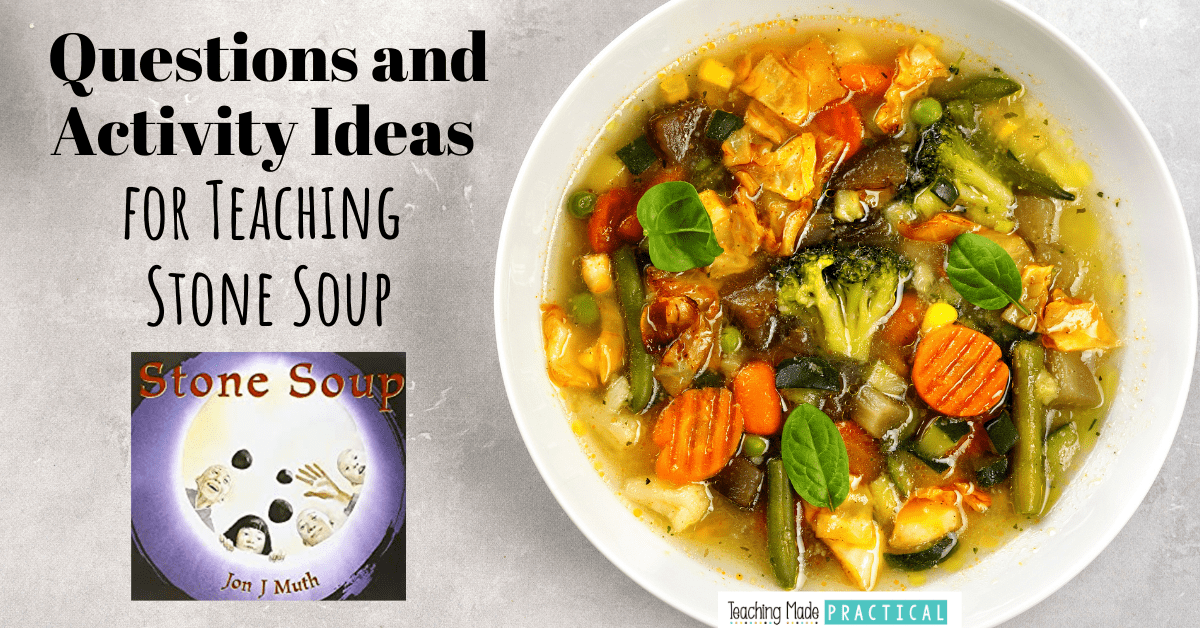 Jon M Muth's version of Stone Soup is a fun folk tale that describes how monks tricked a village into making stone soup and finding happiness. 
The villagers have a feast together at the end, making it a great book to read aloud around Thanksgiving, especially if you are looking for read alouds and activities for a school or classroom that doesn't celebrate the holidays.  
It's not just for Thanksgiving, however!  3rd, 4th, and 5th grade students will enjoy this folk tale anytime throughout the school year.
There are many different versions of this folk tale.  Jon J Muth's version focuses more on the theme of finding happiness.  Below, find questions and activity ideas to use in your 3rd, 4th, and 5th grade lesson plans when reading Jon J Muth's version of Stone Soup. 
Some of the links are affiliate links, so if you click the link and choose to buy I might get a small compensation at no cost to you.
Summary of the Jon J Muth's Stone Soup
Three monks set off to find happiness.  They come across a village that has been through many hard times so the people no longer trust each other.  The monks agree that these people do not know happiness, so they decide to make stone soup.
A brave girl wonders what they are doing and then offers to help get stones for them.  The villagers get curious and come out to see what stone soup is.  The monks "trick" them into offering their own food to add as ingredients to the soup.
When the soup is ready, the villagers eat together and celebrate.  Before the monks leave, the villagers thank them for showing them that sharing makes us all richer.  The monks leave, noting that all they needed to find happiness was stone soup.
Before, During, and After Reading Questions for Stone Soup
What clues has the author provided for you in the title and illustrations?
What do you think stone soup is?  Do you think you would want to eat it?
What genre do you think this book is?  Why?
Why were the villagers so suspicious of the monks?
What illustration do you think will be on the next page?  Why?
How do you think this story will end?  Why?
How did the villagers change throughout the story?  What caused that change?
What lesson did the villagers learn?
Do you think life was different in the village after the monks left?  Why or why not?
Activity Ideas to Use In Your Stone Soup Lesson Plans
Every story is more engaging when you add food!  Grab a crockpot, some stones, some canned vegetables, and a little seasoning.  As you read the story together, make your own stone soup.  And of course, eat it together!
This is a great activity to do before Thanksgiving, especially if you have students in your class that don't celebrate the holidays. They will most likely still be able to participate in a stone soup feast.
If you have parents that are willing to help out, encourage them to donate 2 cans of vegetables - one for your classroom stone soup and one to give to charity.  This will help reinforce the theme the villagers learned - that sharing makes us all richer.
You could extend this activity by having students compare their stone soup to the version in the book.  Sentence and paragraph frames will help scaffold writing.  
Read Other Versions of Stone Soup
Since Stone Soup is a folk tale, there are many different versions of it.  Choose one or two other versions and let 3rd, 4th, and 5th grade students compare and contrast the different books.
Venn Diagrams are always a good way to compare and contrast, but you might also like these other ideas for comparing and contrasting. 
Give Students a Chance to Ask Questions
The ability to ask thoughtful questions is an important life skill.  Use this text as a jumping off point to allow students to ask their own questions.
These tips for teaching students to ask meaningful questions will help you guide the discussion and provide scaffolding for students that struggle with this skill.
Make a Happiness Is... Graffiti Wall
In this folk tale, the monks set off to find happiness.  By the end, the monks say that they have found happiness using stone soup.
Have a discussion about what happiness was to the monks.  Then, let 3rd, 4th, and 5th grade students use that as inspiration to think about what happiness is to them.  You can have them scribble ideas and pictures of what happiness is on a large sheet of paper or on your whiteboard to make a graffiti wall.
Find more detailed instructions as well as an example of a graffiti wall here.  
Never Stress Over Sub Plans Again!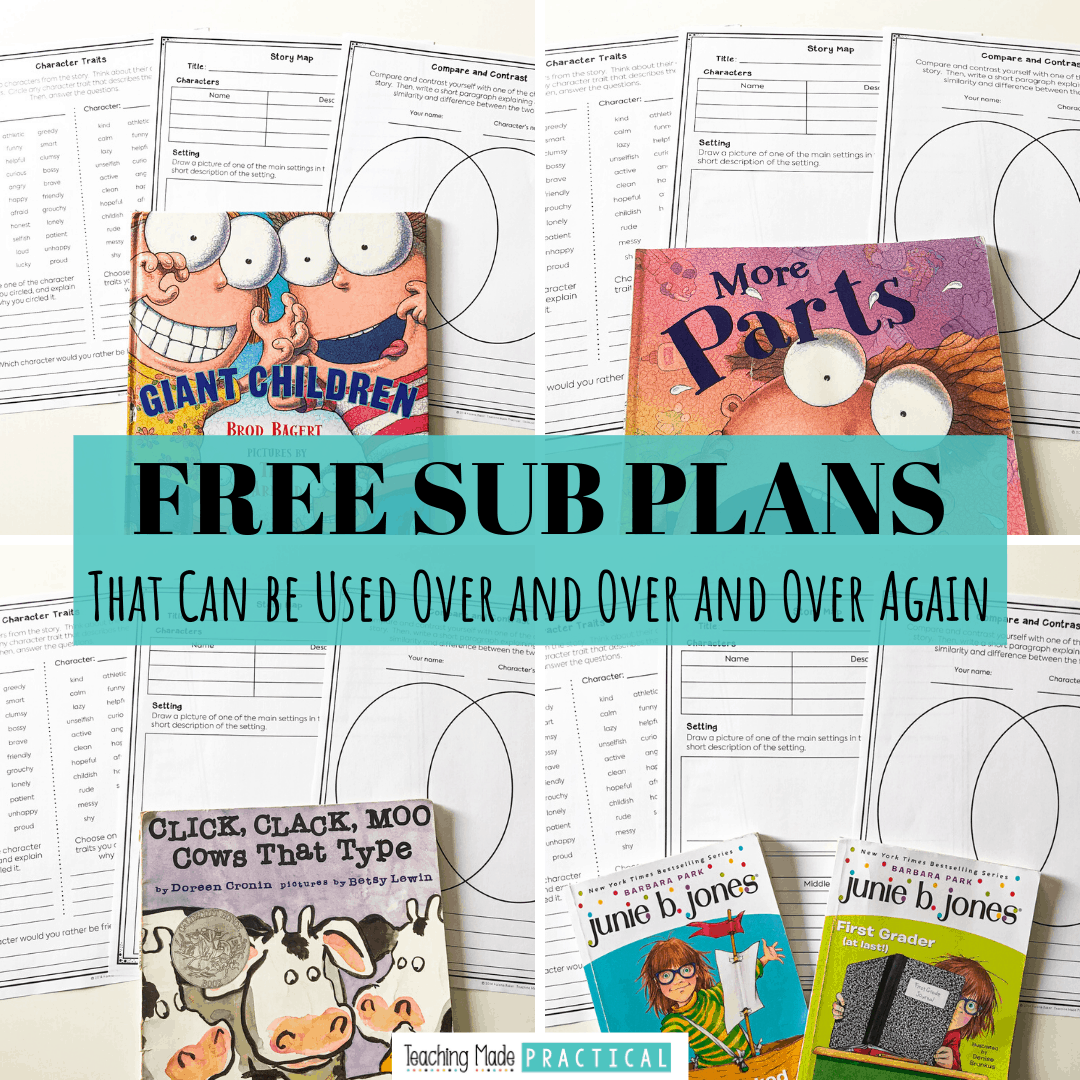 Make copies, find a fiction book, and you'll be ready for any emergency that comes your way!