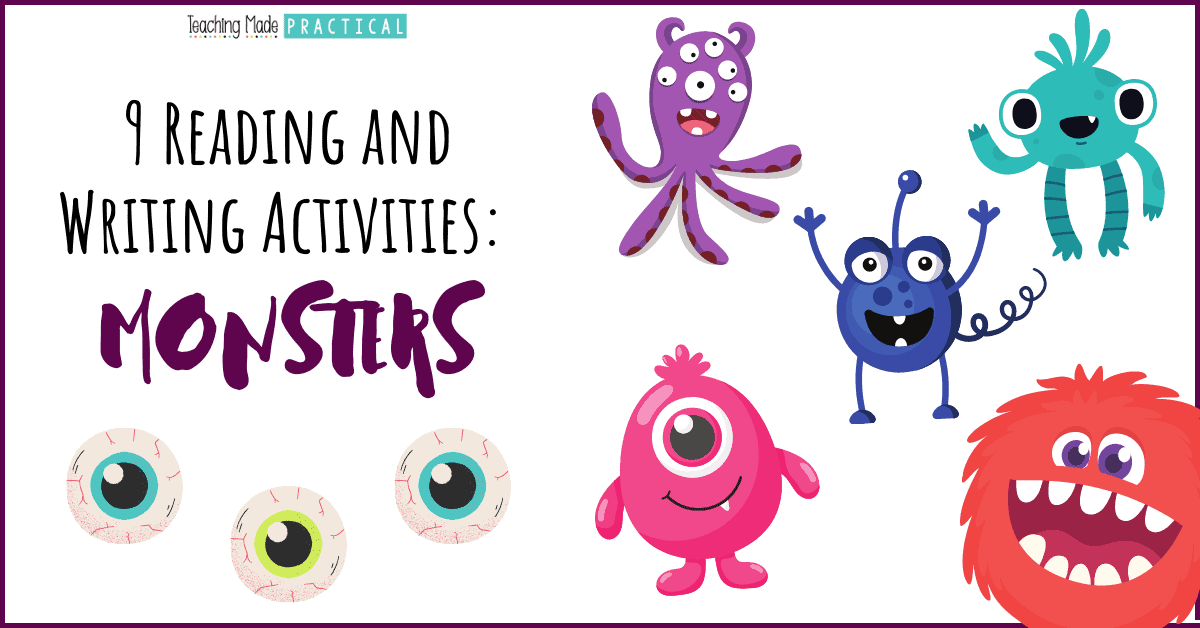 Whether you have a monster themed classroom, are looking for fun ways to celebrate Halloween, or just want to spice up your reading and writing lessons, the ideas below will help inspire you.  Find 9 easy literacy activity ideas for your 3rd, 4th, or 5th grade monster themed lesson plans.
Some of the links are affiliate links, so if you click the link and choose to buy I might get a small compensation at no cost to you.
1. Read with Monster Fingers
This is one of my favorite easy ways to spice up your reading lessons.  Give each student a monster finger and have them follow along with this finger while reading.
While upper elementary students don't really need to be following along with their finger, this is one way to hold them accountable for following along while you or another classmate is reading aloud.  Pulling out the monster fingers makes this more fun.
Pull these out for Halloween or anytime of year that you want to change up your reading lessons!
2. A No Prep Monster Descriptive Writing Activity
This fun activity is a favorite for teachers and 3rd, 4th, and 5th grade students alike.
Have students secretly create their own monster and write a matching description. Then, place all of the students' monsters on display while students read their descriptions. If they use enough descriptive details, the class should be able to figure out which monster was theirs, just based on the description!
This no prep version of the activity is scaffolded to help your students write more detailed descriptions.  It also includes a descriptive writing mini lesson for you to use!
3. Make an Edible Monster
Food makes things for fun.  It's a truth almost universally acknowledged by teachers.
Start by figuring out what edible monster you want to make.  If you want a healthy version using apples and strawberries, check this monster out.  Or try out this 3 ingredient Rice Krispies treat monster.  Or try these brownie bite monsters - make the brownies ahead of time.
Make the edible monsters together as a class, and then have your upper elementary students write a how to paper explaining how to make an edible monsters!
4. Read Books About Monsters
An easy way to slip a monster theme into your classroom is to read books about monsters.  There are a lot of good ones out there, so it shouldn't be hard to find one that your 3rd, 4th, or 5th grade students will love.
If you are on the look out for some fun monster books, then check out these suggestions.
5. Read in a Monster Voice
Simple, fun, and no prep, and a great way to practice fluency.
Choral read together using monster voices, or assign a paragraph/page and have each student practice reading in their monster voice on their own.  You can change it up a little by having students read like an angry monster, or a scared monster, or a baby monster.
If your students like this activity, then integrate it into your lessons regularly.  Find more voice ideas here. 
6. Where The Wild Things Are - Book and Movie
Where the Wild Things Are is a children's classic.  And since there is also a movie version, this makes for a great opportunity to compare and contrast a book to its movie!
This doesn't have to be a throwaway activity.  Use these questions and activity ideas for comparing books and movies to help your students with higher level thinking, even while watching a movie!
Note:  Before showing the movie, know your students and your school.  There is some mild language, scary events, and dark themes of loneliness and isolation that might not be appropriate for younger or immature students.
7. Write a Monster Poem
Monsters tend to spur on creativity in 3rd, 4th, and 5th grade students, and what better way to use that creativity than to have your students write a monster poem?
Keep it simple and have students write a short couplet.  Or, students can write an acrostic poem using the word "monster."  Or, use one of these no prep poetry writing templates - the templates help students write 13 different types of poems and can be used all year.
8. Make a Squiggle Drawing Story
If you've never had your students create a squiggle drawing story, then you are missing out!  This fun and simple writing activity encourages creativity and will have even your reluctant writers eager to participate!
Provide students with a piece of paper that has a random squiggle, and then have students draw a monster, integrating that squiggle into their drawing.
After drawing the monster, have students write a short story.  You can have them describe their monster, write a short story where the monster is the main character, etc.
This Squiggle Story Resource is no prep and provides plenty of squiggles as well as writing "prompts" to help your students focus their writing.
9. Go on a Monster Word Scavenger Hunt
Send students on a scavenger hunt, looking for words around the room that relate to monsters.  They can look for words that might describe a monster, words that remind them of monsters, or words that describe how a monster might behave.
Students can make a list of all the words they found and see how many of those words they can include in a short story or paragraph.  Or, have students compare lists of words and explain their thinking.
This is a fun adaptation to this no prep word study activity.  
Never Stress Over Sub Plans Again!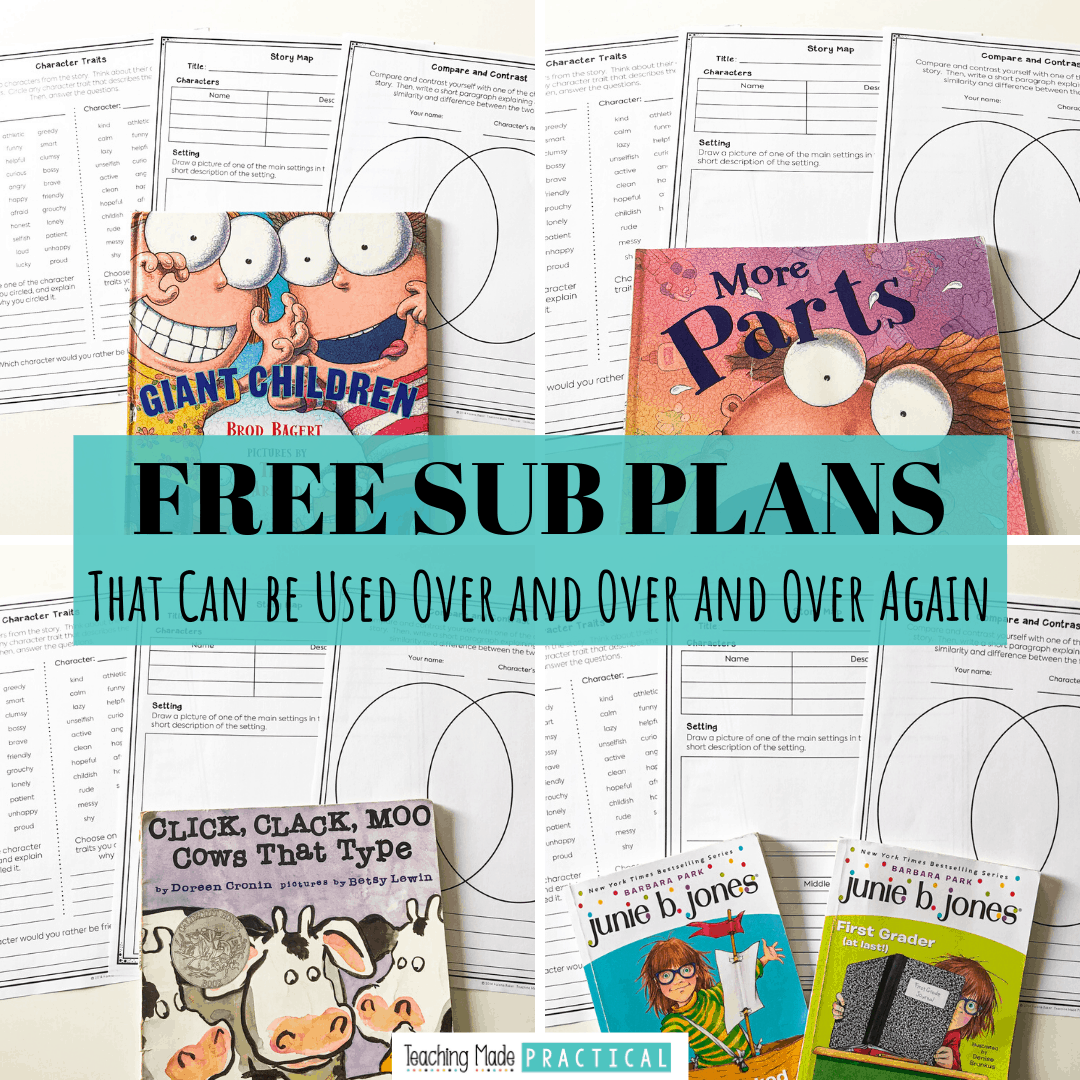 Make copies, find a fiction book, and you'll be ready for any emergency that comes your way!