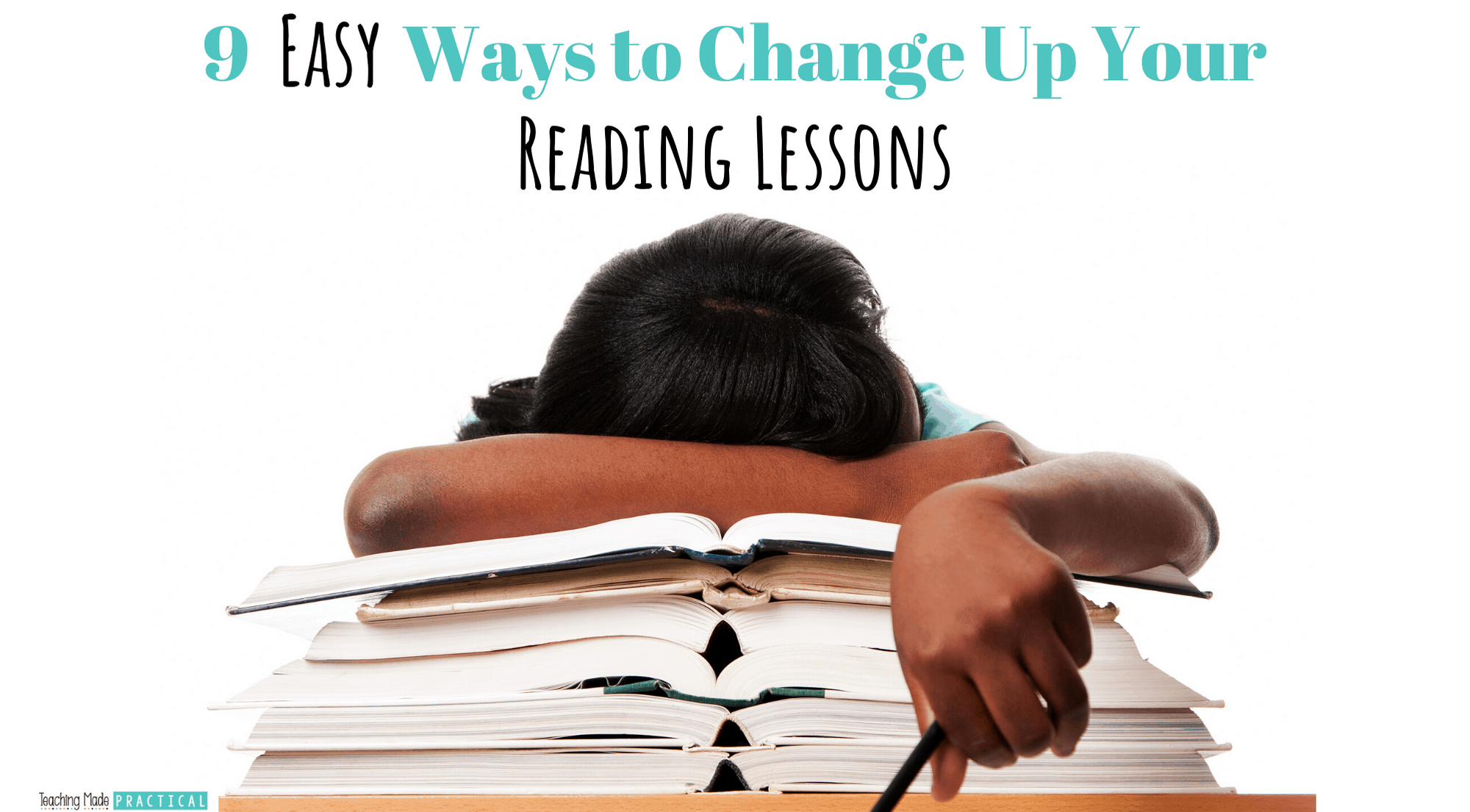 Looking for some alternatives to round robin reading in your 3rd, 4th, or 5th grade classroom?  Then check out these 9 different ways you can do whole class reading.
All of these methods allow for a safe classroom environment where students can feel comfortable taking risks without embarrassment.  Using a variety of the methods below will help keep your students engaged and excited about reading.
Sometimes I recommend products using affiliate links.  If you click through and buy, I may be compensated at no cost to you.
1. Fill in the Blank Reading
2. Flashlight Reading
This is such a fun way to liven up your reading class!  Turn out the lights and give each student a small flashlight to use while reading.  It's amazing how one tiny little tool can help keep students excited about reading.
This does require a class set of flashlights and batteries.  Since you will probably be using this method sparingly, however, the flashlights and batteries should last you a while.
Check out these flashlights for kids here.
3. Choral Reading
Have all of your upper elementary students read a text aloud together.  This provides support for your struggling readers.  It also provides an opportunity for 100% engagement as opposed to round robin reading, which only allows for 1 reader at a time.
Choral reading over a longer text might lead to frustration.  It is ideal for shorter texts - poems or paragraphs, for example.  It also works well when you are reading aloud a text to the class - every now and then you can have students choral read a sentence or a paragraph with you.
4. Table Group Reading
This is like choral reading, only with smaller groups of students.  Instead of having the entire class read aloud together, have table groups read a section of a text aloud together.  Then, move onto another table group.
This provides support for your struggling readers - they aren't having to read aloud by themselves - but it also allows you to observe individually students more closely than you are able to during choral reading.
You don't have to just stick with table groups, however.  There are all sorts of groups you could make - students wearing blue, or students wearing flip-flops, or students that have a birthday in May, for example.
5. Silent Reading
Silent reading is common in middle school and high school, but upper elementary teachers tend not to use this method as much.  We like to actually hear our students read out loud so that we can help them when they are struggling.  However, most real life reading is done silently and your students need a chance to practice this.
You could have students use a finger toy as they read silently so you can watch their pace of reading.
Or, walk around and monitor students as they read silently. As you walk by, ask students to start reading aloud for a few sentences.  Then, they can return to silent reading as you walk away.
6. Finger Toys Reading
This is another fun activity to occasionally use during reading!  Give each student a finger toy and have them follow along with their finger as they read aloud to themselves, or as you read aloud to the class.  This is a fun way to make sure students are following along as you read.  You will probably want to make sure you use this activity rarely or for special occasions.   Overuse will take the fun out of it.
If you are doing this with upper elementary students - especially 5th graders-, then you will want to make sure the finger toys are something that they will actually be interested in.  Toys that come across as babyish will just cause more problems and lead to less engagement.
Monster fingers
are great for Halloween, but can also be used later in the year just for fun!  You can also buy them in bulk fairly cheaply!
7. Reading in Funny Voices
This is a fun way to have students reread a text and build fluency.  Assign a funny voice to students - a robot voice or a baby voice, for example.  Then, have students read a paragraph or page using that voice independently or with a partner.  This is a fun way to keep students engaged while rereading a text.  Your more dramatically inclined students will love it!
8. Echo Reading
Echo reading is when you, the teacher, read aloud a sentence or phrase, and then the students "echo" the same sentence or phrase back.  This is especially ideal for helping students practice reading at a certain rate or with a certain type of expression.  Students can hear you model the phrase or sentence before repeating it back.
Use longer sentences - or even a short paragraph - if you want students to actually read the text.  Longer texts make it harder for students to memorize what you said and simply repeat it back.
You probably wouldn't want to have students echo read an entire book or reading passage.  Use this to vary up how you're reading with students - whether you are using the "fill in the blank" method, reading aloud to students, etc.
Want a No Prep Reading Comprehension Freebie?