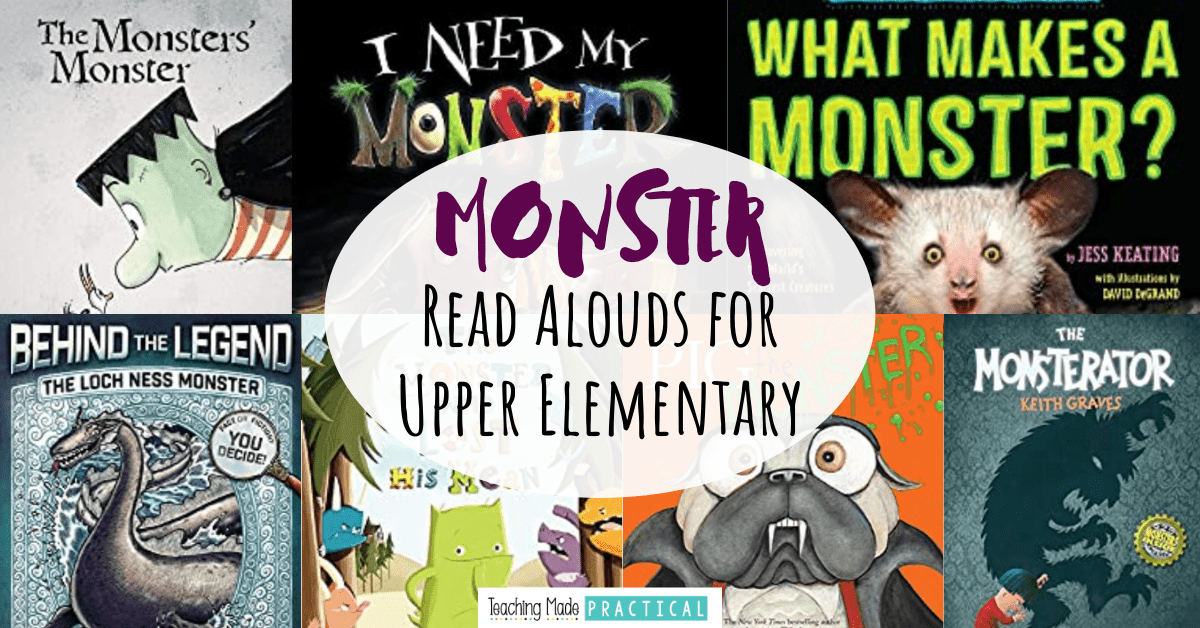 Read Aloud Ideas for a Monster Unit
This playful book is about 3 little monsters that enjoy acting like monsters.  They argue with each other daily over who makes the best monster...until one day they decide to work together to make the biggest, baddest monster ever.
Their monster creation doesn't turn out exactly like they expect.  He's big, but he doesn't behave like a monster.  Instead, he is just grateful to be alive, and teaches them to to show gratitude as well.
3rd grade teacher CJ Damko introduced me to this fun rhyming book that is sure to delight your 3rd, 4th, and 5th grade students.  It's about a pug named Pig that would go on monstrous rampages on Halloween.  After an unfortunate incident with chocolate, however, he learns to be kinder.
The word choice in this book is compelling an interesting, and the details in the story are funny.
This book lends itself well to a variety of writing activities.  Have your students summarize the story, or write an opinion piece about whether Pig should be allowed to go trick or treating, or write their own short poem about Pig the Pug.
This sweet book, introduced to me by 3rd grade teacher Staci, tells the story of a monster who lost his M - and without the M, he couldn't be mean.
The "onster" is mocked by the other monsters, and he frantically searches for his M.  When he can't find it, however, he discovers that being nice isn't so bad, and now he has some amazing friends.
While this monster book can of course be read around Halloween, there is no mention of Halloween - making it great for all year - along with these other books that encourage kindness. 
In I Need My Monster, the main character discovers his usual under the bed monster, Gabe, has gone fishing for the week.  He talks to several other monsters, hoping to find one that can replace Gabe.  None of the other monsters are scary enough to keep him in bed, however.  Luckily, Gabe returns early because the fish scared too easily.
This book will appeal to elementary students of all ages, and best of all, Storyline Online will read it aloud to your students for you.
This fun, no prep descriptive writing activity goes along great with this book!  Students get to secretly create their own monster, and then write a description to go along with the monster.  (The scaffolding provided helps students write with greater detail and interesting word choice.)  Then, they read their descriptions to the class and see if their classsmates can figure out which monster is theirs!
5th grade teacher Haley Thrasher introduced me to this monster / Halloween themed book.  
Master Edgar Dreadbury thinks Halloween is a bore, until he finds an unusual shop with something called a "Monsterator."  He pays, and then this machine turns him into a monster.
He enjoys frightening people on Halloween, but when he tries to return to the Monsterator to turn back into his normal self, the shop has vanished.  Edgar can't return to his normal body, and learns to live as a monster.  He especially delights in scaring people on Halloween.
The ending of the story is quite unexpected and doesn't have a typical theme for elementary books, making it a good one for discussion and talking about point of view.  You will probably find that many students disagree with Edgar's POV and the joy he finds in frightening people.
No monster unit is complete without learning about some "real" monsters.  In this nonfiction book, Jess Keating introduces students to some of the more terrifying animals around the world, including:
the Portuguese Man-of-War
the Greater Honeyguide
the Cordyceps Fungus
the Vampire Bat
...and more
The photographs in this book are compelling, and your upper elementary students will probably end this read aloud with a desire to know more about one of these creatures.
(If your students are interested in the vampire bats discussed in this book, then this fun resource that teaches students about vampire bats and bumblebee bats and helps them compare the two might be useful.)
This is another nonfiction book that makes a great addition to a monster unit.  It introduces students to the facts and stories surrounding the Loch Ness Monster.
3rd, 4th, and 5th grade students will love getting to hear about the evidence - or lack of evidence - surrounding this famous monster.  And after being introduced to this legend, that might enjoy some other Behind the Legend books - including this one on dragons or this one on Bigfoot.
This book is a bit longer than the other read aloud suggestions on this page.  Depending on how much time you have and your students' attention span, it might take several days to read aloud.
Never Stress Over Sub Plans Again!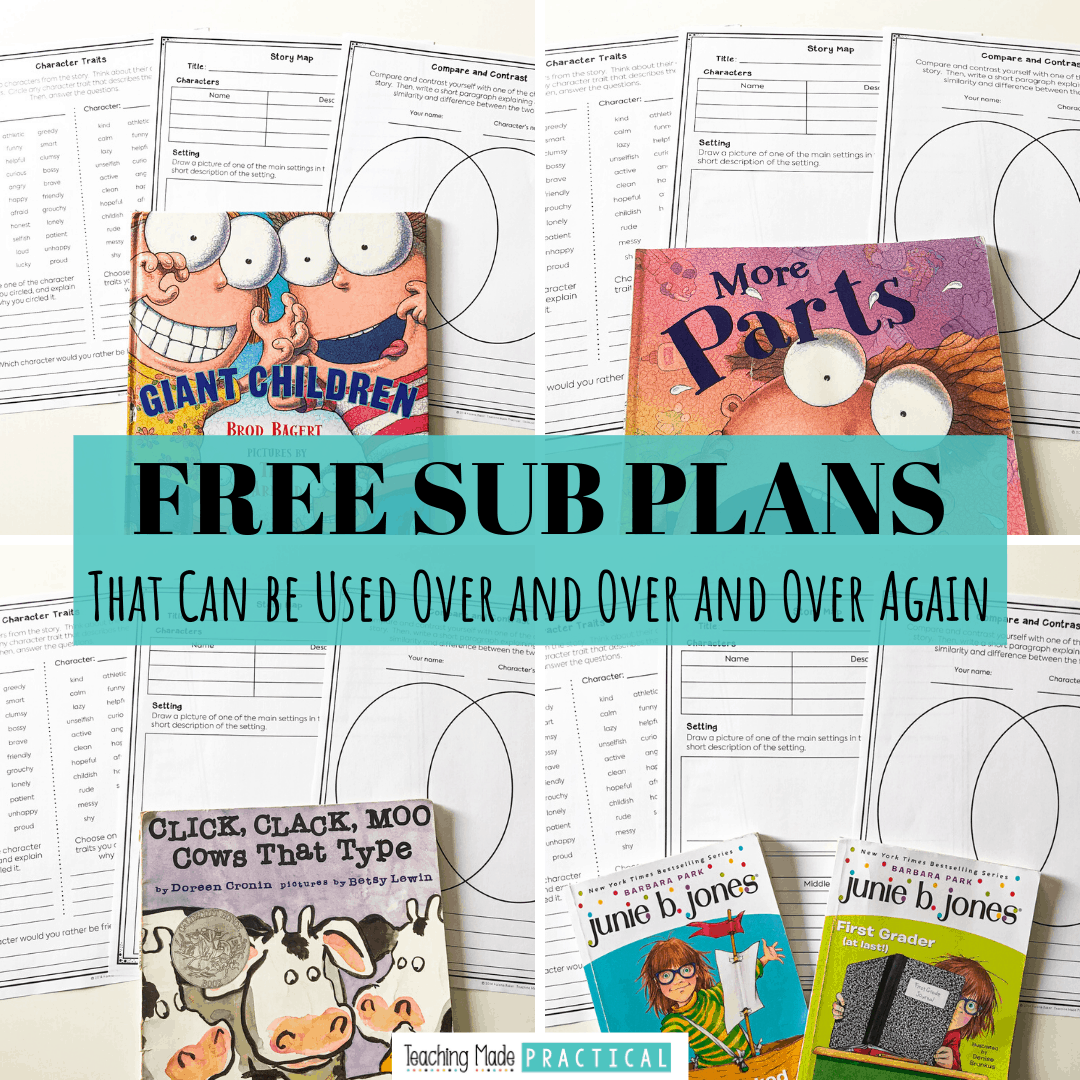 Make copies, find a fiction book, and you'll be ready for any emergency that comes your way!