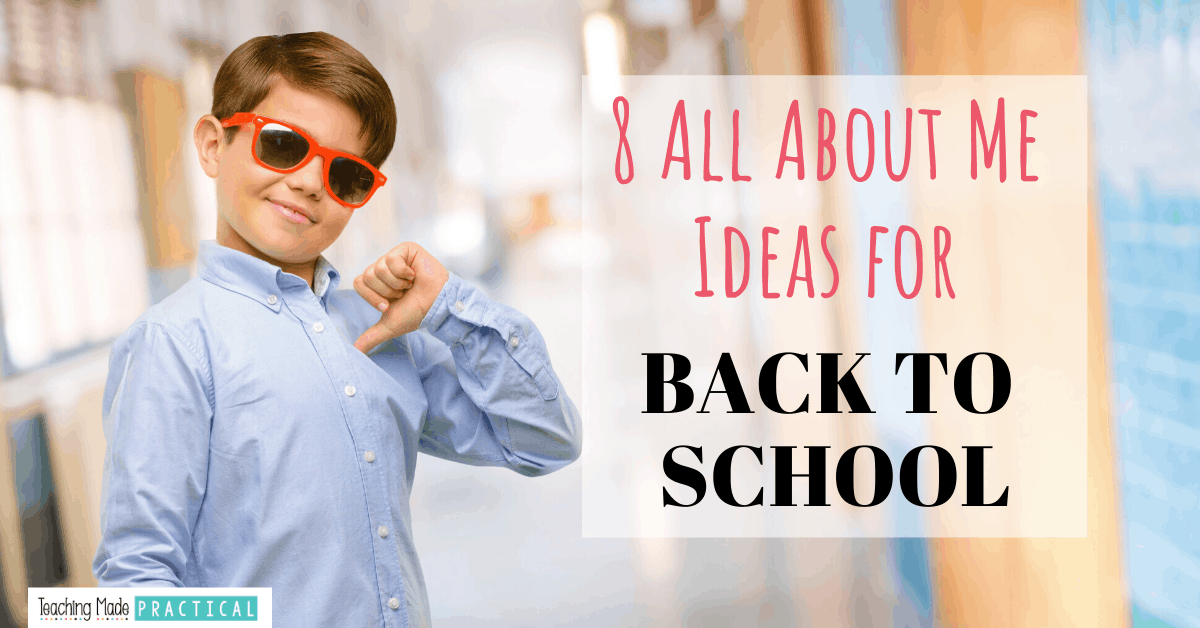 All About Me Ideas Written by Guest Blogger Brittney Klingl
In addition to the smell of freshly sharpened pencils, the feeling of the chiseled tip on a brand new Expo marker gliding across a whiteboard, and the beauty of a perfectly organized classroom library, one of my favorite things about kicking off a new school year is getting to know each and every one of my students on a personal level.
Good teachers know the special bond we form with our scholars is the key to a successful learning environment, and relationship building begins the moment students cross the threshold into our classroom. However, handing out the same traditional get-to-know you worksheets year after year can lack the fun and excitement we often need to start the year on a good note.
If you're looking for creative ways to get acquainted with your little learners this fall (and help them get to know each other, too), check out these 8 engaging All About Me activities below!
1. Personal Poem
Incorporate a language arts lesson into an all about me activity with personal poems - a simple way for upper elementary students to tell their classmates about themselves while practicing parts of speech.
You can choose to have students share their poems out to the class or in small groups, or just display them around the classroom. Here is a template for one I like:
First name:
List 3 adjectives that describe you:
Daughter/Son Of:
Who Loves:
Who feels:
Who needs: 
Who gives:
Who fears:
Who would like to see:
Resident of:
Last name:
You can find a no prep template for this poem, as well as for other short forms of poetry that can be used all year long here. 
3. Name Poster - Acrostic Poem Style
Learning your students' names can be a challenge, so this activity will not only help 3rd, 4th and 5th graders express themselves, but the finished products can also serve as name plates for the first couple weeks.
Have students make a poster with their first name written vertically going down the left side. Then, have them think of a word beginning with each letter that tells you something about them (think acrostic poem style).
If you want to make it a bit more structured, you can provide guidelines, such as one letter should represent a favorite food, one letter for a favorite activity, one letter for a favorite animal, etc.
4. "Who Am I?" Game
For an interactive all about me game that can stretch into several days (or even weeks), have your students create "Who Am I?" cards. Here's how it works:
Each student receives an index card and numbers it 1 to 3 (or more, if you feel it is appropriate for your class). They should put their name

on the back of the card

(so you can play along, too). 

For number 1, tell students to write a sentence that is true about themselves but could also be true about a lot of other students. For example, "I am a girl," or "I attend [name of school]," or "I live in [name of city]." 

For number 2, tell students to write another sentence that is a bit more specific but could still be true for many students. For example, "I have a younger brother," or "I have a dog," or "I play basketball."

For number 3, tell students to write another sentence that is a unique fact about themselves; it is likely not true for anyone else in the class. For example, "I have broken 5 bones," or "My sister is an Olympic athlete," or "I was born in Argentina." As previously mentioned, you can have more than 3. The idea is that the statements get more specific as you go.

Collect the cards and have all students stand up. Choose a card at random and read the first sentence aloud. If the sentence is true for a student, he or she should remain standing. Students should sit down if the sentence read is not true for them.

Repeat until there is ideally one student left standing after all three sentences have been read. If there is more than one student left, it can be fun to guess who it is, too. I like to read just one or two cards a day, or when we have some extra time between activities.
Note: For younger students, you may want to provide a bit more structure. For example, have every student write where they live for number 1, their favorite color for number 2, and a place they visited over the summer for number 3.
5. All About Me Fraction Book
Have students create an "All About Me" Book that also helps them review fractions.  This no prep activity asks students to provide information about themselves - but their answer must be in fraction form!
For example, students will explain:
what fraction of the letters in their name are vowels/consonants
what fraction of the people in their family are adults/children
what fraction of a provided list of character traits describe them
...and more.
While this makes a great back go school activity, it can also be used during a fraction unit to help students apply what they have learned.
6. All About Me Chapter Book
What better way to have 3rd, 4th, and 5th graders tell you about themselves than to have them write their very own stories? A personalized chapter book allows students to be as creative as they want, and the finished product could be a special keepsake.
I would recommend providing students with some structure, where each chapter covers a different aspect of their lives. For example, Chapter 1 is about family/pets, Chapter 2 about favorite hobbies, Chapter 3 about a favorite vacation or trip, and so on and so forth.
Provide younger students with sentence starters and encourage illustrations to help their story come to life!  This free, editable book template  is a great way to customize what you want your students to include and is in an easy printable format that can be put together as a book.
If you're at a one-to-one school, feel free to have students turn their "books" into a Google Slides presentation (each slide serving as a "chapter") or even a video!
7. All About Me Collage
An all-about-me collage is a great activity for upper elementary students who are more visual (not to mention the benefits for English language learners, too).
If you have access to technology, students can use Google images or clipart, or go the old-fashioned route by having them cut and paste photos from magazines onto a poster. Provide some ideas for what students should include, such as cutting out the letters of their name, pictures of their favorite sports or hobbies, favorite color, or goals for their future/the school year (like a mini vision board!).
Choose to have students present their collages or just hang them up around the room.
8. Superhero Profile
I don't know about you, but my students are obsessed with whatever the latest blockbuster superhero movie happens to be at the time. Why not have them discover their own super powers by having them create Superhero profiles?
Use this free template, or come up with your own. Show them off by displaying them on an "Our Class is Super!" bulletin board.
Never Stress Over Sub Plans Again!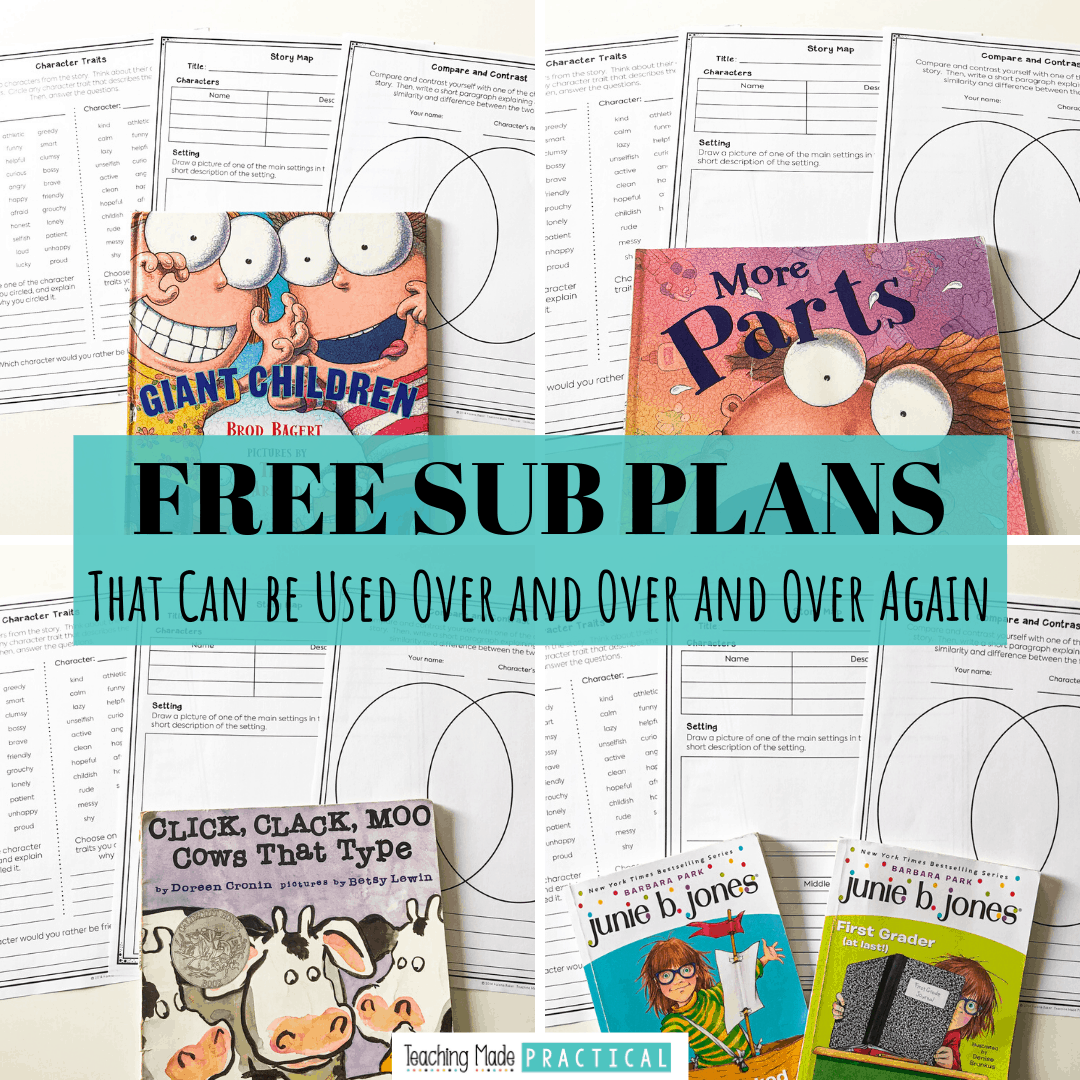 Make copies, find a fiction book, and you'll be ready for any emergency that comes your way!