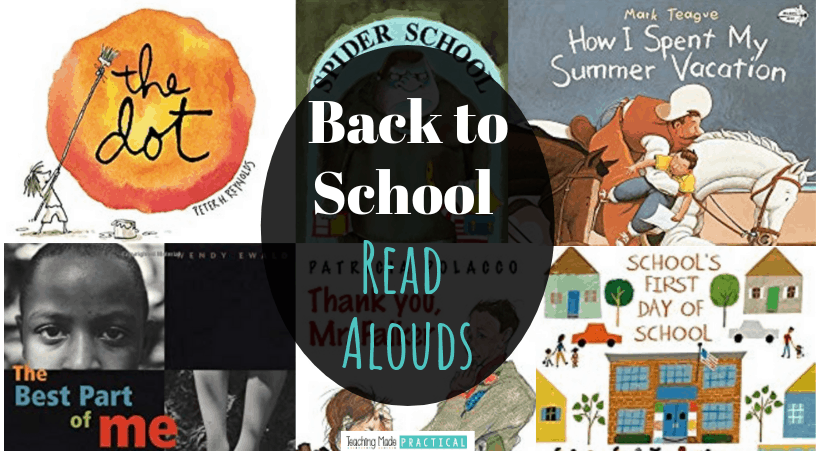 When looking for good back to school books to read aloud to your upper elementary students, you will likely come across many suggestions that just aren't that appropriate for a 4th or 5th grader.
Many back to school books focus on emotions that are more geared towards younger students.  Older students just aren't as concerned about leaving their parents or being away from home for the day.
They've probably already read back to school favorites like First Day Jitters and Wemberly Worried. 
Below, find some back to school book suggestions that might be more appropriate for your third, fourth, and fifth grade students.  Several of them easily lend themselves to some fun back to school writing activities as well.
The book links are affiliate links, so if you choose to click the link and buy I might get a small compensation at no cost to you.
You might also like these other back to school ideas.
Read Aloud Ideas for Back to School
This is a great book to help build a positive classroom community and a positive self image from the first week of school.  It has photographs and words from real children describing what they think is the best part of themselves.
The follow up activity for this book is a no-brainer and makes a great lesson for the first week of school or to display during Open House.
Have students photograph the body part that they think is the best part of themselves (making sure it is school appropriate, of course), and then write about it, using the examples from the book as models.
A Primary Kind of Life has a freebie for this activity that can be used to display student work.
This is a book about a child that wakes up on the wrong side of bed, which leads to a terrible first day of school.  The teacher doesn't teach, there are no bathrooms, and the cafeteria serves spiders for lunch.  Terrified, the child eventually runs home.
The next morning, after waking up on the right side of the bed, school is wonderful.
This book might not be a good fit for younger students that are really nervous about the first day of school.  3rd, 4th, and 5th grade students, who have experienced plenty of first days back to school, will recognize some of their own fears in this book and see them exaggerated in a funny way.
This is a fun twist on the typical first day of school book.  Instead of a child being nervous about going back to school, it's the school building that's nervous!
It tells about how the school building feels about lunch, recess, and how it's feelings got hurt by some students.
This is a fun, different read for students that have already read the classic back to school books like First Day Jitters and Wemberly Worried. 
An added bonus is that you can begin teaching point of view / perspective the first week of school!
In this book, a student tells the class about his summer vacation.  His story is clearly exaggerated - and what kid can't relate to that?
It's a fairly easy read, but the content will be interesting to 3rd, 4th, and 5th graders.
This leads easily into a fun writing activity where students could write about their own summer vacations.  Some kids could create a fantastic story like the child in the book, while others could tell more factual information about their summers.
Your students will find the terrible manners of these creatures called Thingamajigs very amusing.  This is a story about all the disgusting things Thingamajigs do.
This book lends itself easily to a lesson at the beginning of the year about what sorts of behavior students want to see from their fellow classmates and from their teacher.
This is another book that can be read aloud all year long, but makes a great back to school book because it sets a positive tone for your classroom.  If your students haven't had this book read-aloud to them yet, then they should!
This is a story about a girl frustrated that she can't draw.  Her teacher encourages her, and eventually she puts a dot on the page.  After a little more encouragement, she begins drawing all sorts of dots - and then encourages another students in the same way.
This book also lends itself to some fun back to school art projects - having students creating their own "dot."
Never Stress Over Sub Plans Again!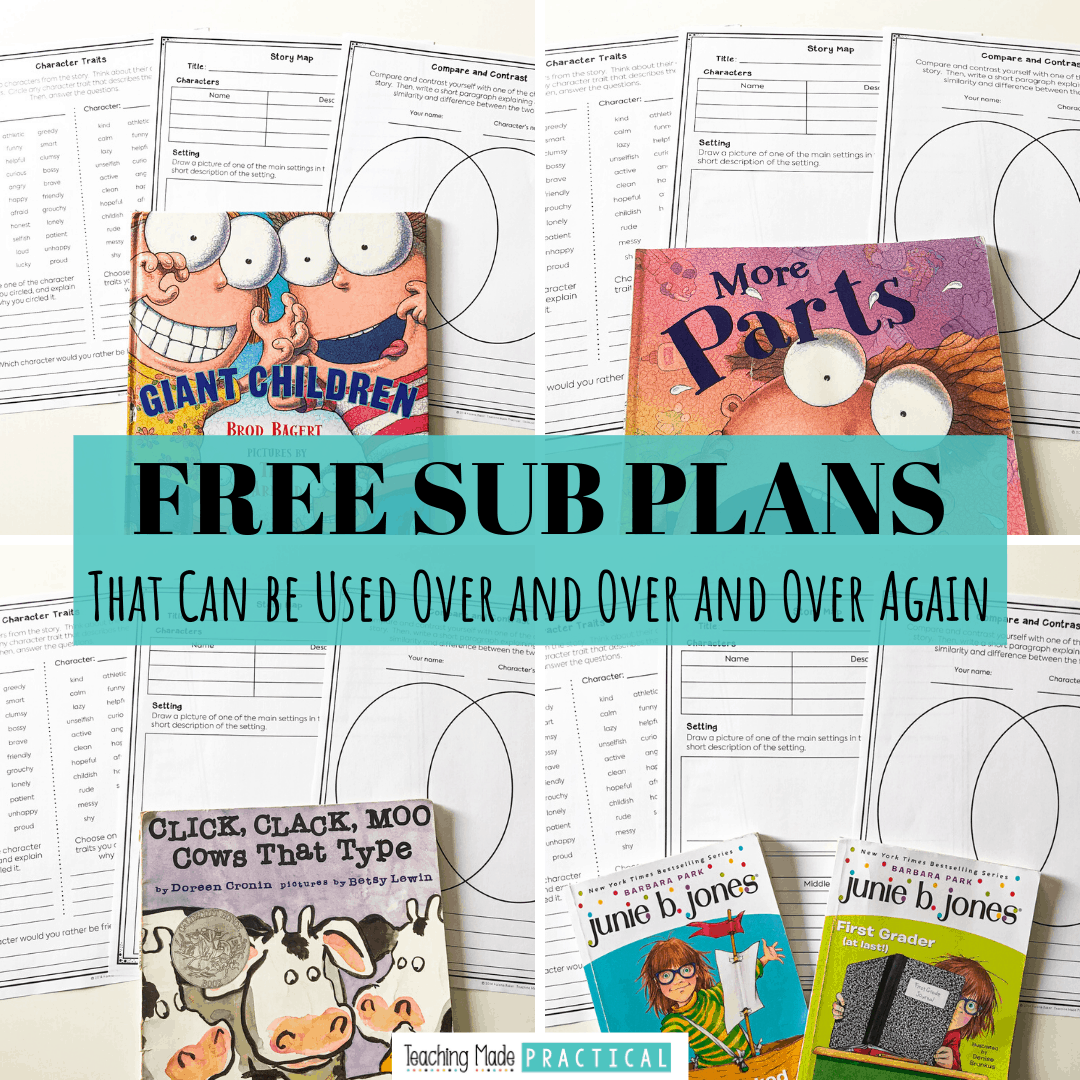 Make copies, find a fiction book, and you'll be ready for any emergency that comes your way!