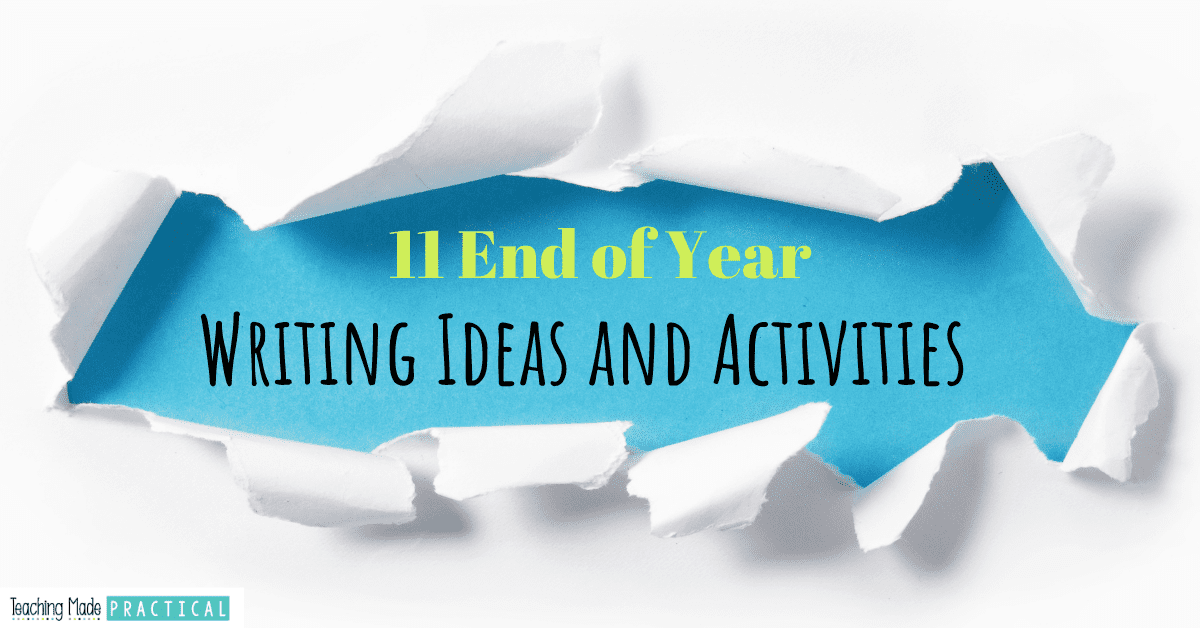 While students might think the approaching summer means that they don't have to very much more school work, you want your students to learn as much as possible while in your care.  With these end of year writing ideas, you can sneak some learning into those last days of 3rd, 4th, or 5th grade!
1. End of Year Letter to Future Students Activity
This is always a favorite!
Have your students write a letter to your class next year, offering advice and tips to help them survive the year.
You could let your students offer any advice they want, or provide direction by asking them to tell the future students:
what they will learn
what they should know about their teacher
their favorite activity of the year
something they have to look forward to
Save these letters and read them aloud to your new students at the beginning of the year!
This scaffolded resource guides your students from start to finish in creating an end of year letter to future students.  Even your struggling writers will be successful!  And best of all, you can use it digitally or in print.
2. Write a Letter to Your Future Self
The end of the year is a great time to get students thinking about their future.  Students are already thinking nervously about what their new teacher will be like and what other kids will be in their classroom.
Encourage your students to do some soul searching and think about what they want from their future.  What advice would they give to their future self?  What sort of activities do they want to be a part of?  What kind of person do they hope to be?  What goals do they have?
This activity is very adaptable.  You could have students write a letter to themselves as a senior in high school, thinking more long term.
Or, have students write a letter to themselves for the upcoming school year.
For bonus points, hand out the letters or mail them to your students later on so that they can remember what they wrote!
3. Share A Favorite Memory
Have your 3rd, 4th, or 5th grade students think about their favorite memories from the past school year, and then write about it!
This end of year writing idea is easily adaptable to any level.  Your more advanced writers could write about their top 3 favorite memories, while other students could just describe 1.
4. Compare and Contrast a Book with a Movie
5. End of Year Writing Idea - Choose Your Own Adventure
6th grade teacher Sarah Irvine has students write their own "Choose Your Own Adventure" stories using Google Slides.
This requires a bit more creativity and organization in terms of storytelling!  Each Google Slide tells part of the story, and then contains different links to "choose your own adventure."
Sarah explains:  "For example, you are walking down a path. To turn right click here (will link to slide #5 and the story continues) or to turn left click here (will link to slide #12 and the story continues)."
6. End of Year Writing Reflection Prompts
For some shorter writing activities, ask students some end of the year reflection questions and have them respond with a paragraph or two.
Some sample reflection writing prompts are:
What will you miss most about this school year?  Why?
If you could travel back in time to the beginning of the school year, what advice would you give yourself?
What is one thing you wish your teacher had done differently this year?  Why?
If you want to do this as a daily activity, then these reflection questions and writing prompts will come in handy!
7. Summer Words to Make a Summer Story
If you want students to practice writing fiction, have them write a summer story.  Assign them words that need to be included in the story to help get their creative juices flowing.
You could use this idea several times at the end of the year, just assign different words each time!
Here are some possible summer words to have students include in their summer story:
ice cream
scorching
reading
relax
popsicle
sunglasses
diving board
frisbee
lazy
bicycle
hammock
8. Have Students Write a Thank You Note
The end of the year is a great time to have students show appreciation to the people that are investing in their lives.  Students can create their own greeting card, or you can teach them to write a more thoughtful note with this
Thank You Note Activity and Template.  
10. An Autograph Book...That Encourages Writing!
Having students sign autograph books is a fun way to celebrate the end of the year.  But make this activity more meaningful and more personal with an autograph book that will encourage students to get past simply signing their name or writing "HAGS."
This autograph book includes sentence starters that encourage writing.  Students will be prompted to sign the autograph by sharing a favorite memory, or explaining something they like about the person, or predicting what the person will be doing in 30 years.
11. Create a Summer Squiggle Drawing and Story
If you haven't ever tried squiggle stories with your 3rd, 4th, or 5th grade students, the end of year is the perfect time.
To write a squiggle story, give students a sheet of paper with a random squiggle on it.  They create a summer drawing that incorporates that squiggle.  Then, they write a short story based on their drawing.
This no prep resource includes plenty of squiggles and "prompts" to help direct students writing.  And best of all, it can be used all year, not just at the end of the year.
Never Stress Over Sub Plans Again!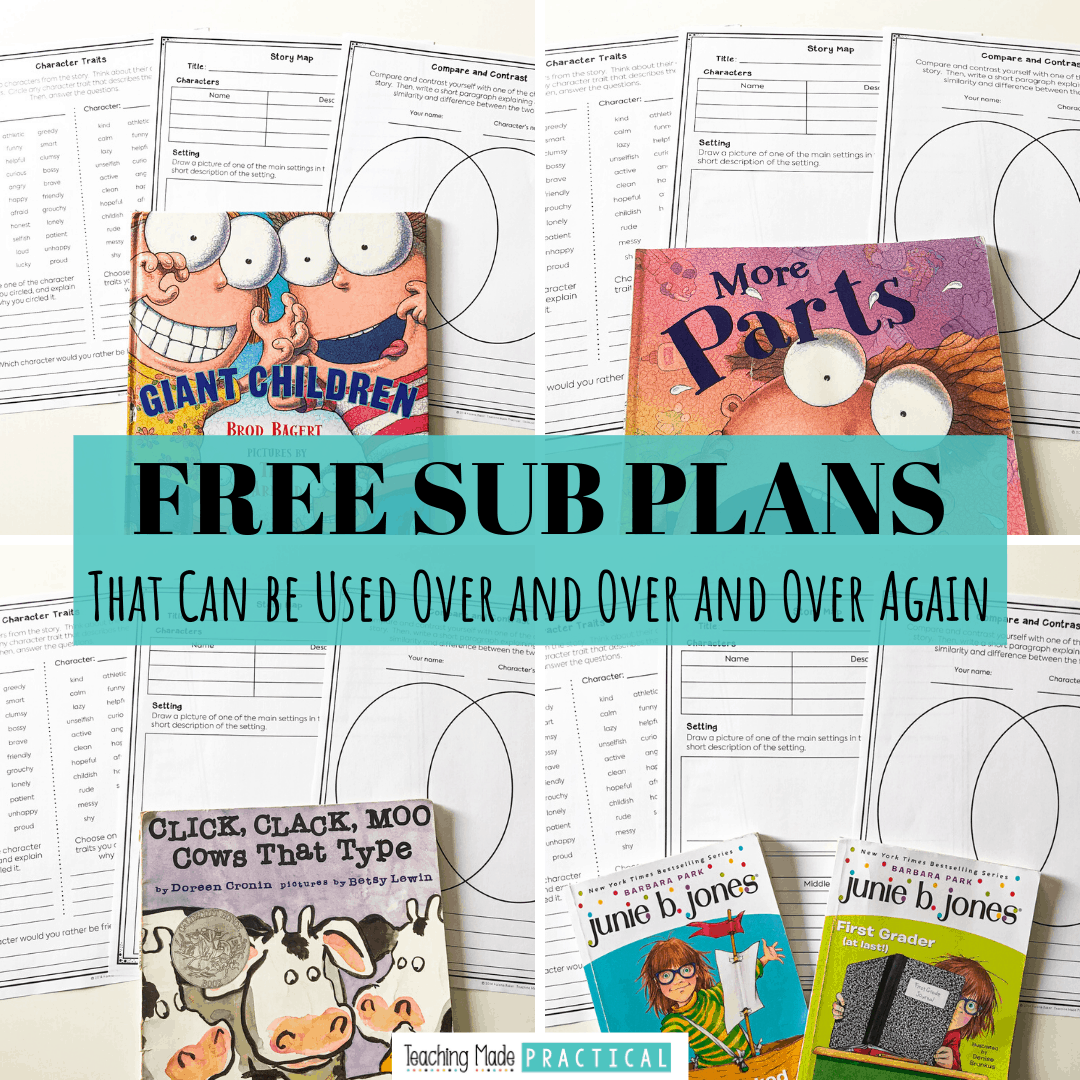 Make copies, find a fiction book, and you'll be ready for any emergency that comes your way!