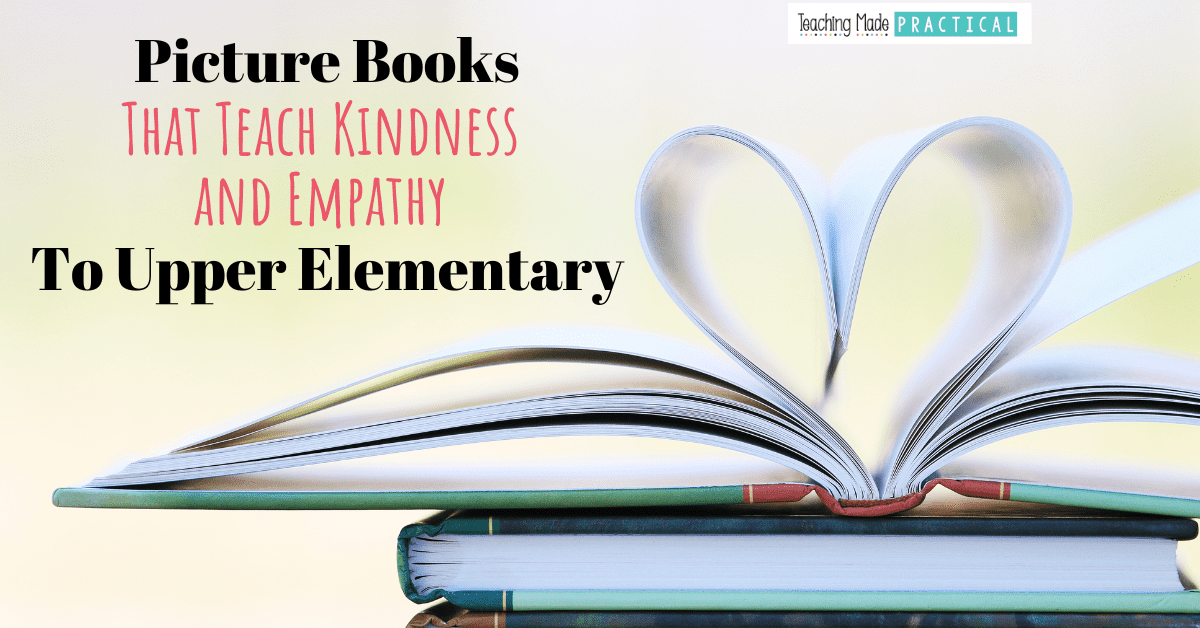 There are so many good books that teach kindness and empathy to read aloud to your 3rd, 4th, and 5th grade students.  Sometimes it can be hard to choose.
But kindness and empathy are themes that upper elementary students need to be reminded of all year long.  You don't have to choose just one book!
Below, find some kindness and empathy read aloud suggestions that are appropriate for third, fourth, and fifth grade students.  The book links are affiliate links, so if you choose to click the link and buy I might get a small compensation at no cost to you.
Also, these before, during, and after questions and activity ideas can be used with any of the books below and are a great way to make sure your students are thinking more carefully about kindness.
Read Aloud Ideas for Teaching Kindness to 3rd, 4th, and 5th Grade Students
This book is a personal favorite of mine.  It's about a boy that is embarrassed by his shoes and really wants an expensive pair that a lot of the boys in his class have.  He finds a used pair and buys them, even though they are way too small for his feet.
When he notices that another boy in his class - a boy with smaller feet - is in need of shoes, he struggles with whether or not he should do the kind thing and give the boy "those shoes."  Eventually he does.
Many of your students will find this story relatable.
This book shows how simple acts can make some one feel excluded or make someone feel included.  It tells the story of a boy who feels invisible.  When a new boy comes to class and is laughed at, the "invisible" boy boldly leaves a kind note for the new student.  This leads to the beginning of a friendship, and the "invisible" boy becomes more visible.
There are themes in this book that will help teach your more popular 3rd, 4th, and 5th grade students empathy, and your more isolated students how a simple act of kindness can lead to friendship.  It's a great book for helping encourage a culture of kindness in your classroom.  
Rukhsana Khan, the author of Big Red Lollipop, was born in Pakistan.  This story is based on an experience she and her sister had after leaving Pakistan.  It covers themes of kindness, culture, sibling rivalry and more.
The main character in this story decides to show compassion and empathy towards her sister, even after her sister showed a lack of understanding for her.
You can hear Rukhsana tell the story from her own perspective here.  
Somebody Loves You, Mr. Hatch is a great book for showing students that when you treat others kindly, they are more likely to treat you with kindness.  The story starts on Valentine's Day, but it can be read any time of year.
Mr. Hatch is a quiet man that doesn't smile or talk to others.  On Valentine's Day, he receives a special package and note that says, "Somebody Loves You."  This note encourages him, and he starts talking to other people and helping them out when they need help.
He later comes to find out that the package was sent to him by mistake, and that saddens him.  But because of all the kindness he has been showing others, he discovers he now has people in his life that love him!
This is another book with the theme that being kind to others encourages others to be kind to you.
Omu is making stew - the best dinner she has ever had - when people from around the neighborhood come to see what the delicious smell is.
Omu shares the stew with everyone who comes to her door.  When it is time for her to have dinner, there is no more stew.  But her neighbors return the favor to Omu, and she still ends up having the best dinner she has ever had.
This story is about an unlikely friendship between a mouse and a whale.  A mouse gets caught at sea, and a kind whale finds him and helps him back to land.  Eventually the mouse is able to return the kindness.
It has some similarities to one of Aesop's Fables - the Lion and the Mouse.   In fact, comparing and contrasting these two stories would make a great lesson!
Note: This book does discuss some more serious themes like death.  There is a section of the book where the mouse wonders what it feels like to drown.
This sweet book tells the story of twins that notice their neighbor's house is quiet and feels somewhat lonely.  They invite her over for dinner and learn about some jelly donuts she used to make with her family.
The twins do small acts of kindness for her, learning that something small like making jelly donuts can make a difference in other people's lives.  This is also a good book to use to teach your students how to ask meaningful questions.  
Never Stress Over Sub Plans Again!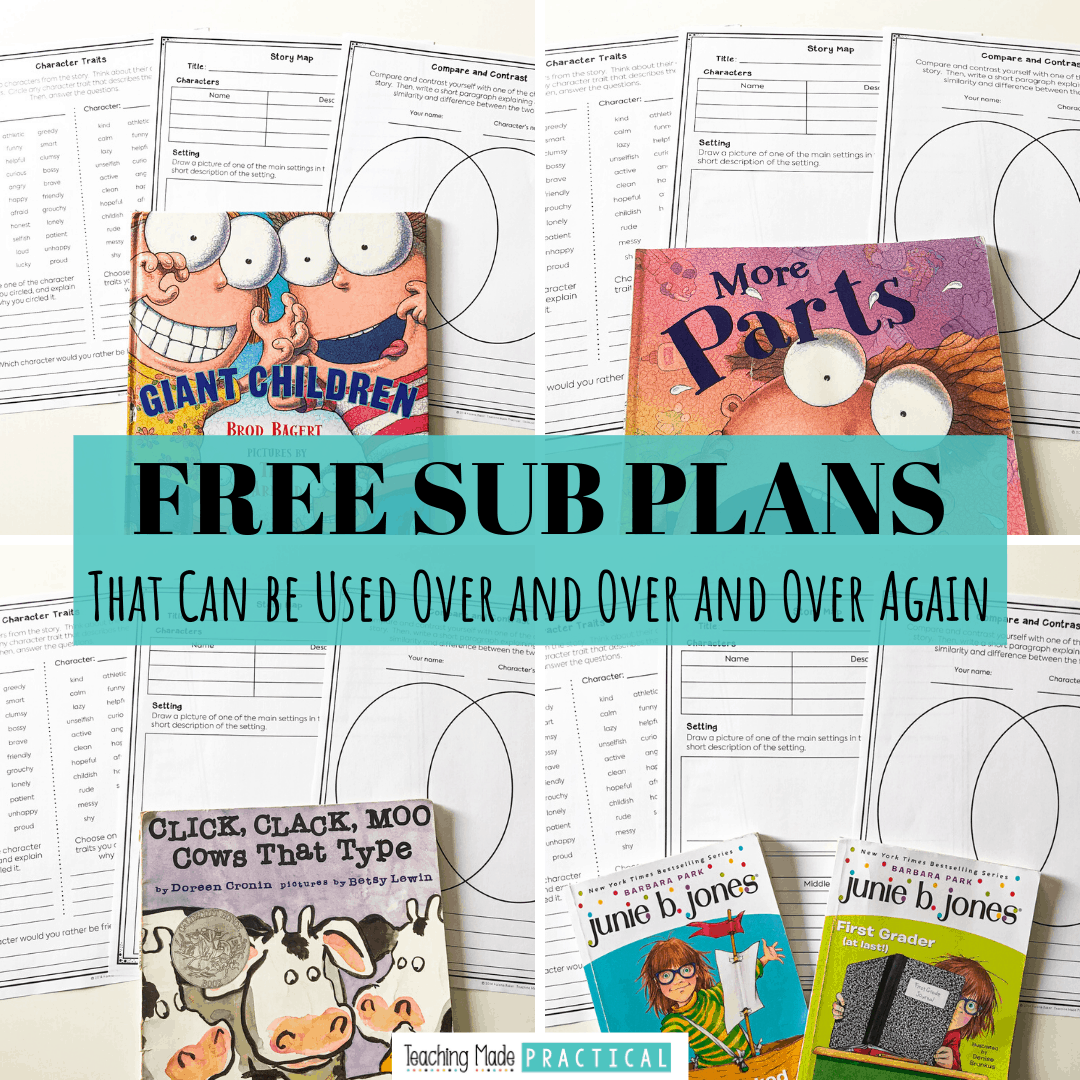 Make copies, find a fiction book, and you'll be ready for any emergency that comes your way!