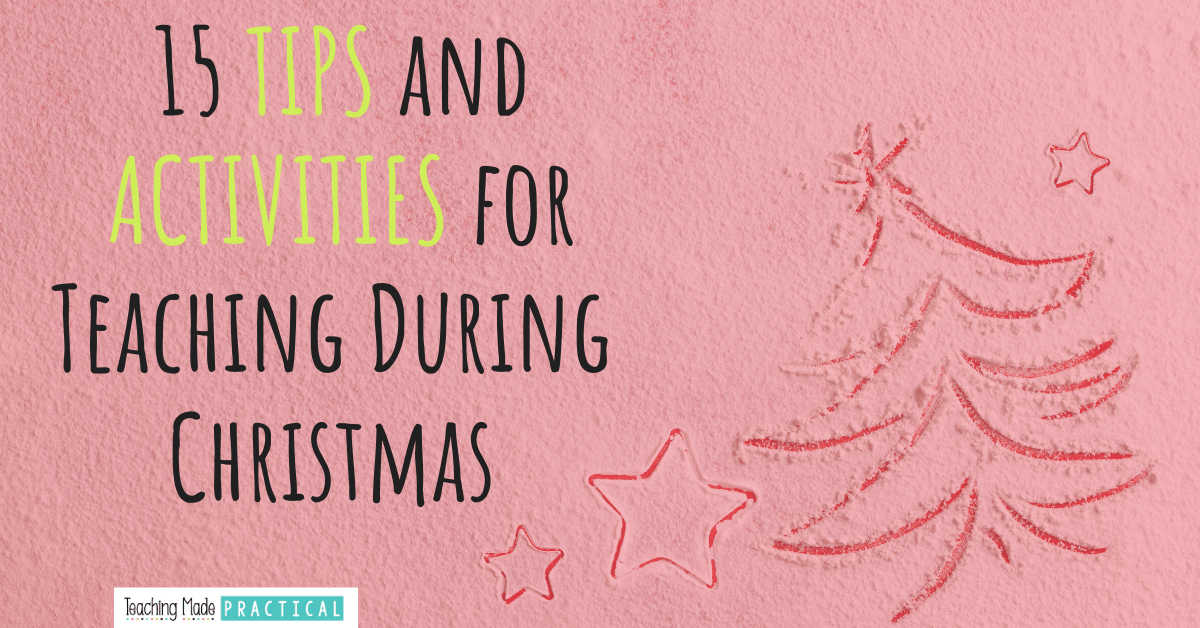 Written by guest blogger Meghan Taylor
I totally get it, squeezing in those fun Christmas activities into the upper elementary grades is hard. In fact there's a running joke between our 4th grade team and the 1st grade team on our campus that pretty much sums up our teaching lives. It goes a little something like this:
First grade teacher to her team: Guys! We've got to get something cute into our halls before we start looking like the 4th grade hall! 
Yes, she's talking about us and I'm sure you are visualizing your hallways right now.
I'm a lover of all things Christmas and over the years I've found ways to fit Christmas into my classroom and lessons. Below you will find 15 tips and activities to get in the Christmas spirit in your own classroom!
Sometimes I recommend products using affiliate links.  If you click through and buy, I may be compensated at no cost to you.  
Fun Christmas Activities for 3rd, 4th, and 5th Grade Students
I know every school district and school is different, but at my school we are able to put up Christmas trees. I snagged a shiny blue tinsel mini tree after Christmas one year along with a tub of bright colored ornaments. When we return from our Thanksgiving break, our little tree is set up and plugged in and as my kids walk in the door, I hand them an ornament to hang. They love having a small piece of ownership on our classroom tree and it saves me the time of decorating it!


Christmas is a magical season. There are so many writing opportunities that can also double for hallway projects. Win-win. I have found these 18 Christmas Writing Prompts for Upper Elementary

to be very engaging for my students! I love that they can be done for morning work (and there are plenty of them!), tied into your current lessons, or a way to engage with families at home.



Okay, this idea is from my amazing teammate. Christmas card exchange. Projects by Jen

has a great setup that is super organized. Be sure to sign up when it opens so that you don't miss out! She provides a theme for the cards and a school and class bio. The kids LOVE creating the cards. But even more, they love getting cards back and learning about different schools around the U.S. We put a map on our hallway bulletin board and put a pin where the cards come from. Other grade levels enjoy checking out the cards and map throughout the season, too! So in short, you make about 30 cards, and you get 30 back.



I found out about Christmas shoeboxes last year, but unfortunately after the deadline. Through the Samaritan's Purse, you can provide basic necessities for kids in need. Start by reading a book such as A Christmas Kindness by C.C. Gevry or The Spirit of Christmas: A Giving Tradition by Nicky Benson, about how those in need may not get to experience normal holiday traditions. Together, discuss how we could help. Introduce Operation Christmas Child

and have volunteers bring in an item to fill a shoebox for a child in need. Not only are children learning about other home situations, but they are learning how to give back.



I am a gift-giver. It's one of my favorite things to do. For Christmas, I get my students a book from Scholastic. I start browsing the dollar deals in the fall to find the perfect one to gift my students. Write a little note inside the front cover and stick a candy cane in it! I ask them to bring the book back in January and we use it as our class read aloud at the end of each day.


Fractions and Christmas absolutely go together with this Snowman Fraction Activity and bonus--it's free!  Students use their knowledge of fractions to create a snowman. The activity can be differentiated by having students reduce fractions. The final project is a perfect bulletin board decor choice AND it can carry over into January and the winter theme!


This writing activity can really be adapted to any grade level and is so much fun! I've done this writing prompt with grade levels from Pre-K through 4th. "Santa's Stuck in my chimney..." leaves so much room for imagination! I know that 4th grade is a big year for writing. Tie in your state's testing requirements to make this fun and useful. We are not fortunate enough to have art as a special rotation at my school, so I'm always looking for art projects/activities that can easily be incorporated into my lessons, and this one hits the nail on the head. Santa's Stuck is also a fantastic bulletin board piece.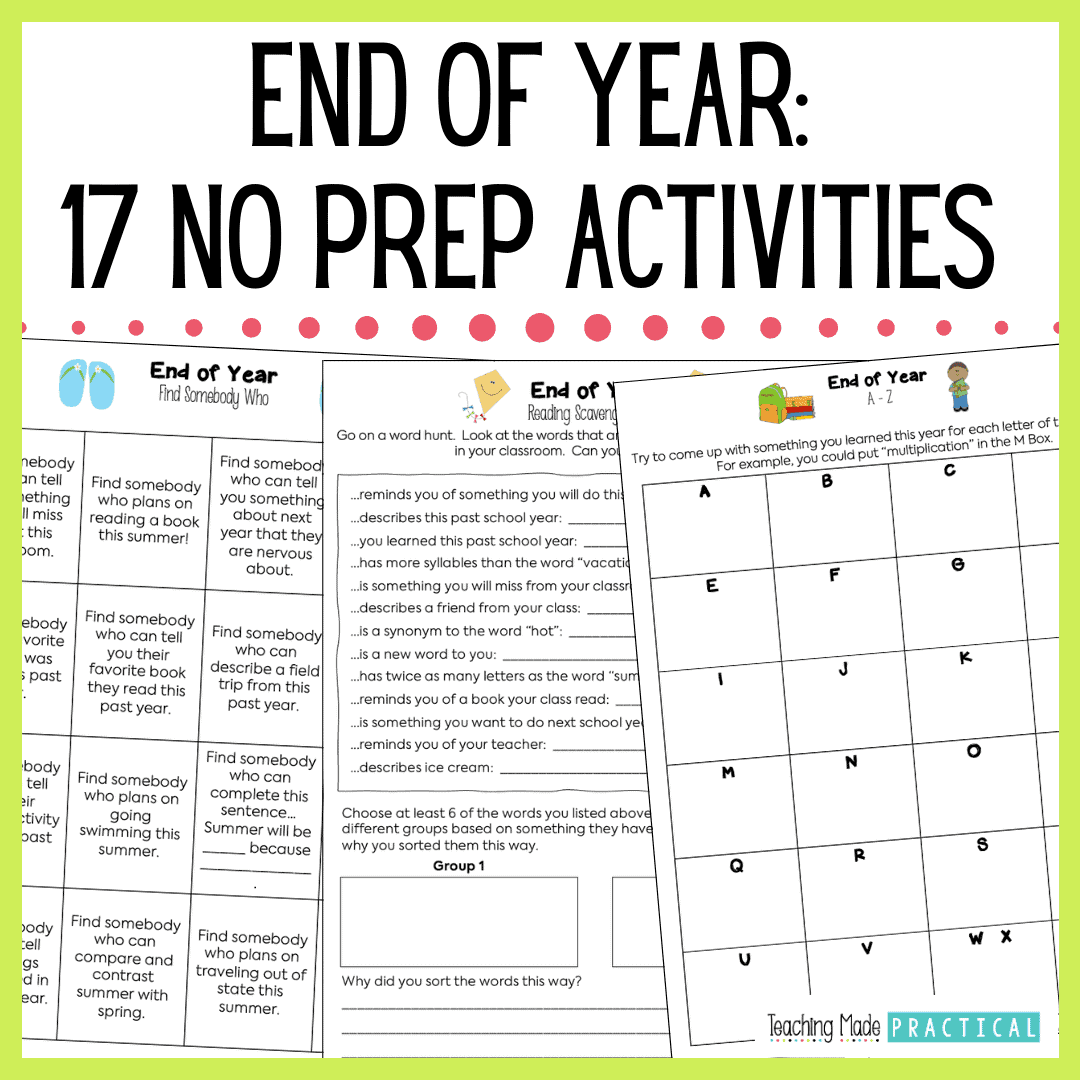 Keep kids engaged and still learning with
these no prep end of year printables!
  Students will go on a word scavenger hunt, write poems, reflect on the school year, interview a friend, write a thank you letter, and more.  Just print and go.
Who doesn't love Christmas music?! I tried really hard to play Christmas music before Thanksgiving in my classroom last school year, but my boys did not go for it. Music is one of my favorite things about the Christmas season. We listen to a variety-the classics, new and pop, and even instrumental. I can always tell when a favorite one comes on as their sweet voices start singing along. I use my Amazon Prime account to stream music through a Bluetooth speaker that I found for less than $20.  (Check out an affordable bluetooth speaker on Amazon here.)
We can't leave science out! How about holiday STEM activities? I love the idea of doing a countdown to Christmas with STEM activities. This could be a great activity to do as morning work. Have students start when they get to school and then give them about 10-20 minutes of class time to complete it each day. I bet this would even encourage everyone to get to school on time. Pinterest has TONS of ideas. One of my favorites is this igloo and marshmallow activity. Challenge students to create an igloo with toothpicks and marshmallows and then see how many marshmallows they can fill their igloos with. They're building and using their creativity skills, you can tie in other cultures and even find a book to read, such as Building an Igloo by Ulli Steltzer, and counting!


Reading passages. How do we tie this into Christmas? Easy! There are so many Christmas reading passages on Teachers Pay Teachers. I always try to find paired passages since in our state they are heavily tested. Bonus if the passage(s) have to do with candy canes so students can enjoy one while they're working! Oh, and don't forget to play Christmas music in the background.


My next idea isn't for everyone. It can get messy. I love traditions, and while this wasn't one of my traditions growing up, it just seems like one that kids should experience at least one time. Gingerbread houses. Yes, we make them and as you can imagine, there is candy, frosting and "stuff" everywhere. But it's so worth it. I have my students work in groups so that they can problem solve together. They start by browsing through finished products. I would highly suggest finding kid friendly pictures for them to look at so that they aren't trying to recreate professionally made gingerbread houses. After they've gathered some ideas, they create a blueprint and a list of what they will need. The students divide the materials that are needed and they decide who will bring what in. Unless you have a long block of time for students to work on these, it does take my classes two days to complete theirs. After they've finished their houses, they write a creative story with their gingerbread house as the setting! You could even make this a contest and have some guest judges.


One of the favorite activities that our kids always talk about for the rest of the school year are Christmas rotations. Each teacher on our team (there are six of us) chooses a Christmas themed activity. Some choose one related to their favorite subject, and some of them are just fun. Our homerooms rotate through all six classrooms and complete each activity. We have about 20 minutes with each class and they go home with six products to show off! This day is usually planned for the last week before break since the kids can't contain their excitement at this point.


Parents love when their kids bring home goodies that they made at school. Wood slice ornaments are a great craft for upper elementary students. One of our teachers made the wood slices, but you can easily order them. Share ideas with your students so they can brainstorm what they want to paint on their ornament. Even the most simple designs turn out amazing! Name and year on the back, stick in a gift back, and your students will have a cute gift for their parents!


Elf on the Shelf. I know that by fourth grade, kids are on the cusp of that "too cool for the elf" age. We have a grade level elf who travels through each of our classes the last 2-3 weeks before our break. This gives the kids a little taste and excitement from the elf without overdoing it. Stinky feet is a classroom favorite and there's no prep for you!


This last tip is probably one of the most important. Take a deep breath and let it go! The month of December is ALWAYS a crazy one and there's no getting around it. Go with the flow and be flexible. I know you probably aren't thinking about it, but when your students are able to see how you adapt to crazy times, they are learning that skill from you. Stay positive and enjoy experiencing the magic through 20 innocent sets of eyes and hearts!
Never Stress Over Sub Plans Again!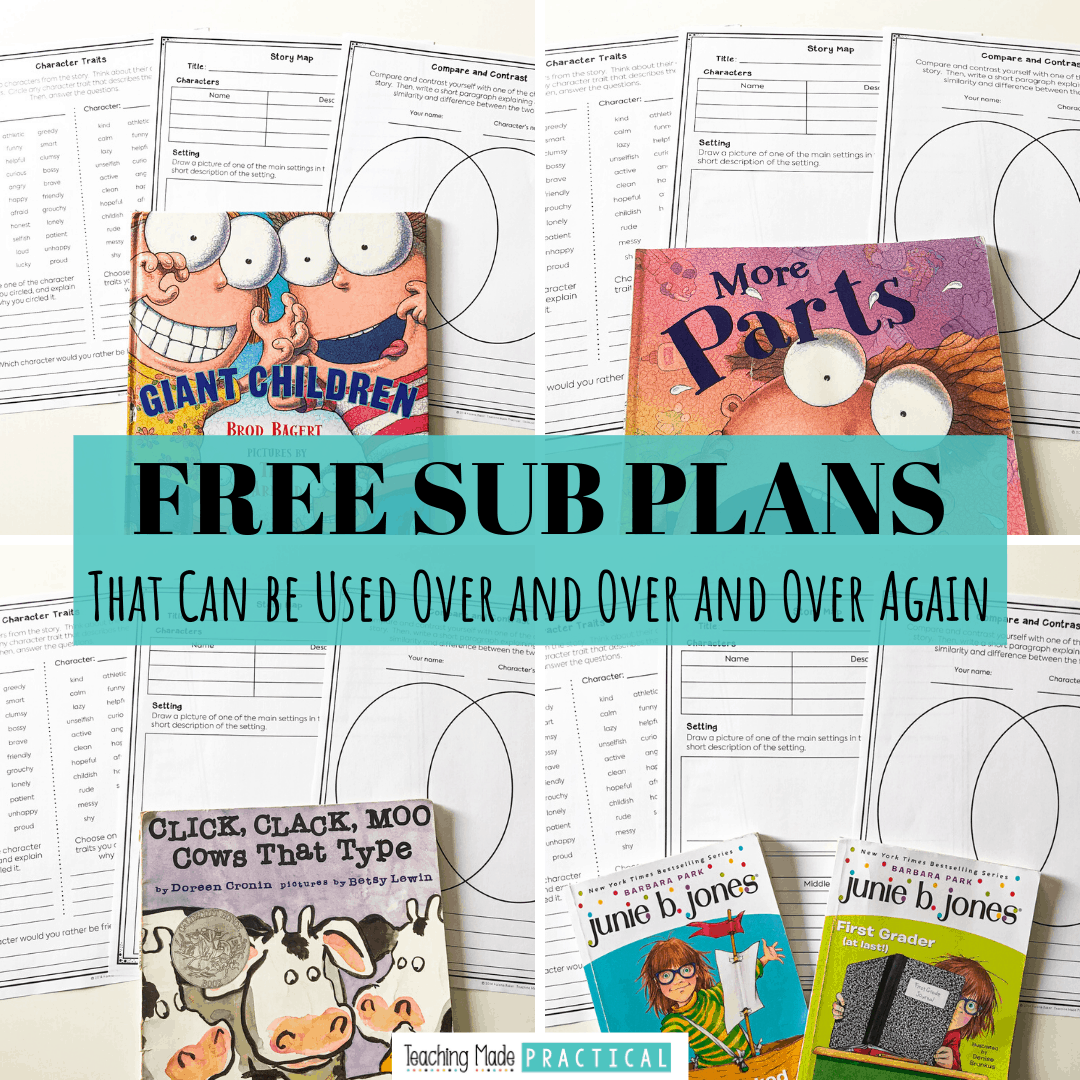 Make copies, find a fiction book, and you'll be ready for any emergency that comes your way!