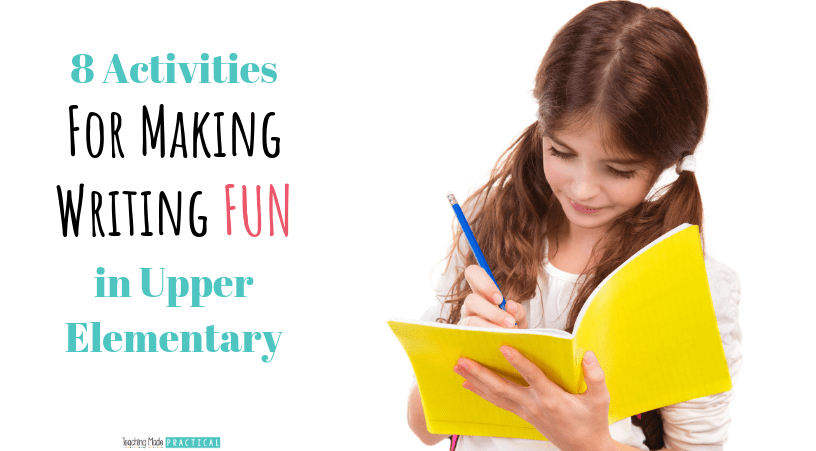 Making Writing Fun Activities Written by Guest Blogger Jessica Thompson, 4th Grade Teacher
Writing. The minute the word is mentioned there is an audible, in-sync sigh from the students. Of course, there are a few super excited students who cannot get their ideas down quick enough. For every handful of excited writers, there is a large portion of the class that "has nothing to write about."
The struggle is real, y'all. For both teachers and students.
The big question for teachers is not only how to make writing fun and engaging, but how do we get students excited about writing?
Fun Writing Activities To Try
Here are 8 Activities to try with third, fourth, and fifth grade students. These activities are to get our young writers excited about writing which will make formal writing tasks less daunting.
1. Think-Write-Pass:
This is always a favorite that gets lots of laughs. 
Put students in groups of four.  Give each student a piece of paper and have them write their name on the top. 
Have students write for 2-3 minutes.  You can give them a topic, or simply have them write about whatever they want.   
When the time is up, students pass their paper to another student in their group.  Each student in the group will have to read, continue the writing, and pass the paper again 2-3 minutes later.
When each student gets their own paper back they get a few minutes to complete the story. If time allows: let the groups choose their favorite one to share. 
2.  Sticky Note Stories:
Students want to share stories with us. There are so many stories - from their weekend, the ball game, recess, at their Aunt Barb's birthday party 5 years ago - they have so much that they want to tell us!
It's usually the same students ones who are constantly trying to tell us stories that, come writing time, same they have nothing to write about.  Sticky Note Stories are an easy solution.
A sticky post it note is not nearly as intimidating as a piece of notebook paper.
When a student has a story to share, tell them how much you want to hear it - but they have to write it down on the sticky note.
A holiday weekend? A school event?  A birthday party?  A football game?  Write it on a sticky note.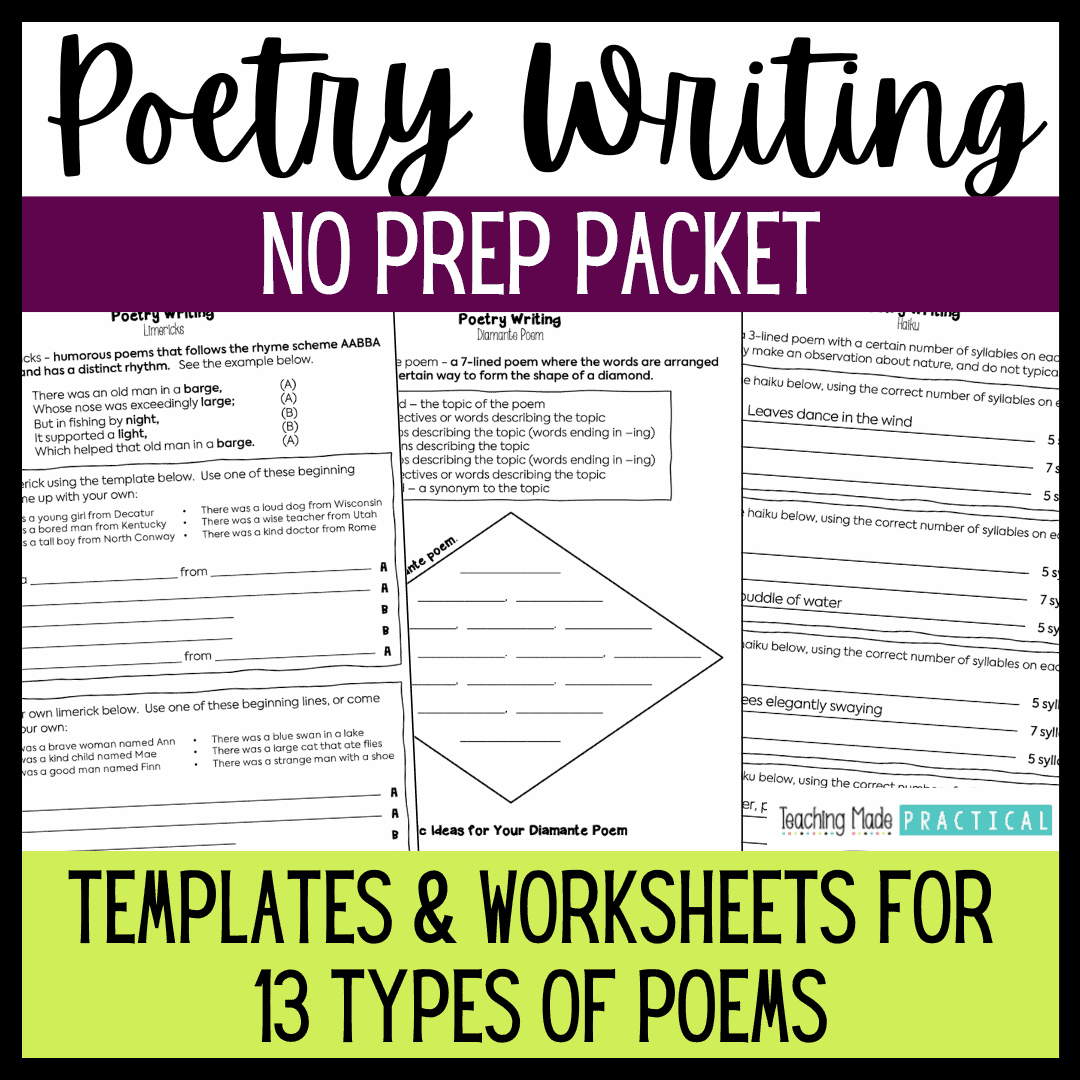 Poetry writing can be intimidating - for teachers and students!  This No Prep Poetry Writing Packet has templates and worksheets to help your students confidently and successfully write their own poems!
3.  Found Poetry
Make copies of text from a book you are reading and have them find words or groups of words throughout the text to create a poem.
They can circle these words and draw pictures or designs around everything else to make the poem pop.  See some examples of found poetry here.  
3rd, 4th, and 5th grade students can also use words cut out from magazines to create a poem. It is best to precut words and have them in a container to make sure all words are appropriate. 
4.  Go Outside!
A change of scenery makes everything more fun.  Take the notebooks and pencils to the outdoors for 10-15 minutes. Have students sit and use their 5 senses to write observations.
You can stop there, or take this activity a little further and have students write some poetry!
Give them free rein, or add some guidelines for structure.
This free cinquain writing template is perfect for an activity like this!
Or, have students write a short haiku!  This no prep resource gives students a chance to read and write haiku, as well as answer comprehension questions!
6.  Silly Pictures
This is an easy way to make writing fun!
There are millions of funny pictures without captions on the internet. The key is to find appropriate ones and save them for later use.
Put the picture up on a projector, mirror it to a screen, or print it out. Have students write about what is happening in that picture.
This is great to practice skills such as predicting, inferring, cause and effect, and problem and solution.
Or, inspire even more creativity by having students create their own silly drawings to write about using these Squiggle Drawing Story Starters! 
7.  Persuasive Letters
Two birds, one writing piece.  The key to making this writing activity fun is choosing a topic that is sure to of interest of students.  
What student wouldn't love to try to convince their teacher that recess should be longer?  Or that they should be able to skip homework one night?  Or that they should have a pizza party?
The list of ideas is endless.  They could write to their parents on why they should have a later bedtime or get a dog. They could write to the principal on why donuts should be served with breakfast. They could write to an author on why they should write another book in their favorite series.  You could also let students choose the topic. 
3rd, 4th, and 5th grade students have fun arguing their point and they will learn quickly the importance of supporting their claim. 
8.  Quick Writes
Quick Writes are a timed writing. The idea is not to scare the students, but for them to get their ideas on paper as quickly as possibly and to be writing or thinking the entire time.
Give students a prompt, and then tell them to write down whatever comes to mind over the next 5 - 10 minutes.  Make sure students aren't worried about spelling or a grade - the goal is to just spend some time writing.
If you are looking for a more polished piece, you can have students do this daily for 3-5 days.  Then, have them choose their favorite quick write to revise, edit, and turn in.
9.  BONUS - Secret Descriptive Writing Activity
Make writing a descriptive paper fun!  Have your students secretly draw a picture and use describe with vivid descriptive language.  Then, students read their descriptions aloud while their classmates try and figure out which drawing is theirs!
This works best if students are all drawing something similar.  This is an easy activity to create on your own, but you could also try out one of these secret descriptive writing activities for a no prep way to walk your students through the entire writing process:
An Extra Tip for Making Writing Fun
A personalized writing notebook can be an easy way to motivate students to write. This is something that is theirs and they have more ownership over.
Composition books can easily be decorated with pictures, stickers, photographs, etc. and covered with contact paper.  Letting them take the time to decorate a notebook with things that are important to them can give them more ownership over their writing - as well as help stir up ideas for writing!
Bonus: Writing will not get lost easily! Make one yourself as a teacher and use it! Let the students see you write. Read your writing to them and make time for students to share too. 
Never Stress Over Sub Plans Again!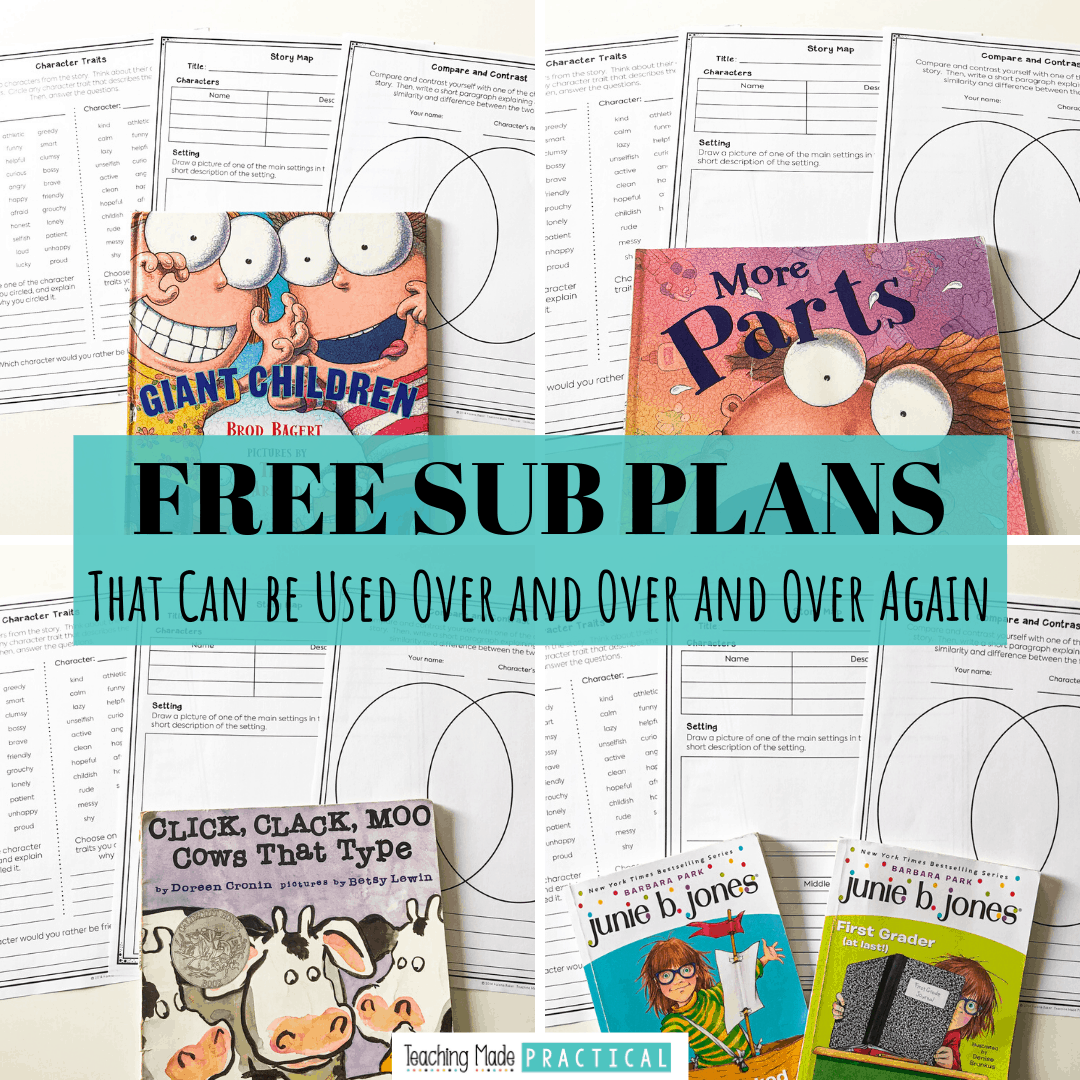 Make copies, find a fiction book, and you'll be ready for any emergency that comes your way!