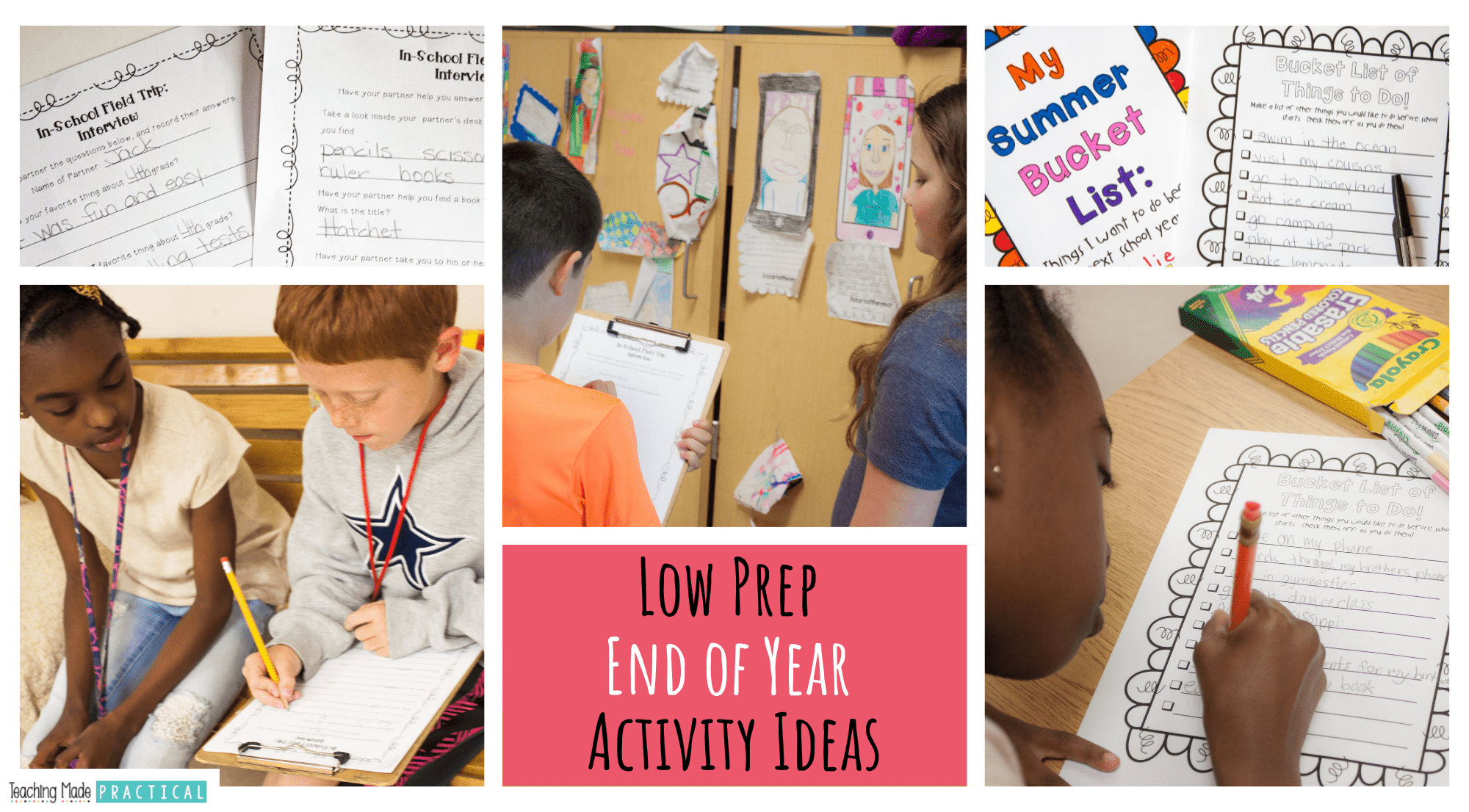 The end of the school year always brings forth a huge range of emotions in teachers. Eagerness about the upcoming summer break. Sadness about students moving on to the next grade level. Anxiousness about all of the end of year administrative tasks.
But mostly, teachers feel completely exhausted at the end of the school year.
This exhaustion can make it difficult to prepare fun and meaningful end of year activities. Sometimes it is just easier to put in a movie so your students are occupied while you hurriedly try to complete grades. (This was me my first year teaching!!)
Over the years, I collected some fun, meaningful, and low-prep activities for the end of the year. These activities were easy to prepare and engaging for the students so that I could get work done if I needed to. And my 3rd graders could have fun despite my exhaustion.
My favorite end of year activities are listed below!
Fun End of Year Activities for 3rd, 4th, and 5th Grade Classrooms
1. End of Year Letter To Future Students
Have students write a letter to next year's class, giving tips and advice about what next year's students should expect. This is a fun activity that also has students work on their writing skills.
Although my 3rd graders always ended the school year with much better writing skills then when they started, their writing organization left much to be desired. So, I created this End of Year Scaffolded Letting Writing Activity to help my students organize their thoughts and create a letter that would be a good model for next year's students.
My favorite part of this activity is the section where students are required to write about "What You Should Know About Your New Teacher." Students are often much more insightful than we give them credit for, and I learned a lot about myself and my teaching from these letters.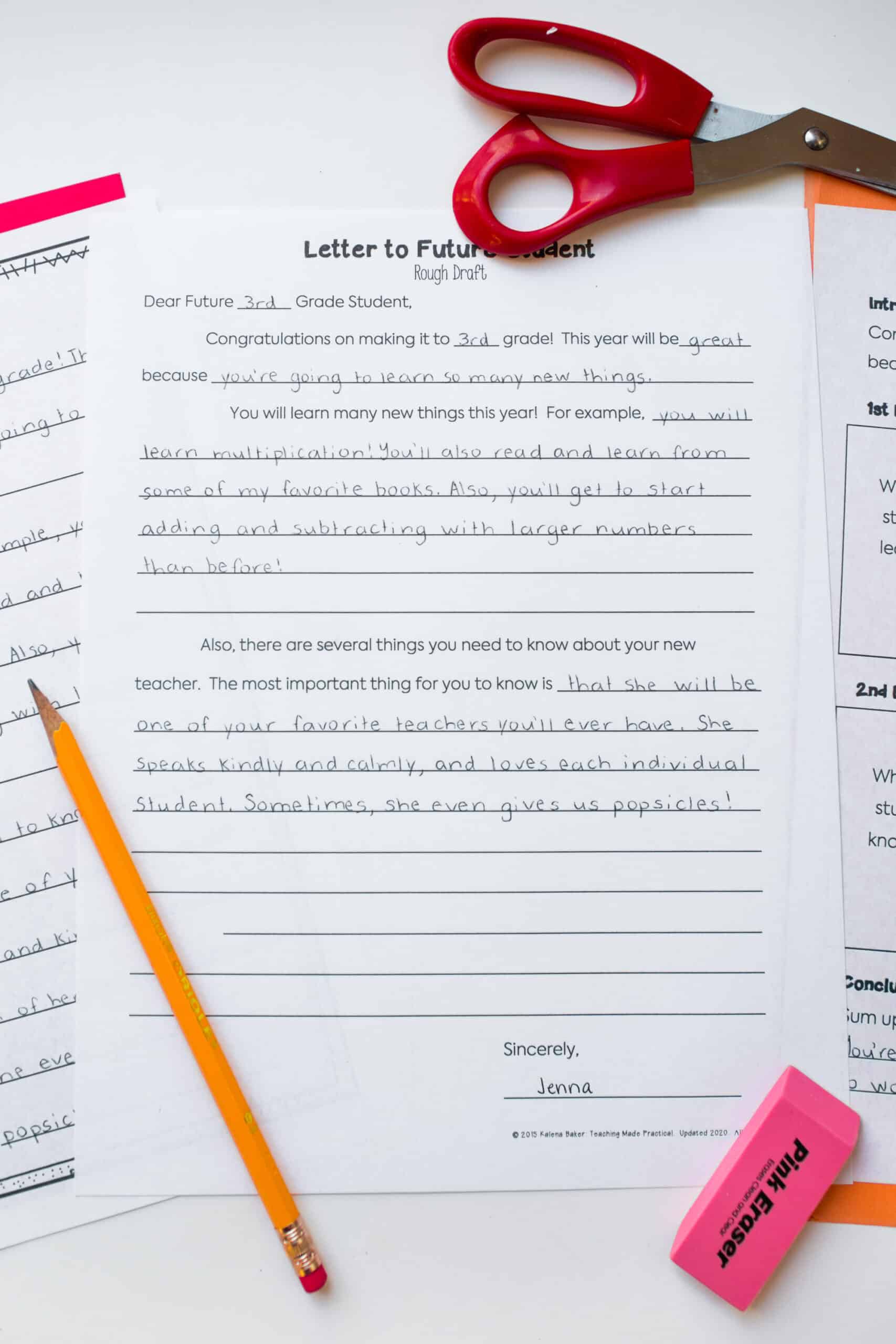 2. End of Year Reflection
Have upper elementary students reflect on the past school year by asking them reflection questions. For example:
If you could change one thing about the school year, what would you change?
What was your favorite book that you read this year?
What accomplishment from this year are you most proud of?
What is one thing you wish your teacher would have done differently this year?
What is the nicest thing that someone at this school did for you this year?
My End of Year Reflection Questions Resource contains 24 reflection question cards and writing prompts. Question cards like these can be used in a variety of ways - sometimes I had partners or small groups share their answers with each other. Sometimes I would have everyone in the class share their answer to one specific questions.  Sometimes I would have students use it as a writing prompt.  Sometimes I would use a Kagan strategy like Stand Up, Hand Up, Pair Up.  
Any method for questioning students is fine, as long as you get your upper elementary students talking and reflecting!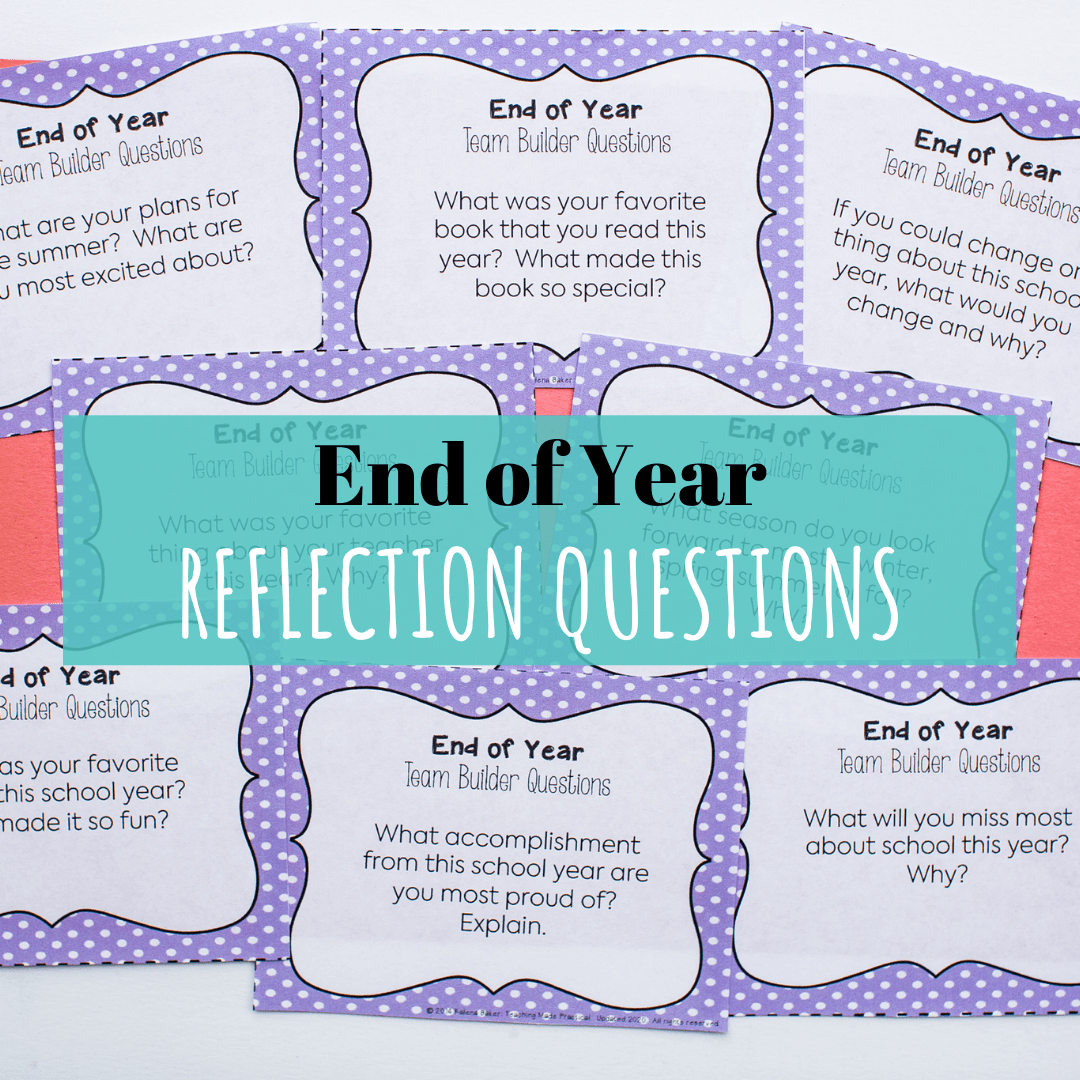 3.  Use an End of Year Writing Prompt
Writing is a great way to keep students learning with minimal prep.  All you need is an engaging writing prompt!
Check out these 11 End of Year Writing Prompts and Activities for easy ways to incorporate this into your end of year lesson plans.
4. Field Trip to Next Year's Class
Have students visit one of the classrooms they might be in next school year. For example, if you teach 3rd grade, take your students to a 4th grade classroom!
This is especially powerful if you give the students a chance to talk to the students in the next grade. I would pair up each of my 3rd graders with a 4th grader, give them a scavenger hunt and interview questions from my End of Year Field Trip to Next Year's Class Resource, and have students talk with each other. The 4th graders got a chance to share their wisdom, while my 3rd graders felt a little less anxiety about the next school year.
5. Summer Packet of Activities
Have students continue to read, write, and learn during the summer with a packet of fun activities to complete during the summer. You could create a list of activities for students, have students create their own, or save time by using one I have already created for you!
In this Summer Packet, students are asked to complete a variety of lists, including things like:
reading in a variety of places
writing using a variety of materials
building a variety of objects
observing different things in nature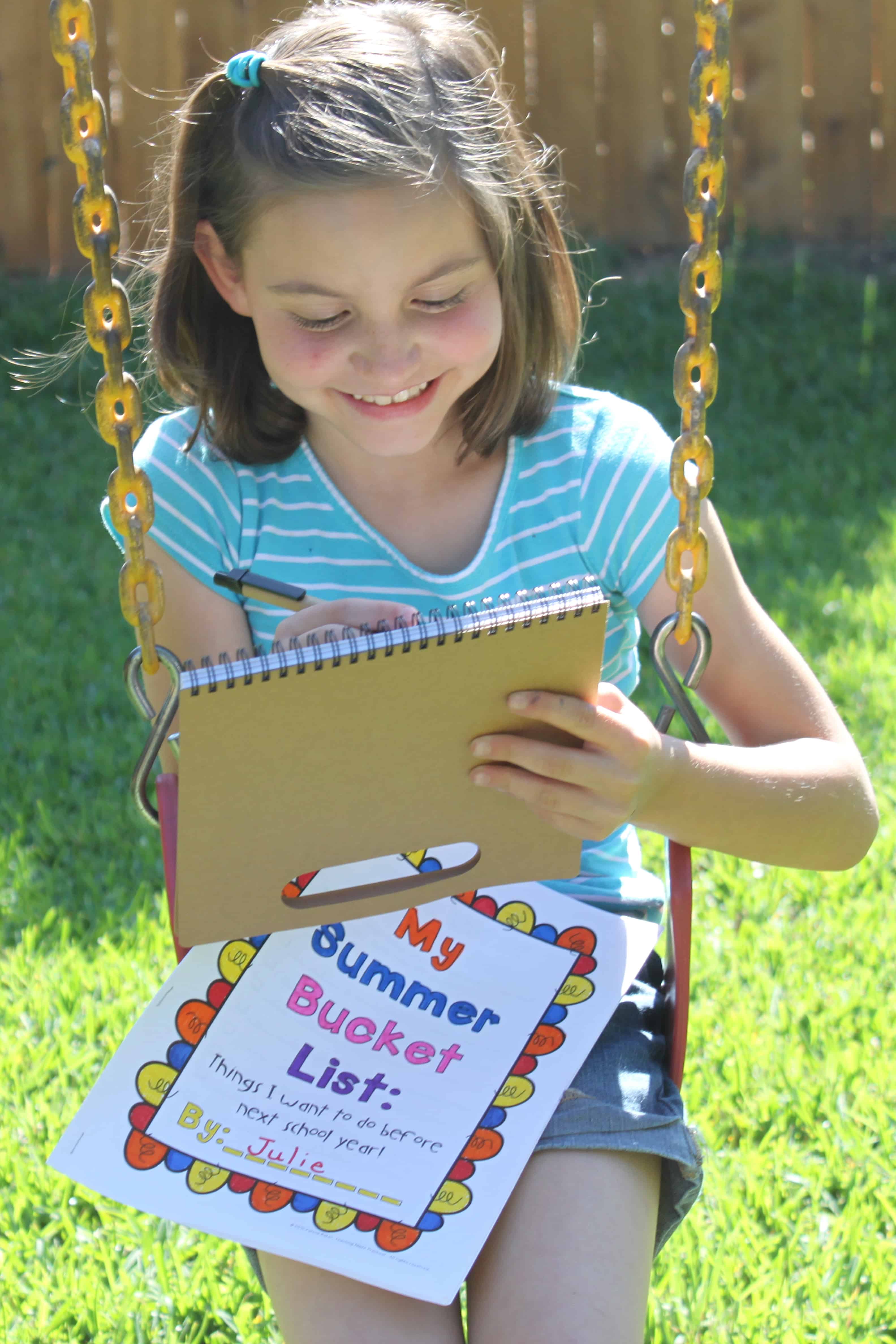 6. An A-Z End of Year Reflection
Have 3rd, 4th, and 5th grade students write down something they learned during the school year for each letter of the alphabet.
This was one of my favorite end of year activities to do with my 3rd graders because it requires no prep and is very powerful. Some of the letters are easy - multiplication for the letter M or fractions for the letter F. But some other letters require a little more creativity.
This can be a fun activity to do as a whole class - you could create a large anchor chart and add on to it whenever you have time to kill. Or, have students complete it independently or in partners.
Or, this is one of the printables in my End of Year: No Prep Activities Resource.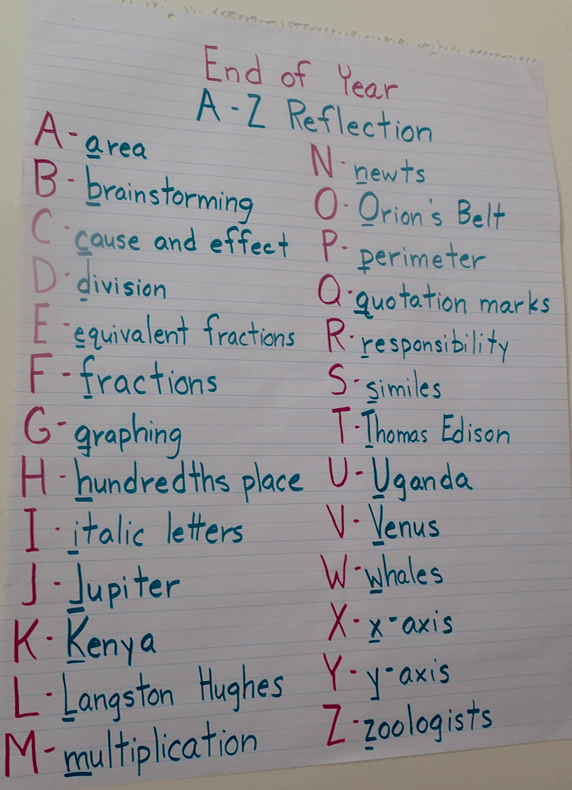 7. Beginning of the Year Vs End of the Year Compare and Contrast Reflection
Have students complete a Venn Diagram comparing and contrasting their beginning of year selves with their end of year selves. They can consider all of the things they have learned, how their behavior has changed, how their friendships have changed, and more.
This end of year activity is great if you are trying to instill a growth mindset in your upper elementary students. This activity gives them the opportunity to reflect on the progress they have made and how they are improving for the better.
After completing a Venn Diagram, I would have my 3rd graders use that information to write a short paragraph about the changes they had made throughout the school year for the better.  You can use compare and contrast paragraph frames to help scaffold student writing.
Students can draw their own Venn Diagram on a blank sheet of paper. Or, if your students need something more structured, this is also one of the printables in my End of Year: No Prep Activities Resource.
Give your students an opportunity to collect memories with a Memory Autograph Book.
Instead of simply having students share autographs with each other, use this Scaffolded Autograph Book that includes sentence starters that help students share compliments and their favorite memories about each other.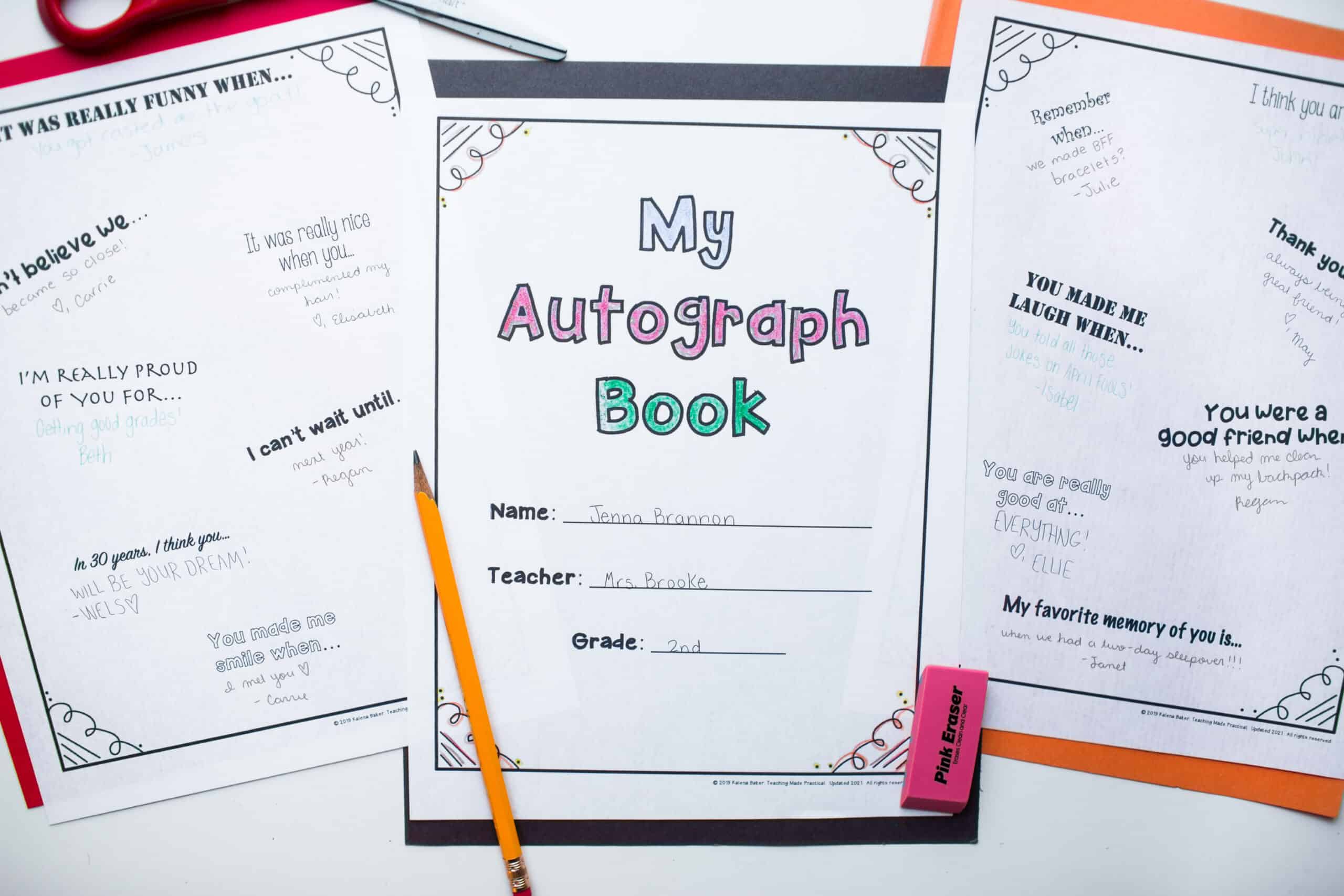 9. End of Year Top 10 List
Have students create a list of their Top 10 favorite things that they did at school during the year. Once again, this can be an independent activity, a partner or small group activity, or a whole class activity depending on your needs. If you do try to create a whole group Top 10 List, good luck getting everybody to agree on their favorites!
This can also be done using a blank sheet of paper, or buy it as one of the printables in my End of Year: No Prep Activities Resource.
Many of these end of year activities can be completed by students on a blank sheet of paper. However, if you prefer for students to have a little more scaffolding, all of these activities and more can be found in my End of Year Bundle, or they can be purchased separately.
You'll save over 20% when you buy the bundle, and you'll have a huge variety of mostly no-prep activities to help make the end of the year a little less overwhelming.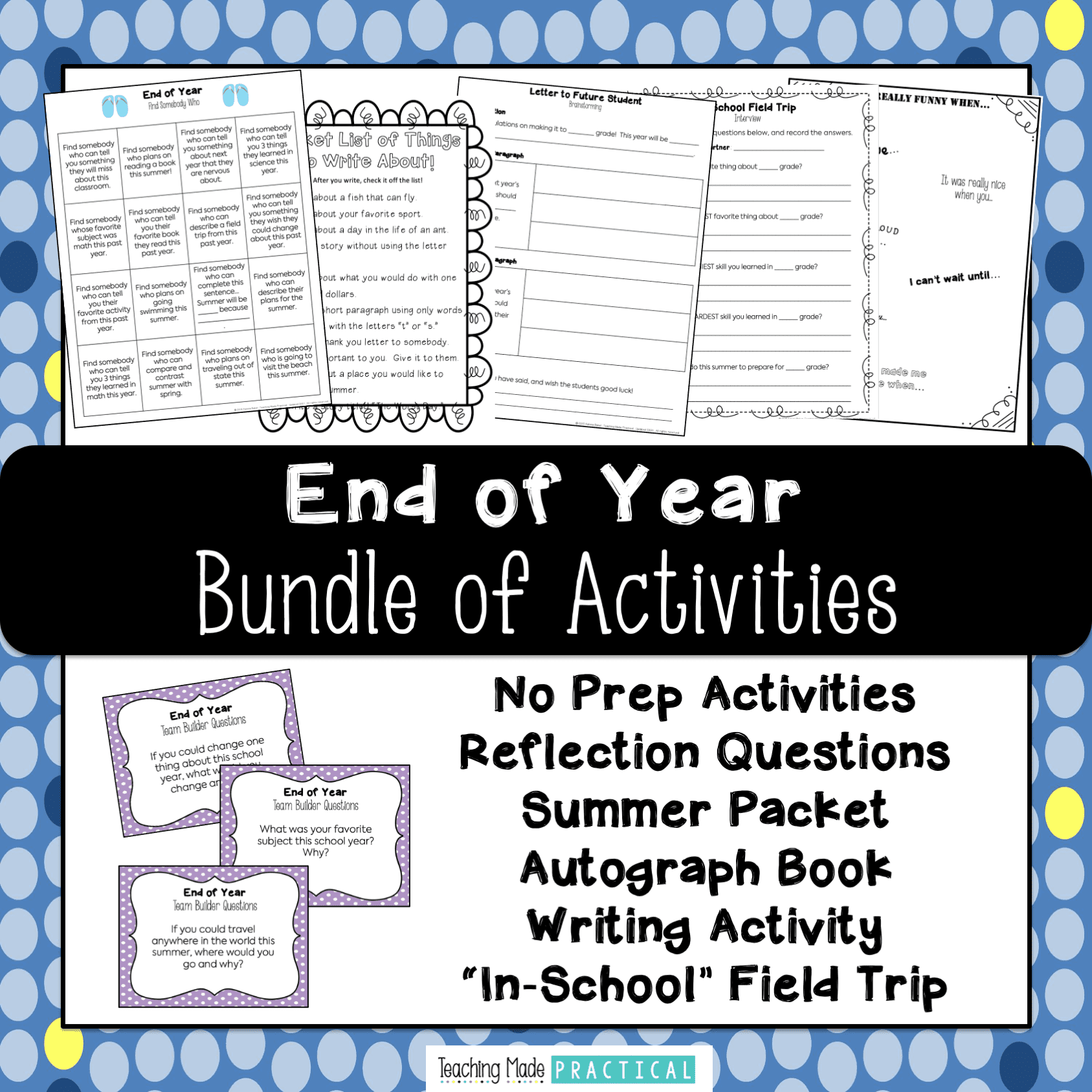 Never Stress Over Sub Plans Again!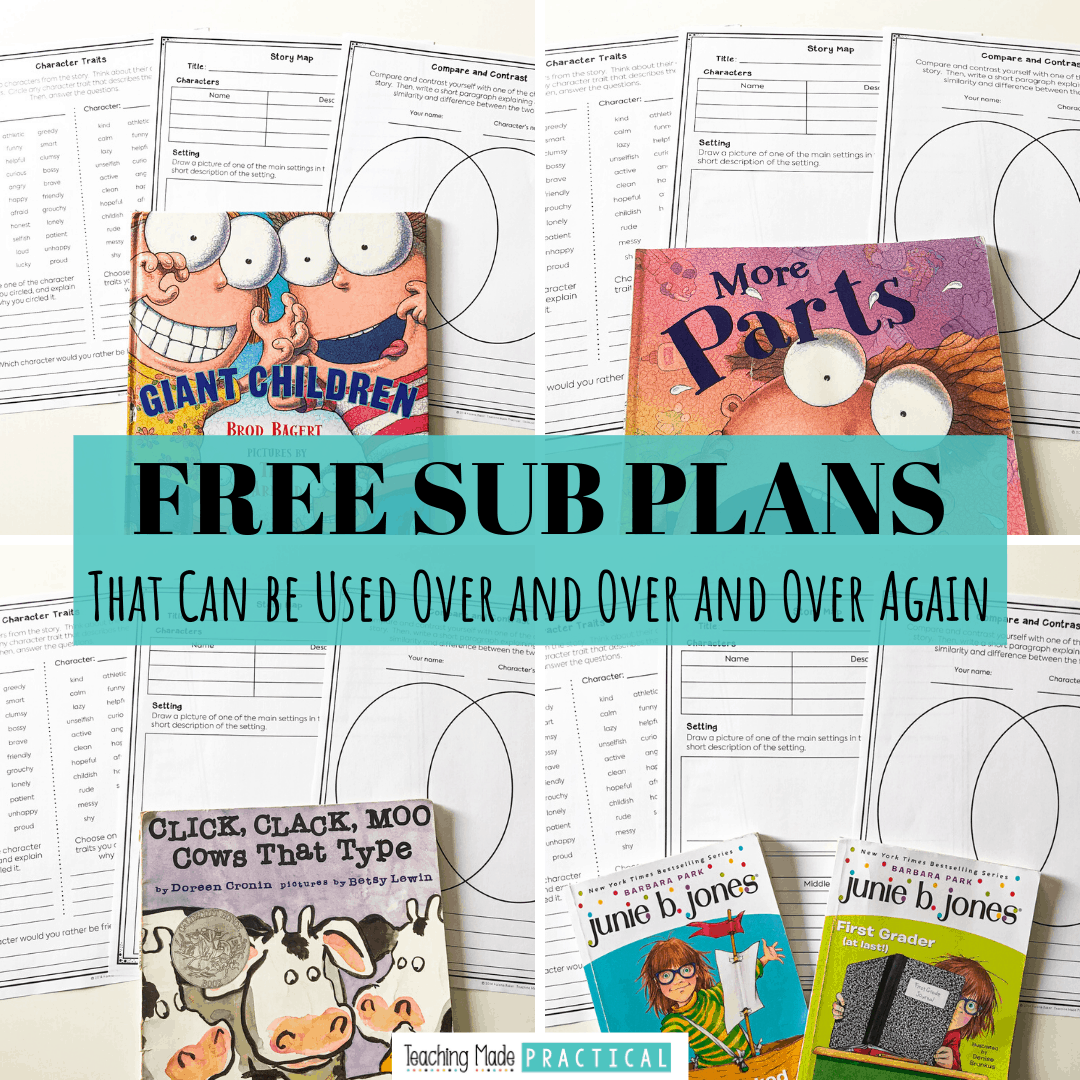 Make copies, find a fiction book, and you'll be ready for any emergency that comes your way!