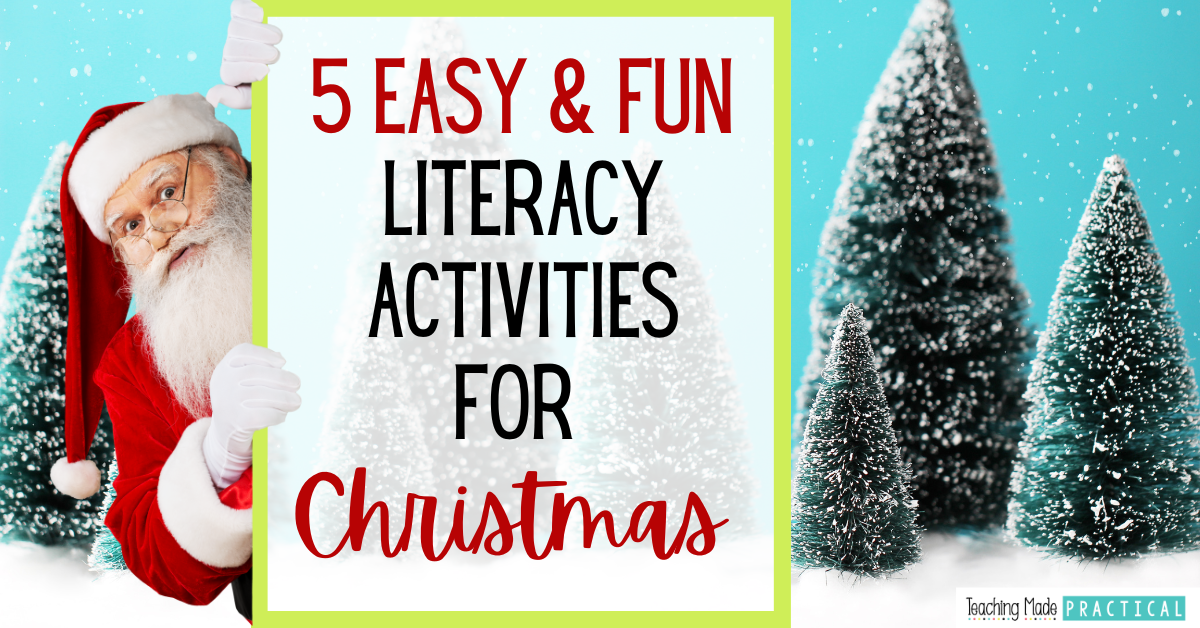 Christmas in the upper elementary classroom often means making Christmas ornaments, watching Polar Express, or throwing a holiday party. However, there are many ways to celebrate Christmas that also allow for student learning.
The low prep Christmas ELA activities listed below are ways ways to integrate literacy while at the same time celebrating Christmas.
1. Sing Christmas Songs Together (The Entire Song)
Singing Christmas songs is actually a great way to practice reading fluency, and it takes virtually no prep!
3rd, 4th, and 5th grade students are usually familiar with the main verse and chorus of different holiday songs.  However, most Christmas songs have verses that will be unfamiliar.
Singing Christmas/holiday songs together can be a fun way to build reading fluency!  The songs listed below have familiar tunes, but verses that will most likely be unfamiliar.
Here comes Santa Claus
Frosty the Snowman
Jingle Bells
Jingle Bell Rock
Jolly Old Saint Nicholas
Note: Frosty the Snowman and Jingle Bells are both good options for schools or classrooms that want to enjoy the holiday season without any references to Christmas.
All you have to do for this activity is display the lyrics and practice singing together.  For some added fun, go caroling to other 3rd grade, 4th grade, and 5th grade classrooms.
This No Prep and Fun Christmas Reading Resource can extend this activity.  Instead of simply singing Christmas songs, students will also practice different comprehension and other literacy skills using the Christmas songs as the text!  It's a fun twist on reading comprehension.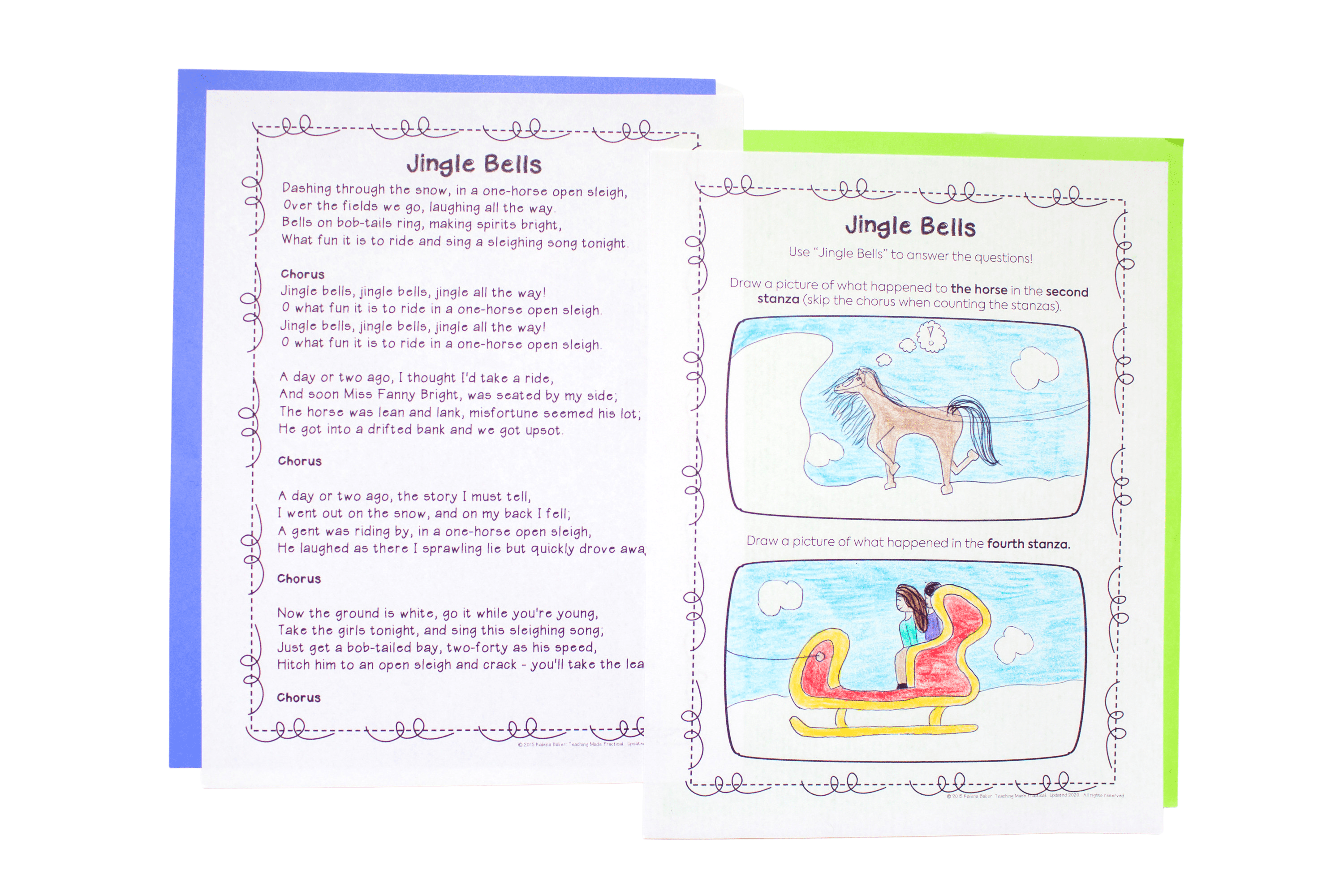 2. Have Upper Elementary Students Compare Their Christmas with a Partner
The holiday season is a great time for students to learn more about how different cultures and families celebrate Christmas - or how some people celebrate a different holiday, or do not celebrate at all.
Partner upper elementary students up and have them talk about how their family celebrates Christmas. Then, have students compare and contrast their celebrations with a Venn Diagram or a chart.
Even if the partners both celebrate the typical American Christmas, there are bound to be some differences for students to talk and write about.
Need a no prep version?  This is one of 15 no prep activities in this Christmas ELA Activity Packet.  
3. A Fun Snowman Description Writing Activity
This is a 3rd, 4th, and 5th grade student favorite, and a great winter ELA activity for schools and classrooms that aren't celebrating Christmas.
Activity Instructions
1. Have students draw a picture of a snowman. They can decorate the snowman however they want to.
2. Have students write a description of their snowman. Explain to students that their description needs to be extremely detailed.
3. Display all of your students' snowmen to the entire class.
4. Have students read their description aloud to the class. Based on their writing, have the other students guess which snowman drawing is theirs.
If their description is really good, the entire class should be able to figure out what snowman is theirs. The more detail, the better!
This Snowman Description Writing Activity Resource is a no prep version of this activity.  It includes a mini lesson on descriptive writing and scaffolded pages to help your students be successful descriptive writers.
(Need a fun snowman activity for reviewing fractions?  Check out this freebie.)
4. A Christmas Vocabulary Activity for 3rd, 4th, and 5th Grade Students
This is a fun activity that can be completed individually, in partners or small groups, or whole class.
Have students try to come up with a Christmas or holiday related word for each letter of the alphabet. For example, students could write "chimney" for the letter C.
As an extension activity, students could write a sentence for each of the words they came up with and create a Christmas ABC book.  Or, have students see how many of the Christmas words they could use in one sentence.
Need a no prep version?  This is one of 15 no prep activities in this Christmas ELA Activity Packet.  
5. Fun Christmas Discussion Questions That Make Great Writing Prompts
The holiday season provides a lot of opportunities to build relationships and a safe classroom setting through discussion.  Have your students get to know each other better through fun holiday conversations.  And as an added bonus, these also make great writing prompts!
Some sample discussion questions are:
If Santa's suit wasn't red, what color would it be and why?
December 3rd is "National Make A Gift Day."  Describe a gift you could make for someone else.
Do you decorate your house for the holidays? Describe your house or your decorations.
Find even more discussion questions and writing prompts here.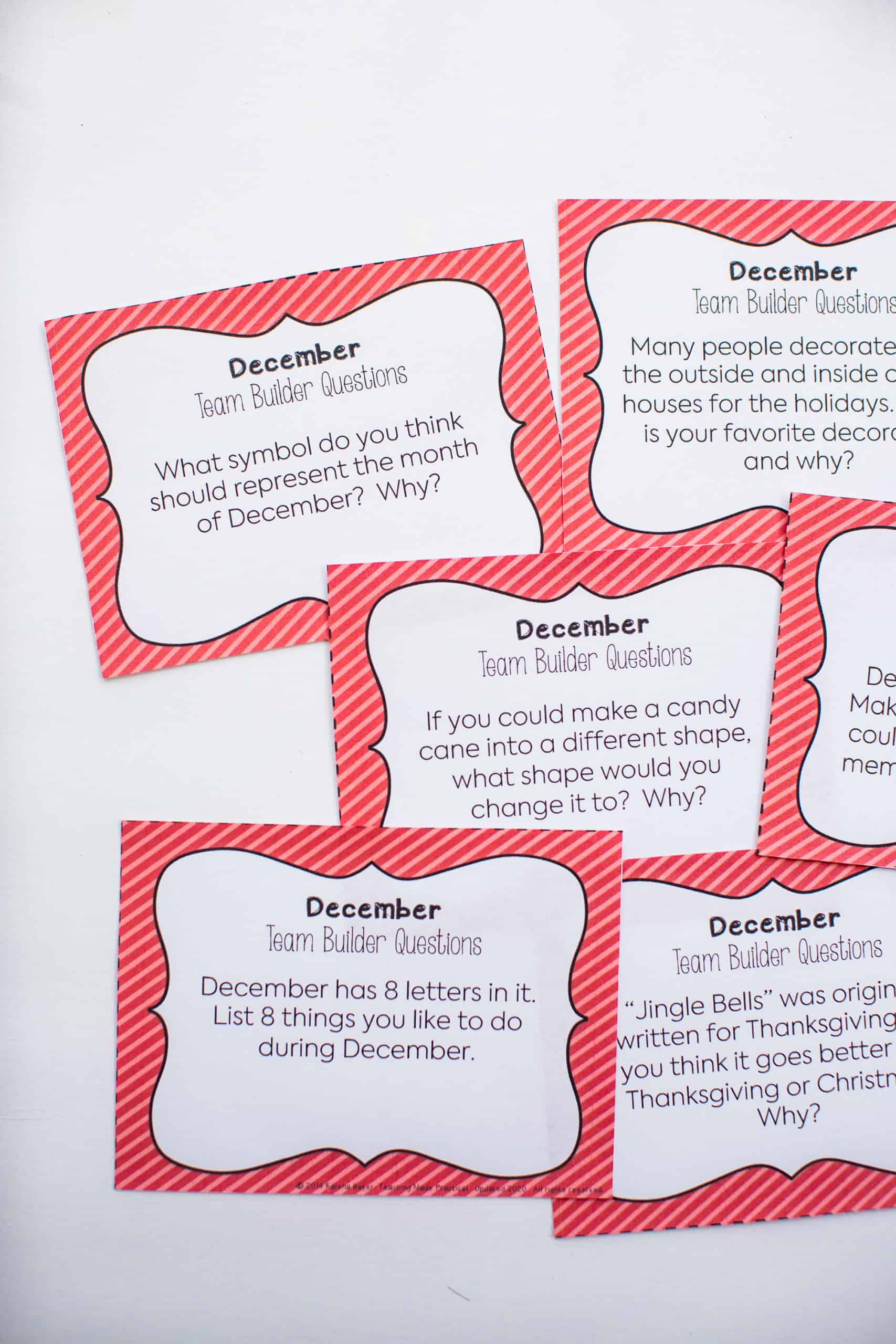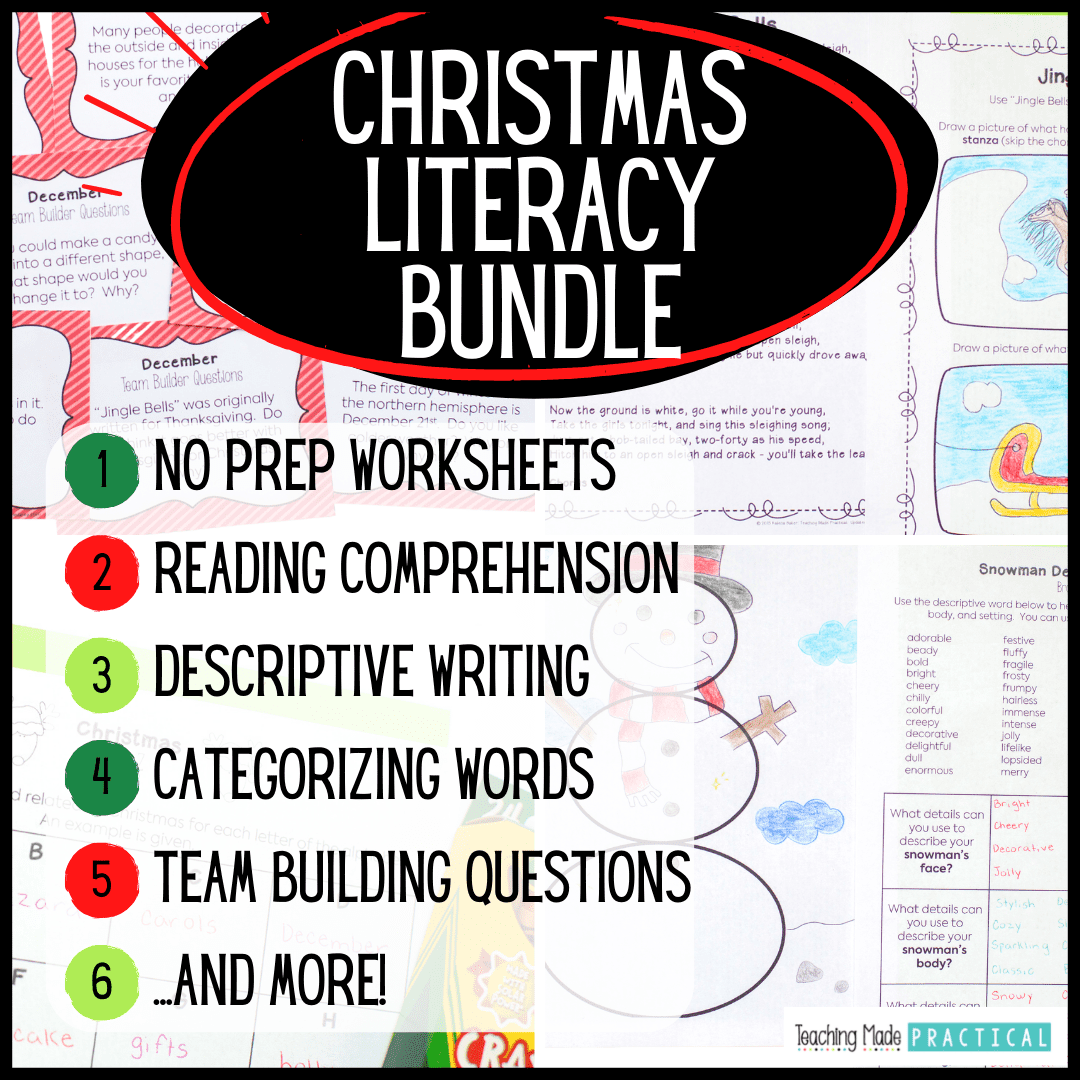 Like all of these activities, but don't want any extra prep at an already crazy time?  This Christmas Reading and Writing Bundle includes all of the above activities - and more.  And you save more than 25% when you buy the bundle!
You might also like:
Never Stress Over Sub Plans Again!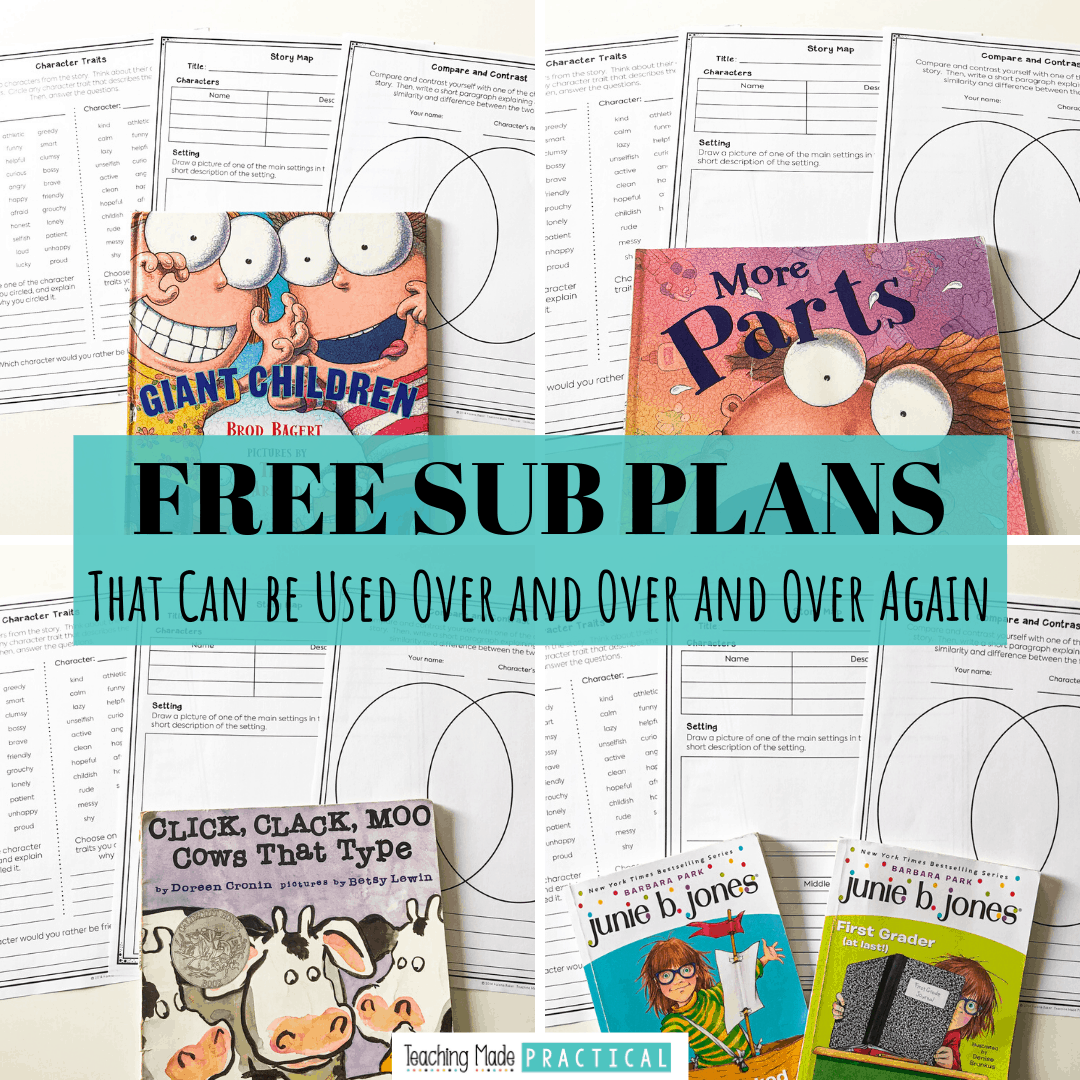 Make copies, find a fiction book, and you'll be ready for any emergency that comes your way!