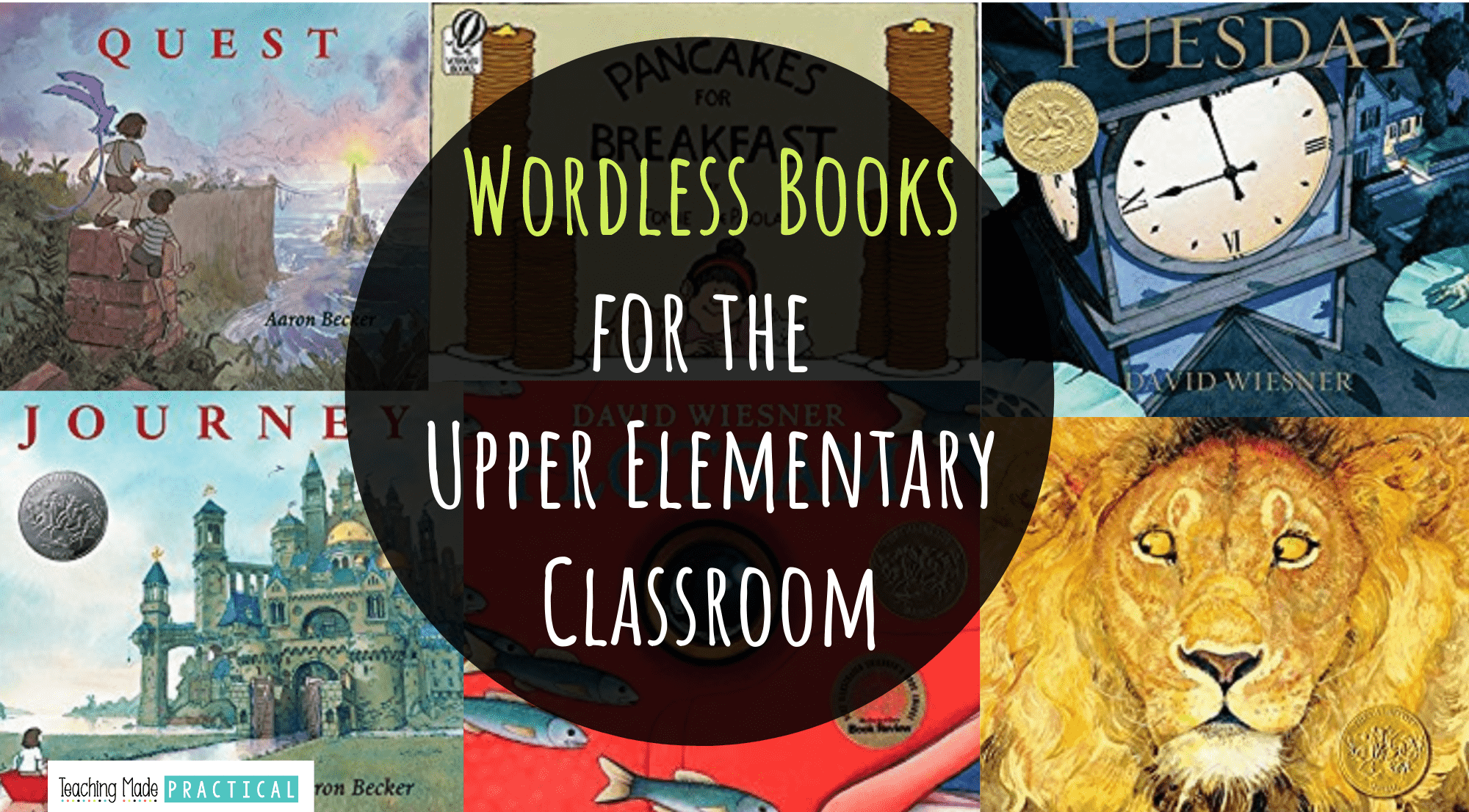 Wordless picture books are an underused resource in upper elementary classrooms.  There are so many ways to use them with your 3rd, 4th, and 5th grade students to teach a variety of skills - from making predictions, to story elements, to summarizing, to writing dialogue.
But not all wordless books are created equal, especially for 3rd, 4th, and 5th grade students!  When using wordless books in your upper elementary classroom, it's essential to choose books that are actually meant for that age group.
The wordless book suggestions below are age appropriate and have stories that will be engaging to older students.
And once you've chosen a book, check out these 20 different activity ideas for using wordless books with 3rd, 4th, and 5th grade lessons! 
Sometimes I recommend products using affiliate links. If you click through and buy, I may be compensated at no cost to you.
7 Wordless Books for 3rd, 4th, and 5th Grade
This is a Caldecott Book Winner,
 so you know the pictures are amazing!  It tells the story of a boy at the beach who finds an old camera that, based on the pictures, has seen some incredible, unbelievable underwater adventures.
The last picture is of a girl that is holding a picture of another kid.  The boy from the beach realizes that he is just one kid in the long line of kids that has taken a look at this camera.  He takes a picture of himself holding the picture of a girl and puts the camera back in the water.
Before having your 3rd grade, 4th grade, or 5th grade students "read" this book independently, you will probably want to provide a little background knowledge.  They will benefit from knowing the definition of flotsam (the wreckage of a ship or its cargo found floating on or washed up by the sea). 
They will also benefit from a little background knowledge on film.  There is a scene with the boy waiting outside for the pictures to be developed.  In this age of digital cameras, this will probably be unfamiliar to your students.  
Another David Wiesner Book!
 Since he has won 3 Caldecott medals (one for this book as well), it is no surprise that he makes great wordless picture books.
This book does start off with 4 words: "Tuesday evening, around eight."  As the book progresses, the time is updated.  Other than that there are no words.
The storyline is simple - on Tuesday night, frogs on lilypads begin to fly.  The illustrations show the different adventures the frogs have while flying through the air.  When morning comes, people find frogless lilypads all over the ground.  The book ends showing a picture of what happened the next Tuesday - pigs began to fly.
This would be a great book to have upper elementary students practice telling the story orally, or giving an oral summary.  Or, have students write captions or dialogue for each of the images.
This is another Caldecott Medal Winner.
  It is a beautifully illustrated book that retells Aesop's famous fable The Lion and The Mouse. 
There are a few words in this story, but they are all onomatopoeias (which would make this a great book to teach onomatopoeia).
It would also make a great addition to your fable or traditional literature/folklore unit.  You can use it to compare and contrast with Aesop's fable, or have students orally tell the story - especially since folklore originated as oral storytelling!
This book
tells the story of a woman who decides she wants to make some pancakes.  She doesn't have the ingredients on hand in her kitchen, so she has to milk the cow, collect eggs, churn butter, etc.
She's almost ready to begin making the pancakes when she returns to her kitchen and finds that her pets have eaten all the ingredients she worked so hard to collect.  Luckily, a neighbor shares some pancakes with her.
This would be a great book to have students practice making inferences or predictions.  Students have to use all sorts of clues to figure out why the woman is doing what she is doing.
The setting in this book changes constantly, so it would be a great book to practice identifying and comparing different settings.  It would also be great to practice sequencing - you could do this orally or have the students write.
This is actually a collection of 3 wordless picture books (hence the trilogy).
The three books are Journey,
 Quest, and Return.  They all tell a story of a girl who goes on a journey to a magical land.  She can somewhat control her adventure using a crayon/marker.
Even though these are wordless books, students will have to pay close attention to detail to follow the story.
You could use this trilogy in a huge variety of ways in your 3rd grade, 4th grade, or 5th grade classroom.  For example, compare and contrast the 3 books.  They all have the same main character, but a different adventure.  Or, have students write a 4th book to the series (buy drawing pictures or writing out a story, depending on your academic goals).
These books would also be great to practice have students practice descriptive writing.  There are so many great details on each of these pages.
Aaron Becker provides some additional resources on his website.  You can find a video message to 4th and 5th grade students here, or a free activity kit to go along with the trilogy here.  
This wordless book is one of my favorite books to encourage kindness and empathy.  It tells the story of a girl that is being bullied, and how other students came beside her to support her.
The illustrations are a little small, which might make it difficult to "read" this book whole class.  But it is ideal for a small group setting and makes a great addition to any classroom library.
Never Stress Over Sub Plans Again!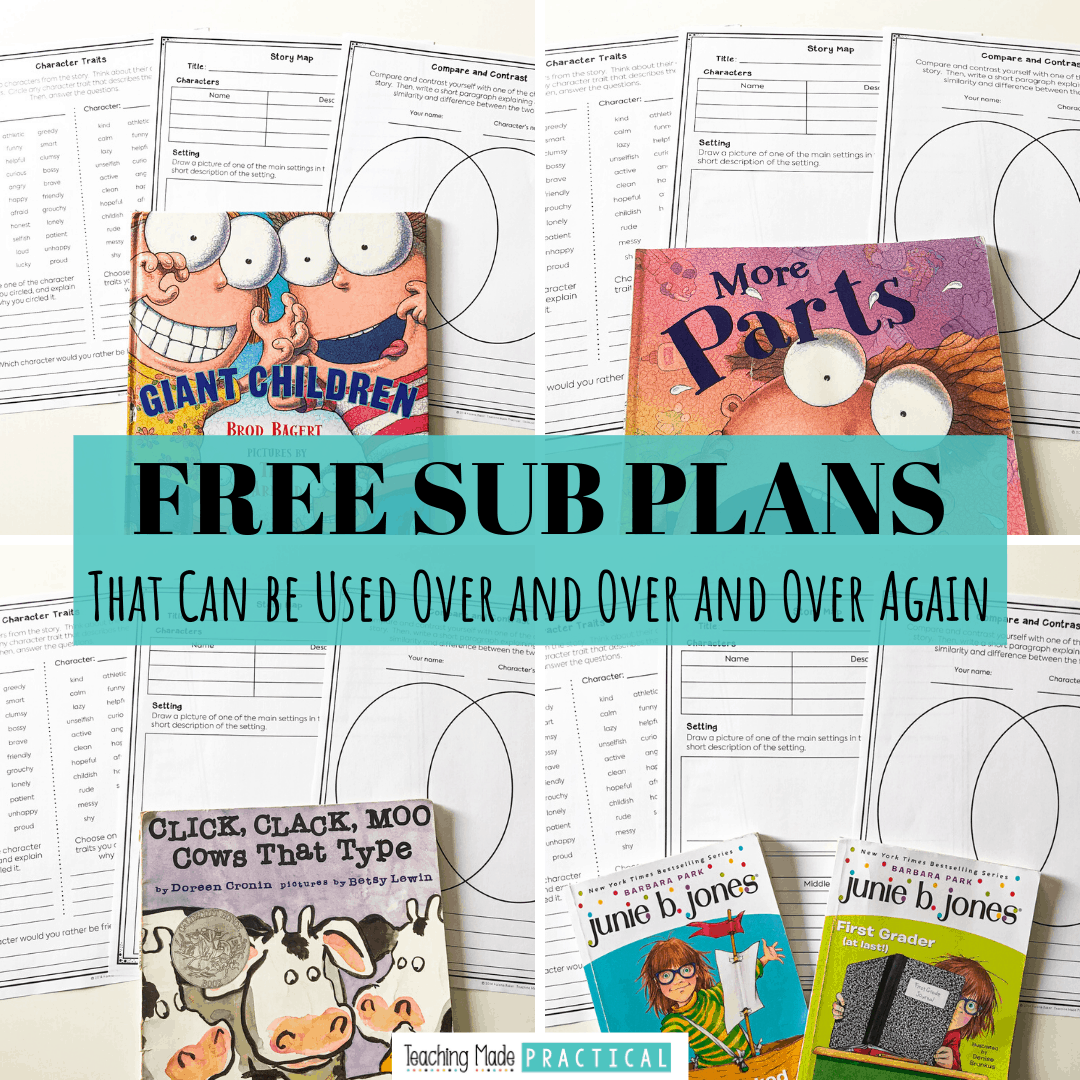 Make copies, find a fiction book, and you'll be ready for any emergency that comes your way!