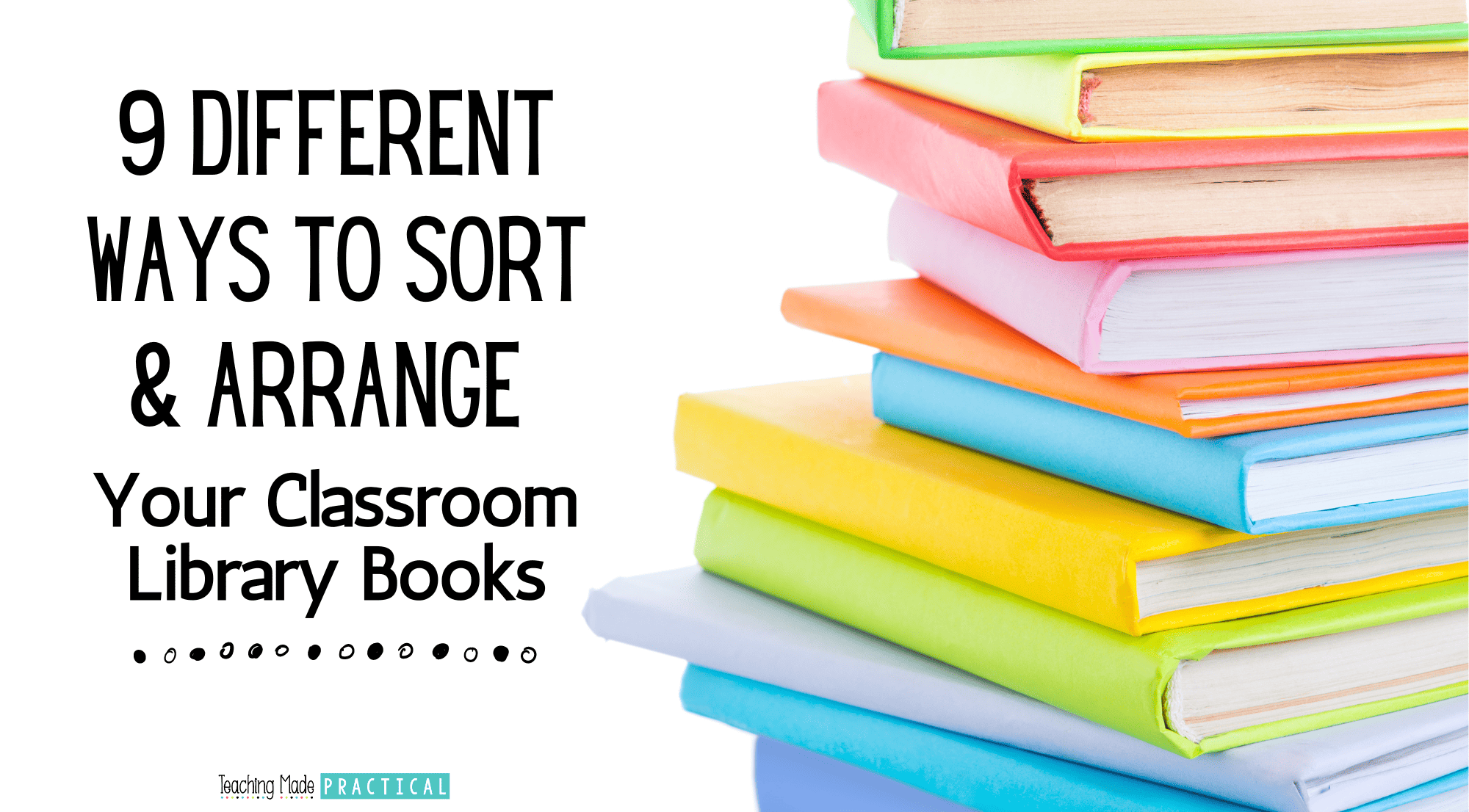 Figuring out how to set up your upper elementary classroom library can feel overwhelming - there is so much to think about!
Lessen the overwhelm by starting with first things first - how do you want your books to be sorted and arranged in your 3rd, 4th, or 5th grade classroom?
After you have figured out how to arrange your classroom library books, then you can consider the best options for displaying your books (in book bins or on shelves), as well as figure out the best ways to keep your classroom library clean and organized.
Below, find 9 different category options for sorting your classroom library books.  There is not one best way - pick the way that best works for you, your students, and your school.
9 Different Ways to Sort and Arrange Your Classroom Library Books
1. Arrange Books by Genre
Organizing by genre is one of the most popular ways for 3rd, 4th, and 5th grade classroom teachers to organize their libraries.
This is an ideal way to set up your library if you start your year off with a lesson about reading genres.  You can make your genre lessons more meaningful by pulling some books out of your classroom library and having your students help you sort them!
This can be as simple as sorting books by fiction and nonfiction (and this resource can help you teach fiction vs nonfiction), or as comprehensive as sorting books by all the genres you teach.
2. Arrange Books By Topic
If you are hoping to get your students more interested in reading nonfiction, consider arranging your books by topic.  This helps yours students more easily find books that they might find interesting.  You can arrange your books by topics like:
animals
space
plants
travel
famous people
weather
seasons
bugs
dinosaurs
holidays
history
...etc.
Organizing your classroom library by theme takes a little more time - and requires you to know the theme of each of the books in your classroom library!  But it has the added bonus of helping your students better understand
how to find the theme of a story. 
Organizing your classroom library by author works best if your students have authors that they know, love, and return to again and again.  Authors like:
Andrew Clements
Beverly Cleary
Kate DiCamillo
Roald Dahl
Jacqueline Woodson

Chris Van Allsburg

Tomie DePaola

Judy Blume

Jan Brett

...etc.
This also gives students extra practice with alphabetizing - and it is most like other, larger libraries.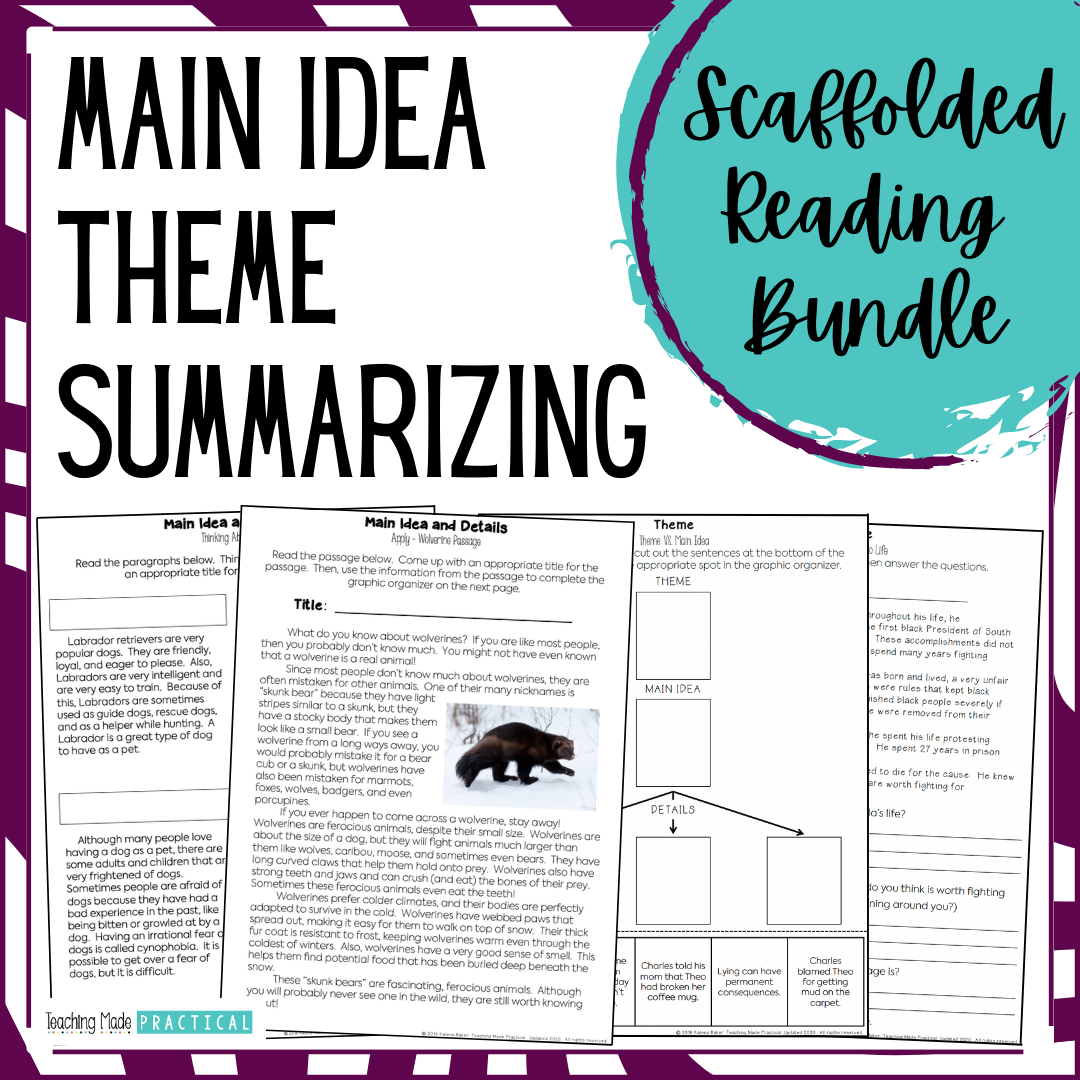 Main Idea, summarizing, and theme are hard skills to teach and hard skills for students to understand.  Curriculums often do not address these skills in a way that make sense to students.
This mostly no prep resource scaffolds these 3 skills to help even your struggling students be successful - and right now it is 35% off!
5. Arrange Books By Level
Teachers often have mixed reviews about organizing by level.  While it helps your students find books that won't leave them frustrated, it can also come with a little bit of stigma.
If your school is big into Accelerated Reader, DRA, or Lexiles, then this might be an option to consider.  Try to minimize the stigma by labeling the books with a color instead of a number - and making sure none of your students know what color represents the "lowest" readers.
6. Let Students Organize Your Classroom Library
Minimize your workload and let students take ownership of the classroom library by letting them organize it!
There are several different ways to do this.  You could have a lesson at the beginning of the year where the class works together to come up with and agree to a sorting system.
Or, you could make this one of your classroom jobs, and let your classroom librarian decide how to sort the library - and how to keep it staying organized and clean.  This method would work best if you assign classroom jobs for extended periods of time instead of switching them every day or week.
7. Rotate Books Out Regularly
Minimize overwhelm by not having all your classroom library books out all of the time.  Instead, have a smaller classroom library and rotate books out by season and by topic that you are studying.
Rotating out books has several advantages.  For one, it takes up less space.  Another advantage is that is draws attention to different books that students might not otherwise pay attention to.
It does require a little extra thought and effort on your part.  You don't want your fall books to still be out come spring!
For many of you 3rd, 4th, and 5th grade teachers, not organizing your classroom library might seem like a cardinal sin.  But with all the other things on teachers' plates, it doesn't hurt to let a few things go.
Even without a clear organizational system, students will still be able to find books that they want to read.  And they might even end up reading a book that they wouldn't have sought out otherwise!
All of the organizational ideas listed above have advantages - but they also have disadvantages.  Mix it up and figure out what works for you.
You could sort fiction books by genre and nonfiction by topic.  You could sort some books by genre, others by theme, and still others by popular author.
You could sort your books by author, but then have some seasonal books that you rotate.
Do what works for you!
Never Stress Over Sub Plans Again!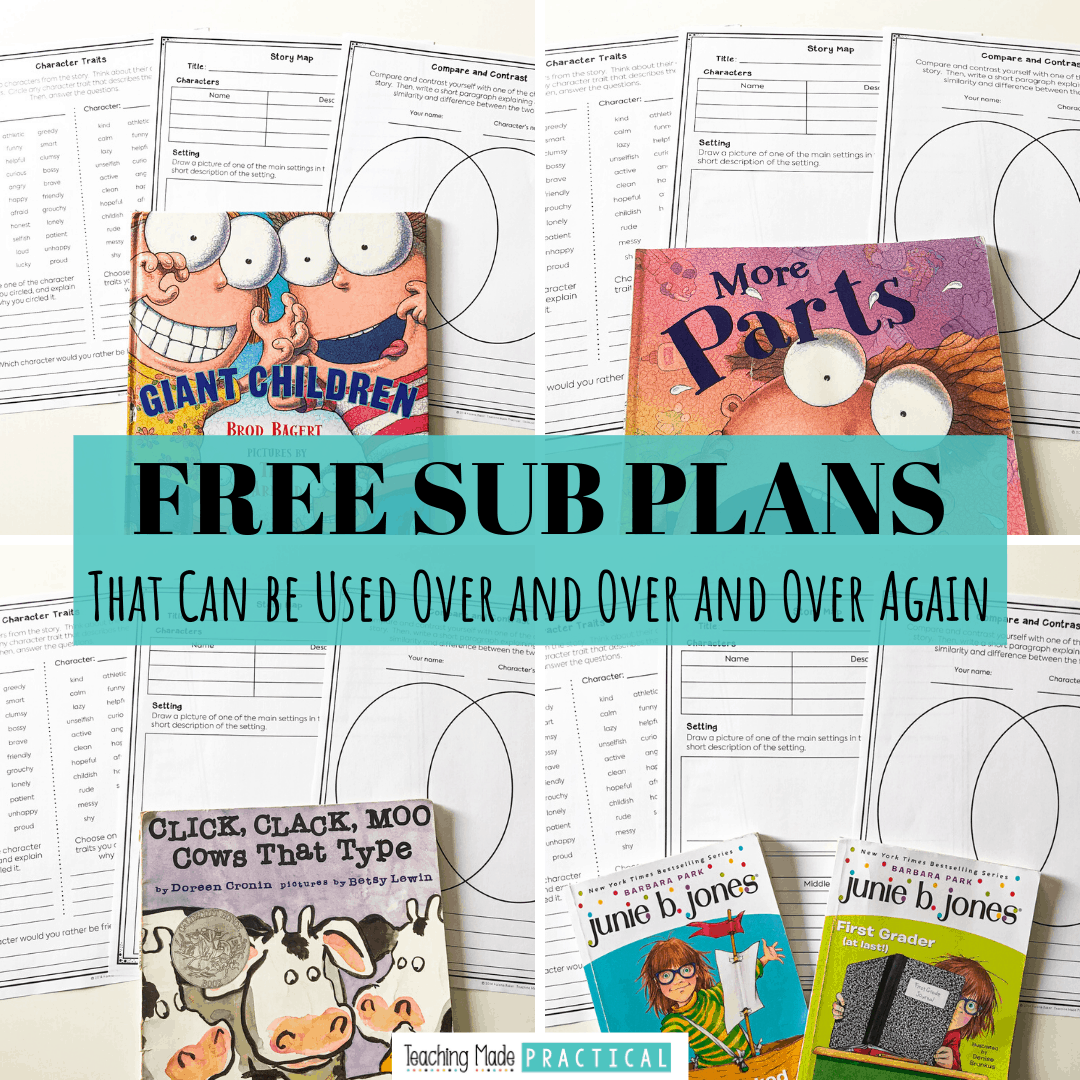 Make copies, find a fiction book, and you'll be ready for any emergency that comes your way!