Character Traits List: Sorted By Synonyms
Synonyms for Nice
helpful
friendly
kindhearted
compassionate
pleasant
thoughtful
agreeable
courteous
Synonyms for Mean
wicked
rude
thoughtless
impolite
cruel
hateful
unfriendly
unkind
Synonyms for Happy
cheerful
joyful
excited
satisfied
content
delighted
pleased
glad
Synonyms for Sad
depressed
serious
gloomy
miserable
unhappy
discouraged
sorrowful
mournful
Synonyms for Scared
terrified
panicked
nervous
afraid
alarmed
frightened
fearful
petrified
Synonyms for Mad
exasperated
annoyed
outraged
furious
frustrated
angry
displeased
irritated
Synonyms for Smart
intelligent
brilliant
clever
bright
skillful
wise
brainy
Synonyms for Brave
daring
courageous
adventurous
fearless
heroic
Synonyms for Tricky
dishonest
deceitful
sneaky
secretive
sly
untrustworthy
Synonyms for Funny
amusing
hysterical
humorous
comical
hilarious
silly
Synonyms for Thankful
appreciative
grateful
Synonyms for Active
athletic
energetic
Synonyms for Talkative
chatty
communicative
Synonyms for Shy
bashful
quiet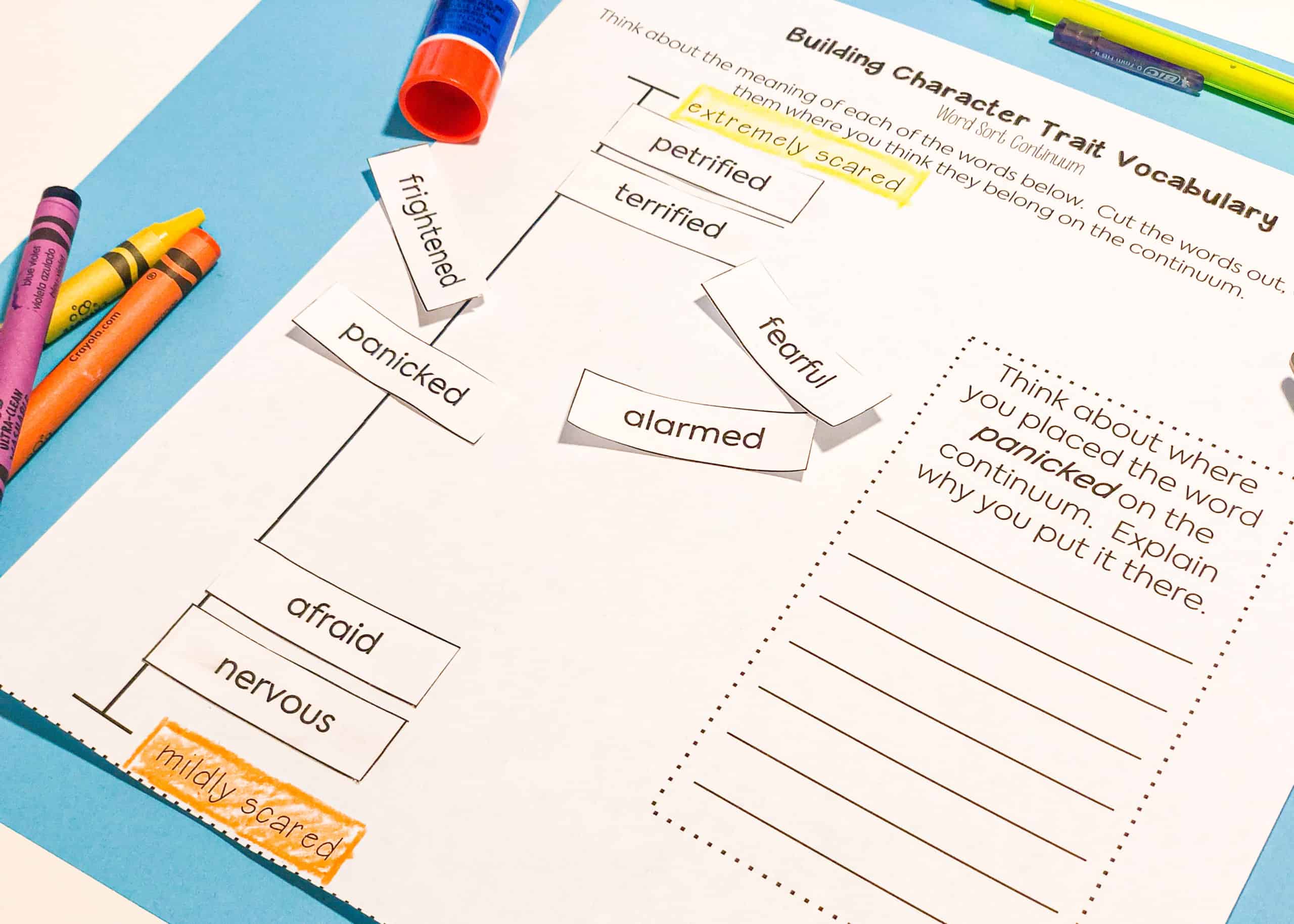 Positive Character Traits List
Below is a list of 84 positive character traits that can be used to build character trait vocabulary.
Active
Admirable
Adventurous
Agreeable
Amiable
Amusing
Appreciative
Athletic
Authentic
Benevolent
Brave
Bright
Brilliant
Calm
Capable
Caring
Charming
Cheerful
Clean
Clear-headed
Clever
Compassionate
Confident
Considerate
Cooperative
Courageous
Courteous
Creative
Curious
Dedicated
Easygoing
Educated
Enthusiastic
Ethical
Exciting
Extraordinary
Fair
Firm
Focused
Forgiving
Friendly
Generous
Gentle
Good-natured
Grateful
Happy
Hardworking
Helpful
Heroic
Honest
Hopeful
Humble
Innocent
Intelligent
Inventive
Joyful
Kind
Lively
Loving
Loyal
Neat
Nice
Optimistic
Organized
Passionate
Patient
Peaceful
Playful
Polite
Principled
Reliable
Respectful
Responsible
Self-disciplined
Selfless
Sincere
Skillful
Strong
Sweet
Thoughtful
Trustworthy
Understanding
Unselfish
Wise
Negative Character Traits List
Below is a list of 84 negative character traits that can be used to build character trait vocabulary.
Aggressive
Angry
Anxious
Argumentative
Arrogant
Bored
Bossy
Brutal
Careless
Charmless
Clumsy
Conceited
Cowardly
Critical
Cruel
Dangerous
Deceitful
Destructive
Devious
Difficult
Discouraging
Discourteous
Dishonest
Disloyal
Disobedient
Disorganized
Disrespectful
Disruptive
Envious
Fearful
Foolish
Forgetful
Frightening
Gloomy
Greedy
Grim
Hateful
Haughty
Hostile
Ignorant
Impatient
Impractical
Inconsiderate
Insincere
Insulting
Intolerant
Irresponsible
Irritable
Jealous
Lazy
Liar
Mean
Meddlesome
Messy
Miserable
Monstrous
Moody
Negative
Neglectful
Obnoxious
Petty
Possessive
Power-hungry
Prejudiced
Resentful
Rude
Scornful
Selfish
Shallow
Sloppy
Sneaky
Snobbish
Thoughtless
Unappreciative
Uncaring
Uncooperative
Unforgiving
Unfriendly
Ungrateful
Unhealthy
Unreliable
Violent
Weak
Wicked
Teaching Character Traits? You Need This Freebie.