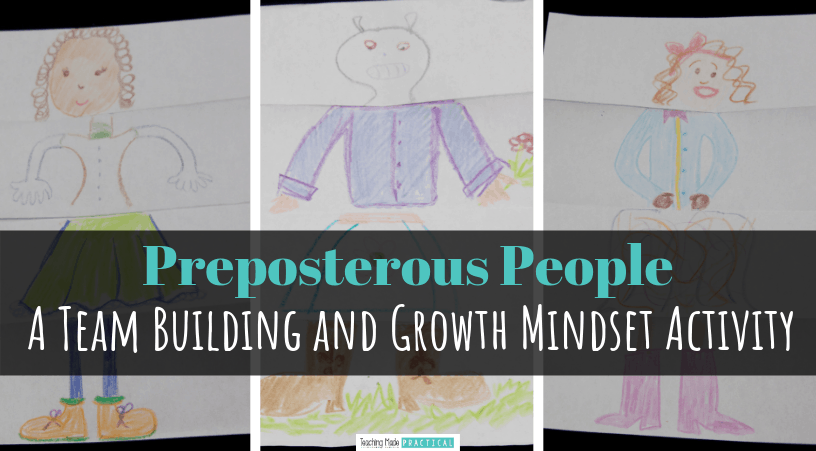 Back to School Team Building Activity Written by Guest Blogger Kimbra Counts
Teaching 3rd, 4th, and 5th grade students comes with its own set of obstacles. One of the most surprising issues I face in the classroom is perfectionism. As students grow, they begin to feel more pressure than they did in the lower grades. The drive to be the best or to answer every question perfectly can cripple creativity and limit productivity.
This cooperative drawing activity is a great introduction to a discussion on teamwork and growth mindset.  It makes a great back to school team building activity.  I've also used this activity with older students to talk about Exquisite Corpse Art and French surrealism.
Preposterous People - Activity Instructions
For this team building activity, each upper elementary student will need a piece of paper folded accordion-style into 4 sections. This can be accomplished by folding the paper twice, horizontally (hamburger style). For younger students, you may want to fold the papers beforehand or have a few early finishers fold them for you.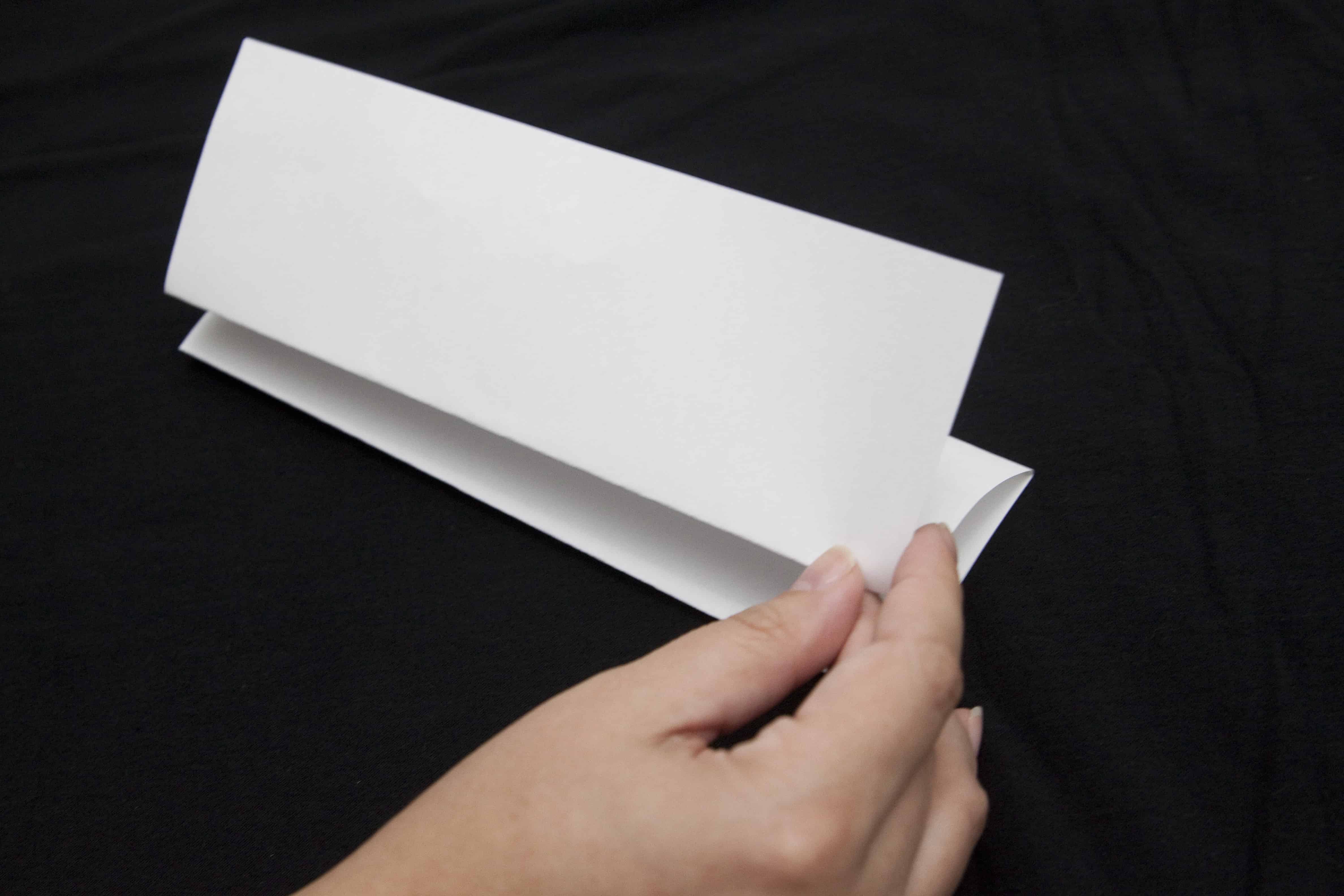 To complete the activity, follow the steps below:
1. Place the papers on desks so that the top edge of the sheet is facing upwards. Have students draw a forward-facing head and face. Encourage the students to add defining details. (Hair, glasses, bows, etc.) 
2. Have students fold their paper, so that their drawing is hidden and the next, blank fold is upward. (Some students will need assistance with this step.)
3. Students will then pass their folded papers to the right.
4. Instruct students to draw a shirt with arms.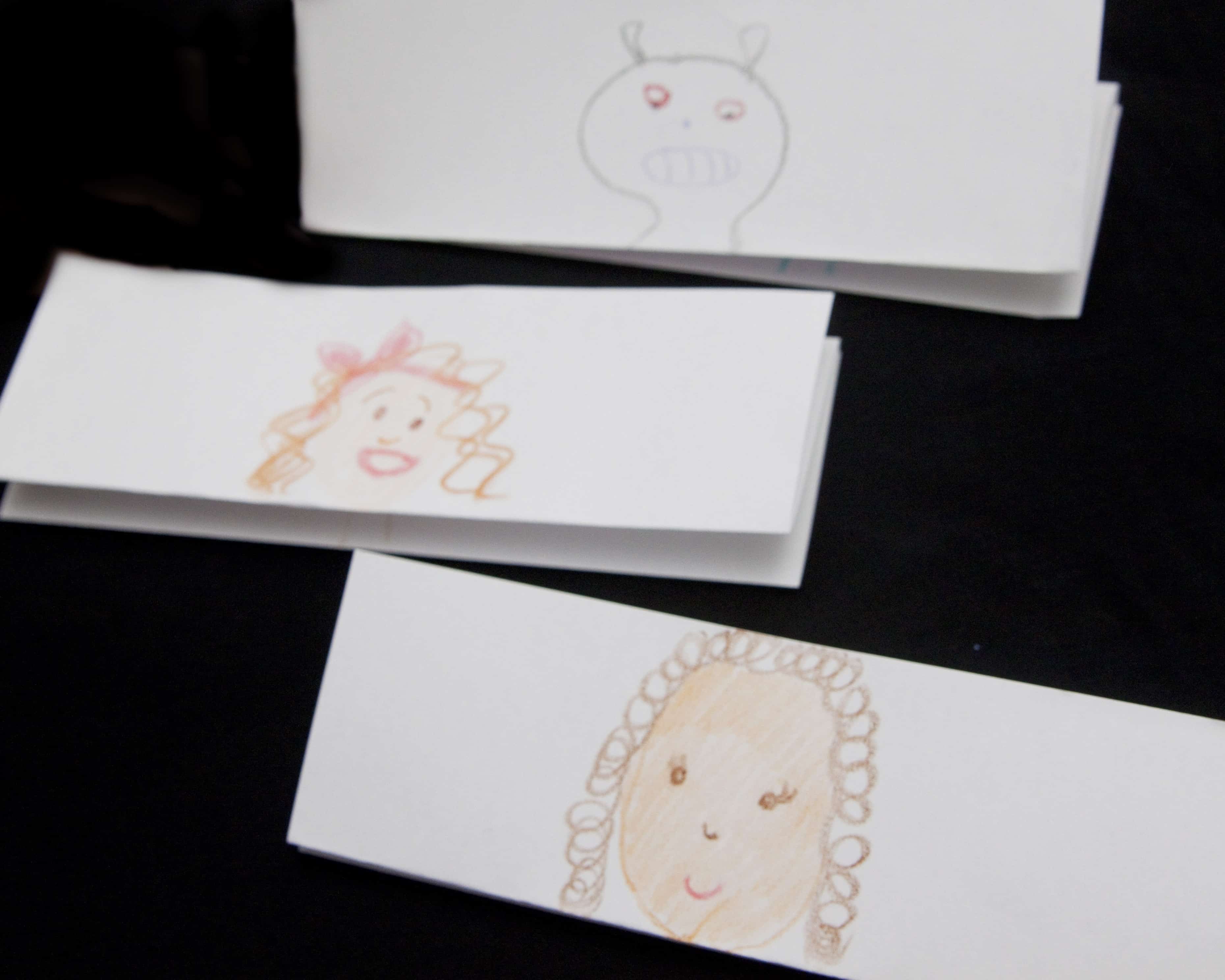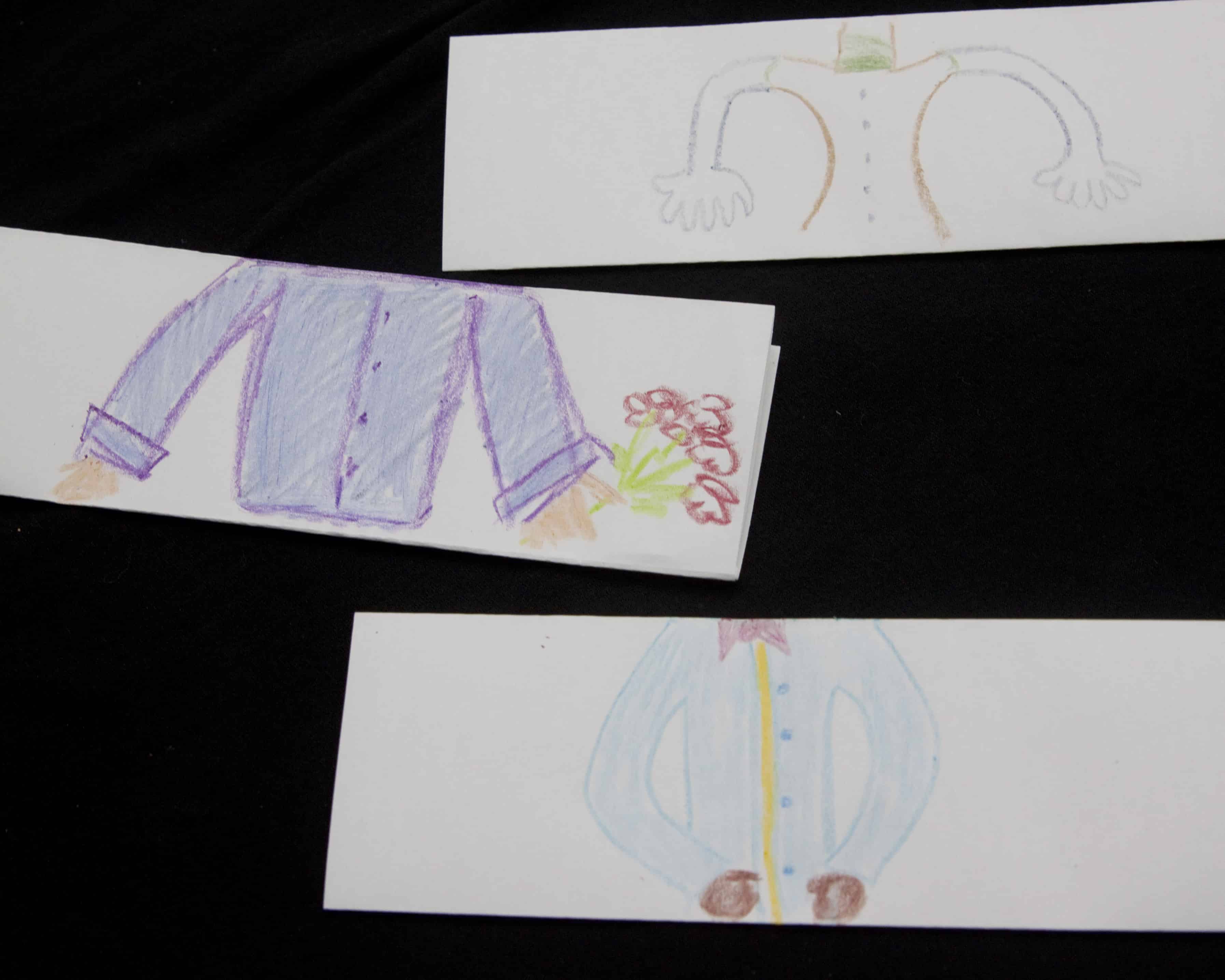 5.  Have students fold their paper again, so that their drawing is hidden and the next, blank fold is upward. 
6.  Students will repeat these steps, drawing legs with pants or a skirt on the third fold and shoes and the ground on the fourth fold. After students complete the final drawings, have students pass to the right one last time. 
7.  Allow students to unfold their papers for the big reveal! If time allows, allow students to share their Preposterous People with the class. Let the discussion begin!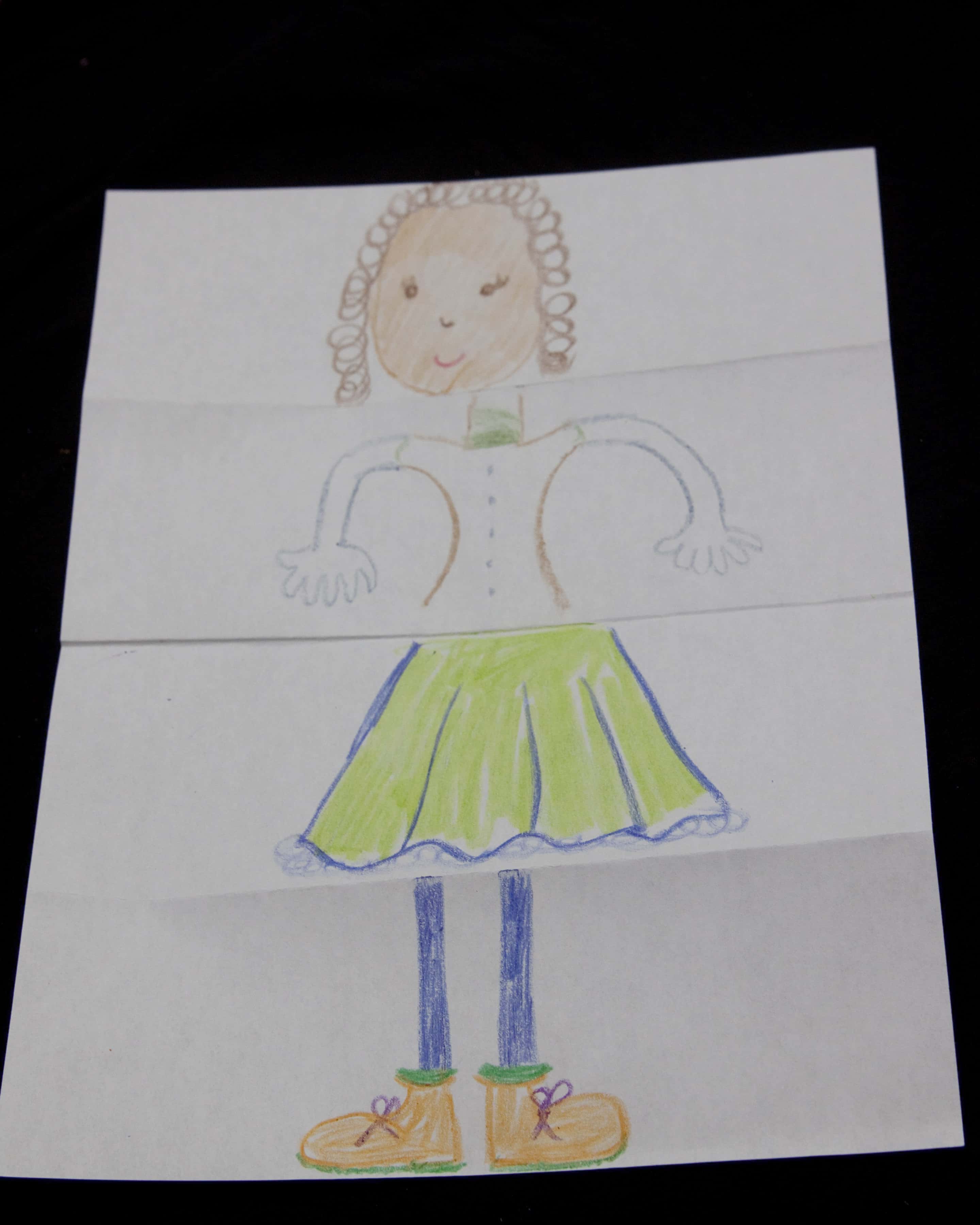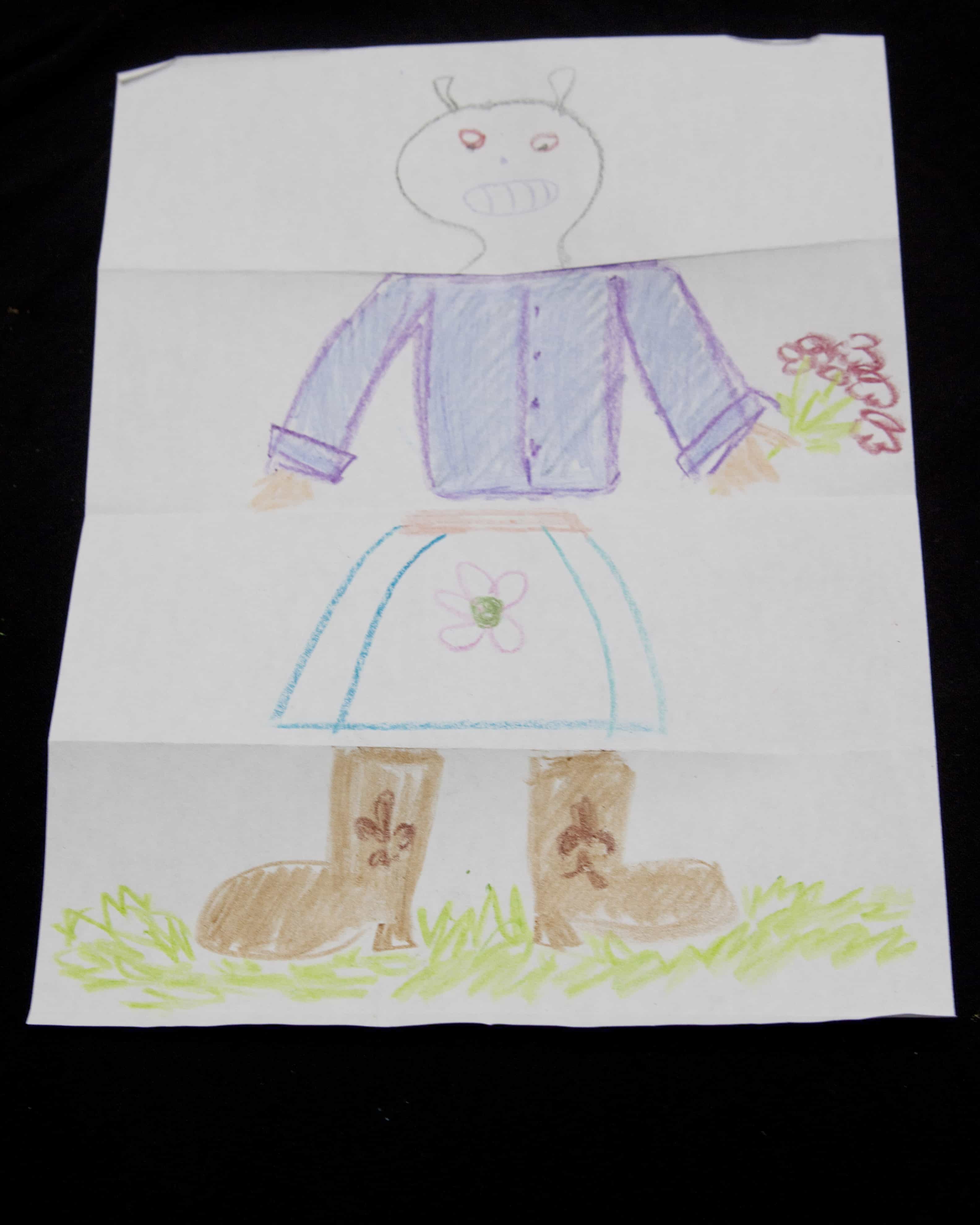 Questions for Discussion
How did you feel during this activity? 

How did you feel after seeing your drawings?

What parts of this activity frustrated you? 

What was your favorite part of this activity?

Do you think it's okay to make mistakes in this project? Why or why not?

Can mistakes ever be a good thing? Why or why not?
Helpful Tips for this Team Building Activity
Try using this activity as a back to school team builder or ice breaker during the first week of school. It's a great way to allow students to become more comfortable working with each other. (Find other back to school ideas here.)

This activity can be simplified for time by folding the paper into just three sections and combining the arms and legs into one step. 

Encourage students to add as many details as possible (hats, scarves, buttons, etc.)

3rd, 4th, and 5th grade students may become frustrated. This is okay! It will lead to better discussion afterwards. 

Use a document camera to draw each step along with the students. This allows students to visualize and understand each step. 

Seat students in groups of 3 or 4 and have them pass their papers around only in their group.

You may want to walk around the classroom to ensure students are drawing on the correct fold (and to make sure no one is peeking). 

This team building activity works fantastically as a small group, teacher-led center!
You might like these other ice breaker ideas. 
Never Stress Over Sub Plans Again!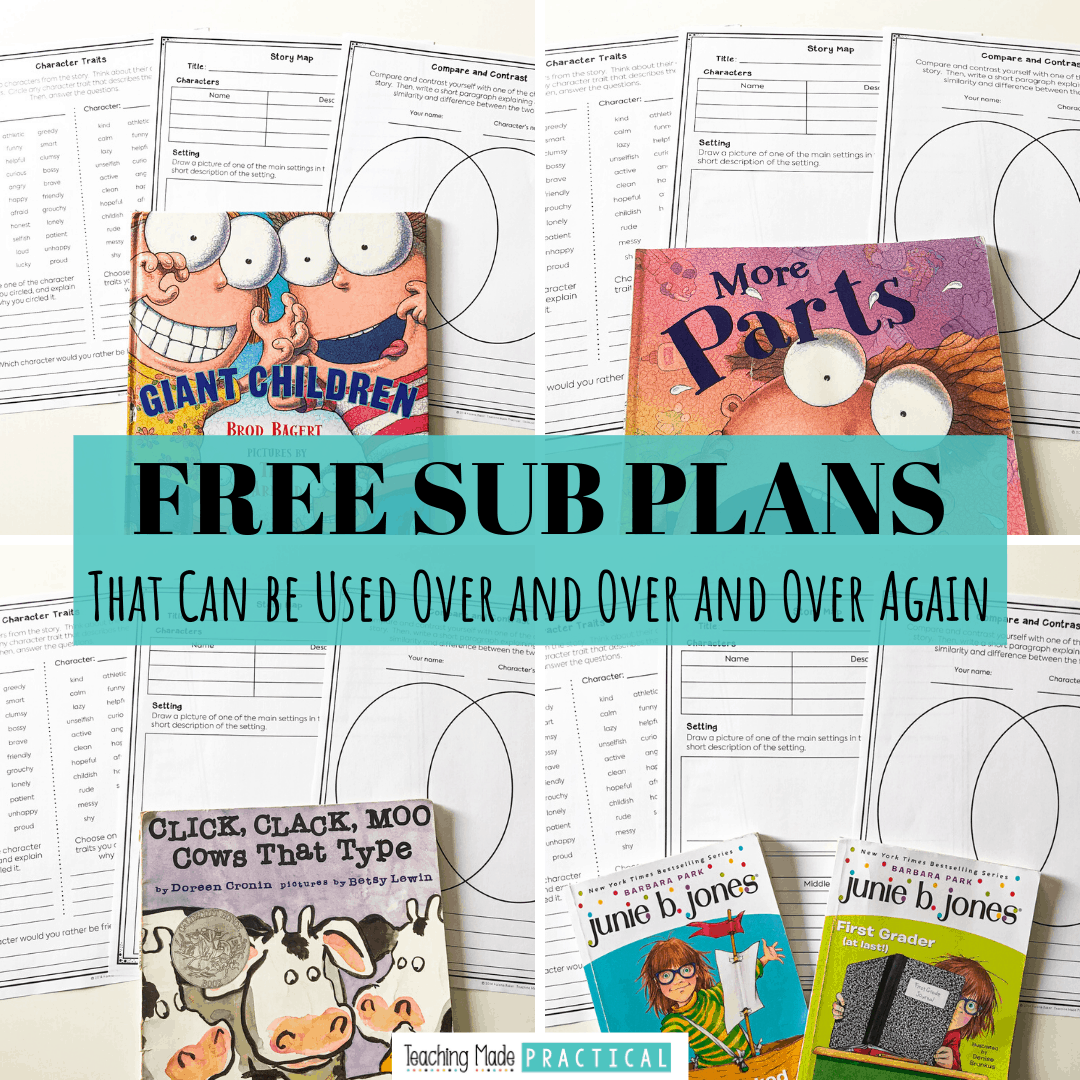 Make copies, find a fiction book, and you'll be ready for any emergency that comes your way!