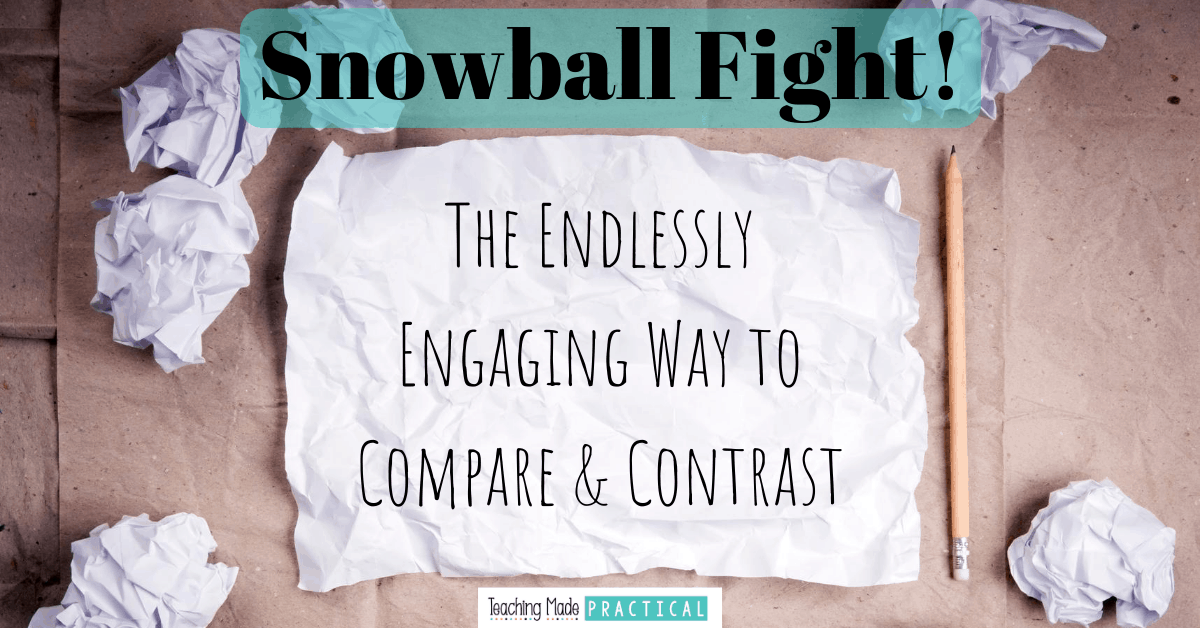 Indoor snowball fights are often used in 3rd, 4th, and 5th grade classrooms as an ice breaker or brain break.  But this fun activity can serve an educational purpose as well. It is ideal for practicing comparing and contrasting skills!
To compare and contrast with an indoor snowball fight, students will throw "snowballs" that each have phrases written on them at each other. After the snowball fight is over, students will choose a snowball, read the phrase, and then sort themselves based on what their snowball phrase said.
Find an example with detailed instructions for prepping and having the indoor snowball fight below.
Prepping for an Indoor Snowball Fight
Having a snowball fight to practice comparing and contrasting skills does require a little prep work, but not much.
I'm going to use the example of comparing dogs and cats to help make the instructions more clear. However, you can use this method to compare and contrast anything.  (You can check out other comparing and contrasting ideas here.)
1. Decide what two things you would like your students to compare and contrast.
Are you going to compare characters? Texts? Authors? Settings? Famous people? Animals? Cities? Books? Poems?
2. Create signs for the items you are comparing and contrasting.
In my dog and cat example, I would create 4 different signs. One that said "Dogs," another sign that said "Cats," and the remaining two signs that said "Both Animals" and "Neither Animal."
3. Post the Signs in different areas around the room (possibly the 4 corners).
4. Prepare the snowballs.
On a blank sheet of paper, write down a statement that corresponds to one of the signs you just created.
In my example, I might write, "Can climb trees." This statement would correspond with my "Cats" sign.
Repeat this, writing a new statement on a new blank sheet of paper. I might write "4 legs and a tail" for my next statement, which would correspond to the sign "Both Animals."
I might write "has wings" to go with the sign "Neither Animal."
Continue this process until you have at least one sheet of paper for each student. These will be your snowballs.
---
You can minimize prep by giving each student a blank sheet of paper and having them write the statement or phrase instead of doing it yourself.
If you decide to do this, then make sure the students use their best handwriting so that other students will easily be able to read their statement. Also, encourage the students to think creatively with their statements. Otherwise, you might have a lot of repeats!
Or for a completely no prep option, check out this free paired passage freebie.  Students will read two passages on famous inventors, and then compare and contrast the two inventors with a snowball fight!
Classroom Management Tips for Having a Snowball Fight
Before having the snowball fight, make sure your 3rd, 4th, and 5th grade students are very aware of your rules and expectations. Walk them through the steps below so that your snowball fight will be safe, fun, and productive instead of chaotic.
1. Make sure each student has a snowball with a statement on it.
Have them crumple up their sheet of paper to make a snowball.
2. Explain the rules of the Snowball Fight to the students.
When you say "Go" (or something slightly more creative), have students begin throwing the snowballs at each other. Make sure students understand that they should walk (no running) and use a calm voice (no screaming). Whenever you stay "Freeze," students should freeze IMMEDIATELY.
3. After everybody freezes, you will ask students to find and pick up ONE snowball.
Then, you will have the students open up the snowball, read the statement, and stand next to the sign that it corresponds to.
In my cat and dog example, the student who found the snowball that said "4 legs and a tail" would go stand next to the sign that said "Both Animals."
4. Explain to students that this game can be repeated if their behavior allows it.
After students stand next to the correct sign, it is very easy to have students re-crumple their snowball and repeat the game. Chances are, the students will get a different statement to think about after the next snowball fight.
By setting clear expectations for the snowball fight, and then explaining that good behavior meant more snowball fights, I very rarely had to sit students out.  For a lower key version of this, you can try a similar activity using 4 corners.  
And as a bonus, most of the students were absolutely EXHAUSTED after a couple of rounds, and would sit still and quiet for a little while after the snowball fights.
Assessing this Snowball Fight Activity
As students stand with their snowball next to a sign, quickly check to make sure they are standing in the correct spot. If the same students are repeatedly in the wrong spot, you know they are struggling with this skill.
Depending on student behaviors, you could also have each group of students discuss the statements with each other and decide if they agree with everybody who is at their sign.
This activity can be used for more than comparing and contrasting.  Find more ideas for having a paper snowball fight to practice reading and math skills here.
Want a Free Paired Passage Snowball Fight?